Click Here For All Holiday Gift Guides 2020
So, you have a smart home gadget lover on your list that you aren't sure what to get. You are in luck because you will find the best smart home gadget gifts for them in 2020 in this post.
If you are here looking for something for yourself because there is nothing better than treating yourself, look no further as well. You are going to want the gifts on this list!
~ More Holiday Gift Guides ~
Shopping for her?
Shopping for him?
Shopping for a smart home lover?
Shopping for book lovers?
Shopping for kitchen gadgets for a home cook?
As an Amazon Associate I earn from qualifying purchases.
Best Smart Home Gadget Gifts 2020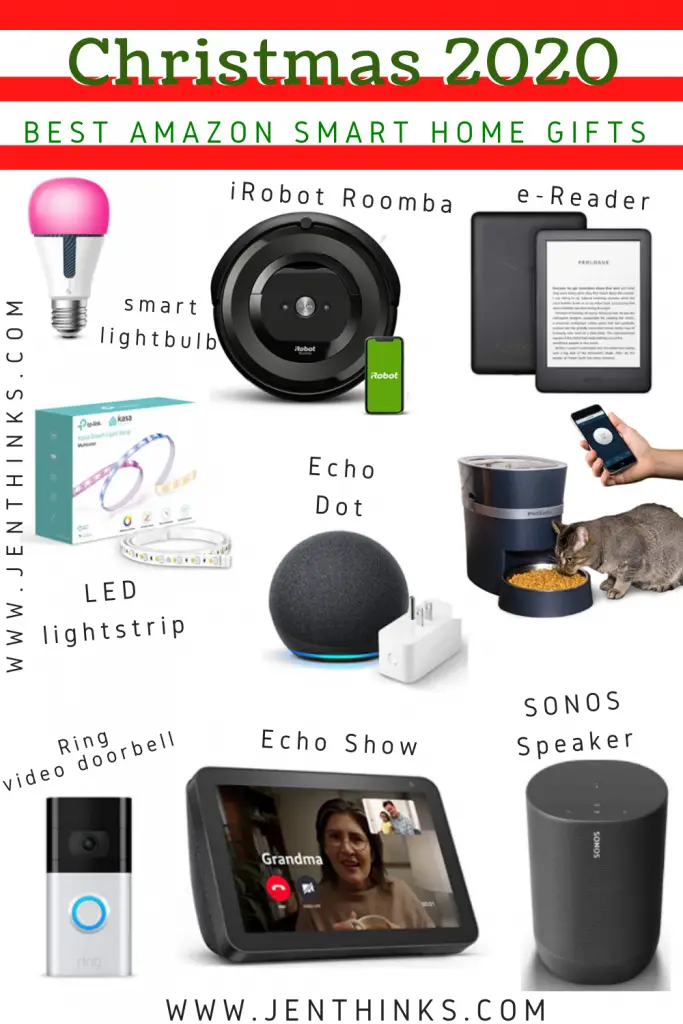 ---
MORE SMART HOME GIFT IDEAS
August Home August Smart Lock Pro + Connect with Wi-Fi Bridge
Imagine not having to look for your keys while holding 4 bags of groceries. That is exactly what the August Smart Lock can bring you. Additionally, you can unlock the door for your friend, your family or your cleaner with the August app at work or on vacation. An added bonus is the ability to triple-check to make sure your front door is locked with the August app without leaving your bed.
Echo (3rd Gen)- Smart speaker with Alexa- Charcoal
We have had our smart assistant for years and have bought one for almost every room over the years. We use it mostly to voice-control our smart lights, smart TV, smart thermostat and smart lock. This Echo is stylish in charcoal making it perfect as a piece of decoration as well.
Amazon Smart Plug, works with Alexa
We used our Smart Plug for our Christmas tree last year and decided we will never go without! A smart plug is versatile as it works with most electronics by turning them "smart." You can control the on-and-off by voice (using Alexa) or by an app.
Philips Hue White LED Smart Light Bulb Starter Kit
These Philips Hue Smart Bulbs were amongst the first smart home gadgets we got. Over the years, we have stuck with Philips Hue even though there are many other brands out there and some are cheaper (e.g, TP-Link, Kasa). We never had any burn-out or connectivity issues with these. Eric prefers the colour version but the cheaper white ones work just as well.
Mysa Smart Thermostat for Electric Baseboard Heaters
The Mysa Smart Thermostats are one of the newest smart home gadgets for us. We originally had our eyes set on the more expensive Google Nest but found out last-minute that the baseboard heaters in our home are not compatible. Lucky for us, the Mysa worked out at the end for a fraction of the price. They are stylish looking and fit into our walls well.
Conclusion
I hope you found a smart home gadget or two on this list for that special person in your life. Make sure you start tracking the prices now with some of the free Amazon price trackers here so you can take advantage of a good deal when it comes around!