Subscribe to my monthly newsletter here or follow me on Twitter so you don't miss any Fall Cleaning post!
Fall is officially here and the season change makes me want to clean up. Since I won't be going back to an office to work full-time anytime soon (except for the first two weeks of training), I have decided to purge my makeup. I am not a makeup-lover by any means (used the same products most days when I worked in an office) but I have collected a small pile over the years. Some of them are gifts and some I bought in Japan because I tend to spend too much time at their drugstores.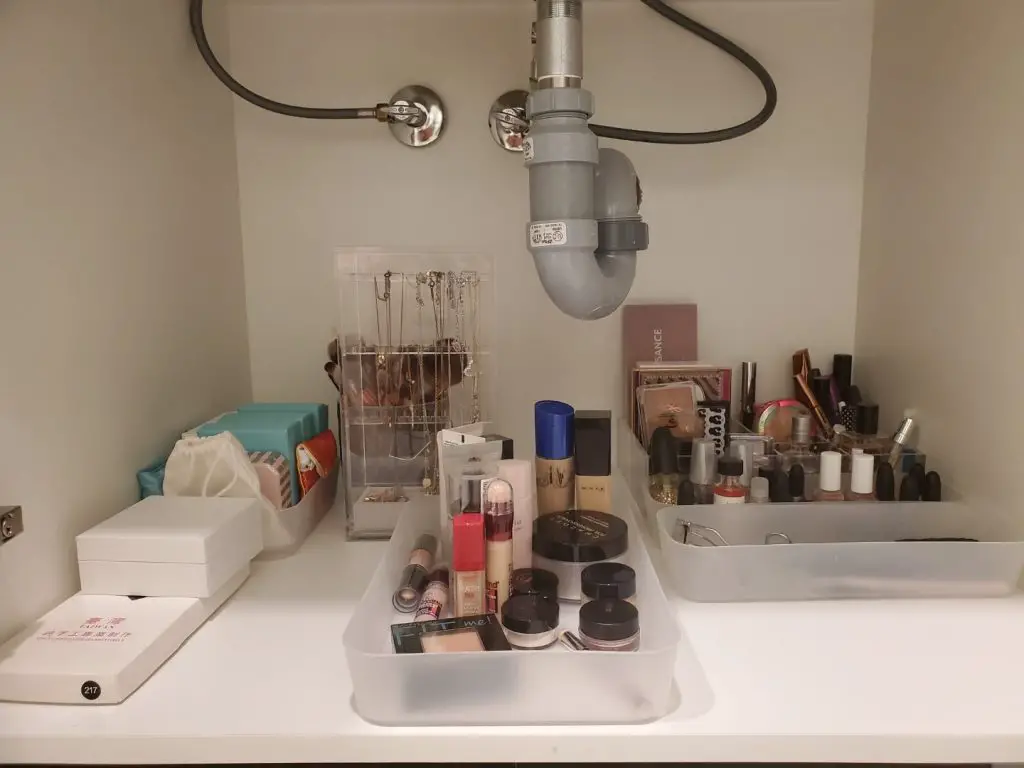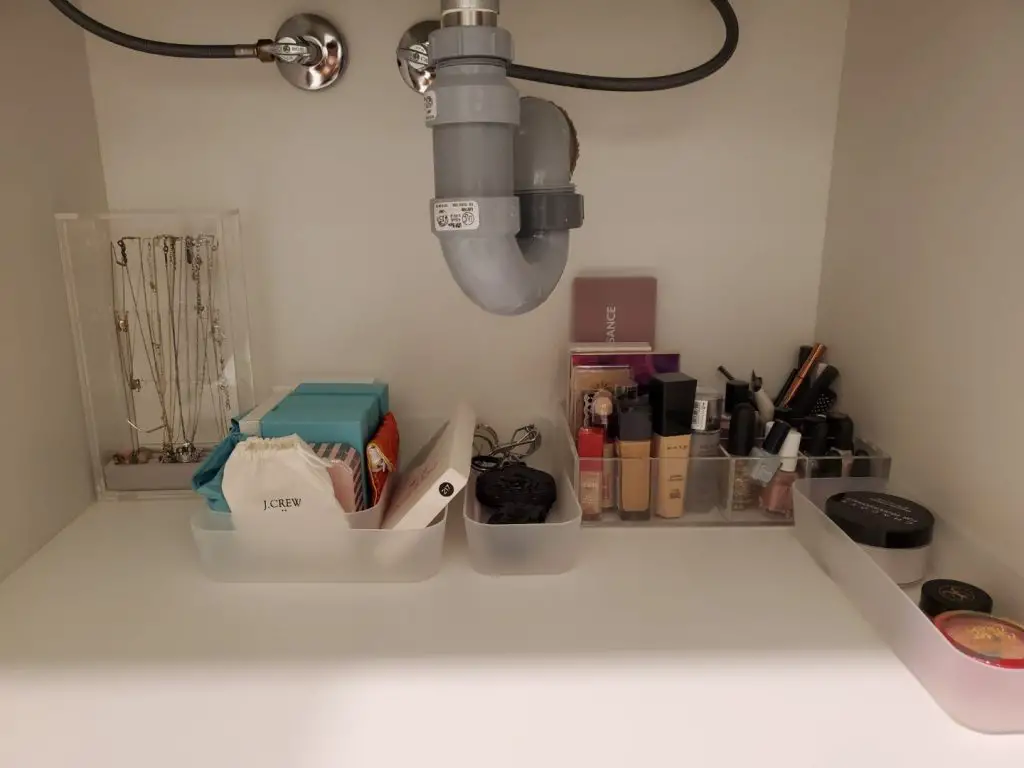 As an Amazon Associate I earn from qualifying purchases.
Makeup Brushes
Are you wondering why I have so many makeup brushes yet I am not a makeup lover? Join the club. I don't use most of them effectively and correctly but I somehow collected over 10 brushes with various shapes.
The furthest six brushes on the right are from two different sets of Real Technique. Then I got one from Rosy Rosa (aJapanese drugstore brand), few e.l.f brushes and a really popular one from Shiseido (happens to be my least favourite, ironically). The gigantic powder brush on top of the grey container is from EcoTools.
I ended up keeping all of my brushes as they take up the same amount of space in the container. I did give them all a really good wash with my Daiso make up brush cleaner. This cleaner is so cheap ($2) but works wonderfully.
RELATED POST – Monday Hour One Weekly Recap – Skincare, Muji Storage & Sleeping In
Palettes (Shadow, Brow, Highlight & Blush)
Both the Modern Renaissance from Anastasia and Bloom from Tarte are gifts from my best friend. I don't wear eye shadow often but when I do, I almost always go to these two palettes. As they are both quite popular, I can easily find tutorial videos on Youtube. The two middle blushes on the bottom row are my favourite. The are both from an affordable Japanese drugstore brand called Canmake.
Out of this pile, I ended up throwing away the bottom 4 on the furthest right row and keeping the rest.
Lip Products
Now that I am almost always wearing mask in the public, I reach for coloured lipsticks less and less. Also, every time I do, I struggle to find one I like. At the end, I threw out the two on the furthest left (left: Revlon I got in Vegas / right: an unknown brand from one of those makeup subscription boxes) and the two on the furthest right (left: what colour is that? / right: a super pigmented one from Colourpop) after I did swatches.
Nail Polishes
The smaller OPI nail polishes in the middle are from a set I got a number of years ago. The two on the furthest right are the most recent nail polish purchase that I got in Japan (there is a theme, isn't there). Then, I also got 3 bottles of nail care products on the left.
I probably only have nail polishes on once or twice a year. I would usually do it before a trip so my hands are pictures-ready. Once again, I did "swatches" to decide which one to throw away.
At the end, I only kept all the pink ones I liked and a couple of sparkly ones. I threw away the nail care products as I never used them.
Concealers, Contour & Powder
I kept everything in this picture even though I haven't actually used one of the concealers.
In fact, I think I have only used concealers a handful of time in my life. I am not bothered by my dark eye circles as they are actually on my upper eyelid more so than under-eye. I did go through an acne phase until a few years ago (still break out here and there) that left scars. I have learned to accept them as well so I never cared enough to use concealers. Why I have 3 concealers is puzzling to me. What made it worse is when I decided to keep them all anyway.
I use the NYX Wonder Stick a lot so I definitely kept that. I got the Chacott finishing powder in Japan (again) after reading so many positive reviews about it. I never truly felt the difference with or without it on but I kept it anyway. Since I got rid of the the other primer I had (next section), I kept the spray-on primer (second from the right). The Anastasia dipbrow was a recommendation from a friend and I used it daily for a while. Not really sure why I stopped but I will most likely resume using again.
Foundations
Let me start by saying I only kept the 3rd and 4th from the right.
You can probably tell there is a huge colour difference and that is exactly why I kept both. I mix them together to create the right colour for me. As I get tanned easily, I could change colour from one day to the next in the summer. It hurt me when I had to throw away all of the other ones but I realized I never reached for those anyway.
I will have to find a solution for the lack of SPF in my foundation though. My current moisturizer doesn't have SPD (so bad, I know).
How To Clean Sterling Silver Jewellery in 30 Seconds
First, I want to show you how well it worked and the actual cleaning process literally took only 30 seconds.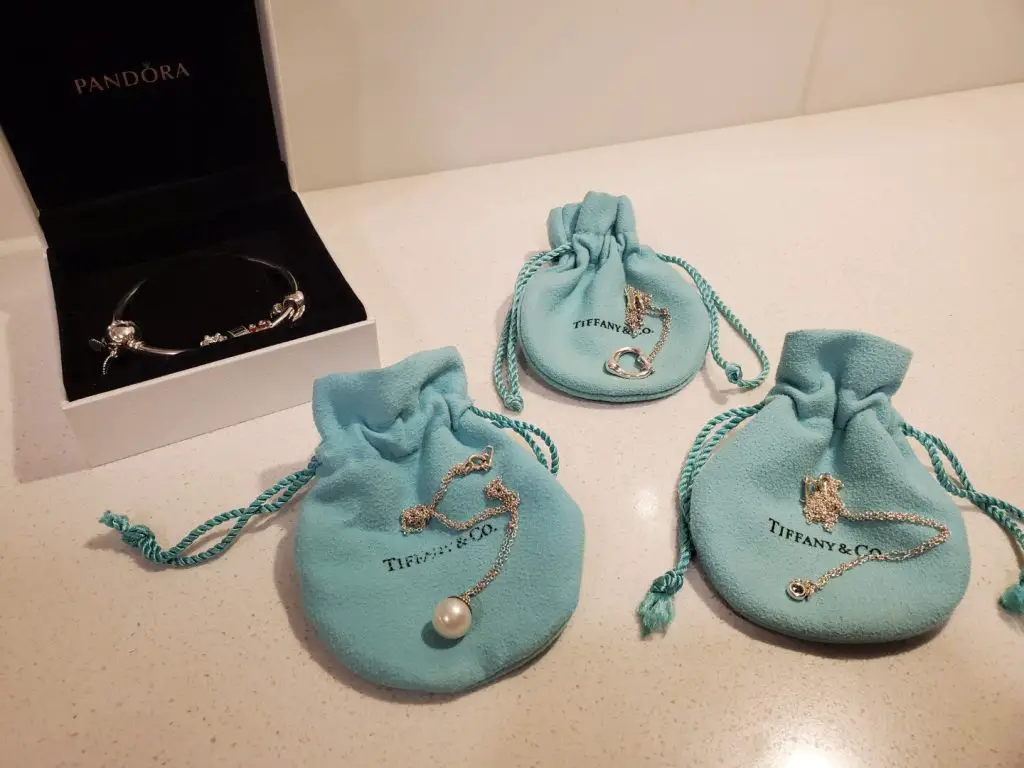 What Do You Need To Clean Sterling Silver Jewellery
baking soda
aluminium foil
hot water
a bowl
Step-by-Step on How To Clean Sterling Silver Jewellery
Boil water
Put a piece of aluminium foil in the bowl (I crumpled it but I think it would have worked with less aluminium foil laying flat)
Put your jewellery in the bowl on top of the foil, ideally away from other jewellery to allow room for reaction
Pour the boiling water into the bowl and you should see the chemical reaction right away
Use a fork or a stick to move the jewellery around a little
Remove the jewellery from the mixture and rinse with clean water until all baking soda is washed off
Warning
There are comments online saying that this method might be damaging to coloured stones. With that being said, one of my Tiffany's necklaces has a round aquamarine and it was not damaged undergoing this once. Nonetheless, I want to caution against using this method on very expensive or valuable jewellery items.