If you want to start from the beginning, go HERE. For more trip reports, go HERE.
Today was Eric's birthday 🎂
If it wasn't because of the noise from the pool parties downstairs, my sleep would have been perfect as the bed was very comfy. Having the Alexa in the room was nice as well since I was able to control the light & curtains in bed.
We were out of our room shortly after 10 AM and headed towards the Grand Lux Cafe at the Venetian. For those of you who are fans of the Cheesecake Factory, the Grand Lux Cafe is owned by the same company. There was no wait at the restaurant so we were able to get a table right away. Eric ordered the chicken strips and I ordered the carbonara (with green peas… little unconventional). My carbonara was quite good and Eric said his chicken strips were "the best he has ever had." He actually still talked about it 2 months later.
We then walked over to The Forum Shops at Caesars and did some window shopping there. I was sad to see L.K.Bennett's store closing down as I really liked their shoes but the bright side was they had great sales going on – too bad they did not have my size left anymore.
We then continued our walk and found ourselves at one of my favourite spots – the Bellagio strip walkway. We watched a couple of the fountain shows from the bridge this trip. I liked this spot for fountain shows watching as it was less crowded than the strip.
After seeing it so many times on social media, we finally went to the Eately at the Park MGM for the first time. It was an upscale Italian food market where they want you to "eat, shop and learn" (Eataly, 2019). The area really transformed the old Monte Carlo entrance positively. The best part for me was probably the water stations. We did not end up eating there this trip but Eric was interested in the pizza place called La Pizza e La Pasta.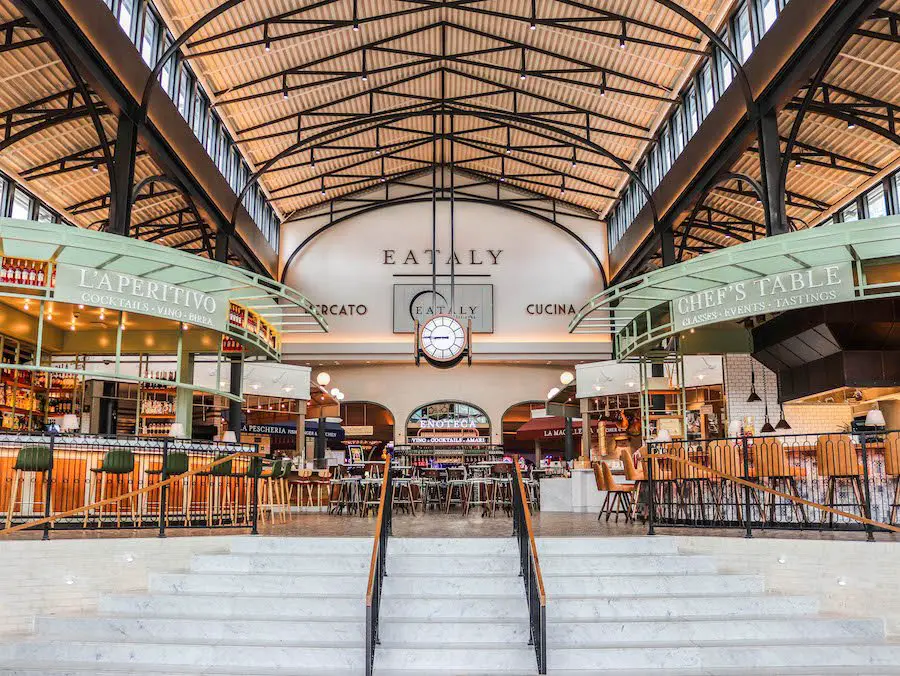 We dropped by the MLife desk to see if they had any birthday promo and they offered $25 free play for your birthday month which meant I was able to get mine too since my birthday was also in May. We did not do well and lost most of it.
Following this, we went to Luxor so the birthday boy can spin the birthday wheel (tip: you will have to go on your actual birthday). He won $10o! We spent it on a couple of high limit slots and managed to cash out just under $100.
We ended our walk at the Delano (our favourite hotel) and took a Lyft from there to Palms Place Hotel & Spa as we had tickets to watch Lady Antebellum at the Pearl Theatre tonight. I got the tickets from Travel Zoo and they were only ~$130 CAD for both. As it was an intimate theatre, I did not believe there were bad seats in the house.
Before the show, we had dinner at Mabel's BBQ and it was as good as expected!
The concert started slightly behind schedule (as expected) and ended after just under 2 hours. Both of my favourite songs from them were on their set list: Need You Now and Just a Kiss. They also performed their upcoming single called What If I Never Get Over You and I loved it! Their shows were only scheduled until the end of August 2019 but I was hoping it will be extended as I would love to go again.
I had been craving chicken noodle soup again so we grabbed take out from Lucky Penny before we ordered our Lyft back to Encore. Since I wasn't able to decide between the Loaded Potato Soup and the Chicken Noodle Soup, I ordered both and was glad I did. They were delicious! However, I noticed a $1 (?) upcharge per item for take-out orders which I found… odd. You would think the profit margin was enough when they charged $7 USD for a small bowl of soup. I realized they included (someone else's) onion fries in my take-out bag when I got back to the hotel – our 2nd win of the day?