Subscribe to my monthly newsletter here or follow me on Twitter so you don't miss any Money Diary post!
The first time I came across the term Monday Diaries was on refinery29. They share one-week money diaries from people in Canada, the US, UK and more. I find learning about how and where people spend their money fascinating and based on how popular the series is, I would say many feel the same.
Read all of the Money Diary posts here
What is a Money Diary?
If you have read my post on time diary, you will know that it is a log used to track how you spend your time. Similarly, a money diary is used to track how you spend your money. Some people keep a monthly household budget that they update with the actuals at the end of every month but money diary has a bit more of an emotional element than that.
In addition to recording the amount of money spent ($$$), you also record the events surrounding the transaction. This will help you learn about the 'why' of spending money and not just where the money was spent.
There are many reasons why people keep a money diary and here are some common ones:
– to identify where you can cut expenses so you can save more
– to understand why you spend more than you plan on (e.g., impulsive spending, triggered-spending)
– to start taking control of your personal finance by knowing where your money goes
– to simply keep a journal that records your life with an added layer of financial info
Whatever the reason, all types of diaries have one thing in common: it is personal.
~ More Personal Finance Posts ~
What You Can Do to Prepare for A Recession – Part 1
Personal Finance Books I Read in 2020
Is $1.5 Million Enough To Retire at 55?
How to Keep a Money Diary?
I use Google Sheets for everything (annual budget, net worth update, Monday Hour One, CPA PERT etc) so it makes sense that Google Sheets is my go-to for keeping my money diary. I like that I can easily add some formula for a Summary Page with little manual calculation.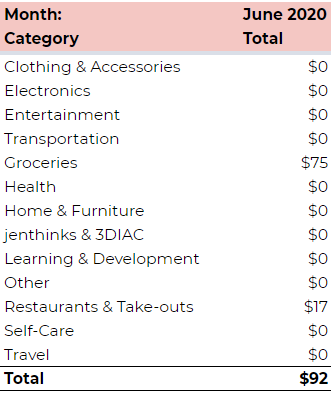 However, if Excel and Google Sheets aren't your thing, a notebook or a draft in your email inbox works too. The key is to find a place you can access easily so you can make notes on the go and avoid the need to sit down at the end of the month to do data entry.
Prior to finding out about the Monday Diaries on Refinery29, I had been following a number of personal finance bloggers (e.g., GMBMFB) who share their versions of money diaries. There was always something fascinating about other people's money diaries so I have decided to share mine.
Full disclosure to those who would follow my journey one day because I want to make clear where I am financially for relevancy and relatedness. The following is worth mentioning because my financial situation affects how and why I make some decisions and I believe my journey will only be useful if you know what impacts them.
We are not actively paying off consumer debts or saving up for my first home. My boyfriend and I both work full-time in Finance and own our home plus an investment property. Our saving goals include our next property (investment or a bigger principal home TBD) and retirement so they have different time horizons (2 – 3 years for the next property and 25 + years for retirement).
We have mortgages on both properties and come from very modest families so there had been and will be times where we make trade-offs (e.g., going on a trip vs. saving up for a bigger emergency fund) to make sure the bills get paid even if one of us loses our jobs or my tenant struggles to pay his rent.
I am aware of how lucky we are to be in the position we are in today but it took years and hard work. We shared a twin bed and lived in a badly run building potentially with mold for the cheap rent and slowly got to where we are today over 10 years. The experience has contributed to how I view money today and for the years to come and I would never take it for granted. Even though only time is a truly limited resource, money isn't unlimited to most of us.
What Will the Format Be for My Money Diary?
If you have read the money diaries on Refinery29, you will know that the posts are in a one-week format. Since I will be updating monthly, I will be selecting the most eventful week of the month to share (granted, my weeks have been quite uneventful since COVID).
In addition to sharing my money diary entries, I will also share my monthly budget at the beginning of each month and a recap of how I did when compared to the budget I set in the previous month.
To financial independence 🥂