Subscribe to my monthly newsletter here or follow me on Twitter so you don't miss any Money Diary post!
I did a mid-month update for July when our console table arrived as Eric wanted to buy everything else that goes with it. As our Whistler trip was coming up, I thought it was better to see where we were trending before making another home decor purchase. It turned out we didn't have enough budget left for Home & Furniture so we decided to postpone. However, if you had read my Monday Hour One update, you would know I bought my first pair of Jimmy Choo that same day and it blew my Clothing & Accessories budget…
Budget vs. Actual for July 2020
Categories We Did Well On
I didn't cook a lot so I only had to Grocery shop twice. Since I increased our Restaurants and Take-Outs budget, we were right on target this month. Note, I budgeted our meals in Whistler under Travel so it was easier for us to stay under budget for restaurants & take-outs. Since we didn't travel far other than to Whistler, we only had to gas up twice. I also allocated part of our gas purchases to Travel as it's related to our trip.
For Home & Furniture, since we made the decision to postpone home decor purchase to next month, we ended the month just below budget.
Categories We Overspent On
We did worst on Clothing & Accessories and Electronics this month as we made a few unplanned purchases (shoes for me and electronics for Eric). He will be returning 2 out of the 3 mouses he got when he finally makes a decision so the current amount is inflated.
I wasn't planning on spending any money on my blogs (jenthinks & 3DIAC) until I attended a webinar. It will be ~$50 CAD every month but I have yet to decide whether I will continue the subscription.
For Travel, even though we overspent for the category, we actually came out ahead for the Whistler Trip! I paid the deposit for the hotel for our October trip hence it got included in this month's calculation. It was a fun trip but until I write the trip report, you can take a look at the hotel review I did for Fairmont Chateau Whistler.
Conclusion on Budget vs. Actual
Overall, we overspent $521 this month. However, if I removed the costs for the 2 cheapest mouses Eric will return and the cost for the hotel deposit for the October trip, we actually only overspent ~$30.
August will be an expensive month as the property tax for our principal residence is due and our condo insurance is up for renewal. However, there are no trips planned at the moment so that should help offset some costs.
Whistler Trip Money Diary
Day One
7:30 am – We were set to leave the house at 7 am until Eric decided last-minute that he wanted to wash this laptop bag so he can bring it. We left the house without it at the end because we were literally sitting there waiting for it to dry. Next trip, bag.
7:45 am – I am a loyal Starbucks fan while Eric loves himself an Iced Capp from Timmy's. Since our neighbourhood Starbucks wasn't open yet, we had to detour in Richmond for our road trip caffeine fixes. Since I got a Starbucks gift card from a webinar I went to, I only had to pay for Eric's. $2.61
9:45 am – I knew the parking at the hotel was going to be expensive so I did some homework beforehand. I was going to accept paying $30/day to park at the hotel next door (still cheaper than Fairmont) when I found out about the Whistler Day Lot. It was only $5/day and a 10-minute walk away. $15
10:00 am – After check-in, we headed to the Lower Village just a 15-minute walk away. Eric started with Pokemon Go Fest 2020 right away while I enjoyed a Steak & Mushroom pie from Peaked Pies, one of my favourite restaurants in Whistler. $8.66
RELATED POST: Restaurants in Whistler, BC That You Have to Try
2:00 pm – I got hungry again around this time so we got take-out from another one of my favourite restaurants in Whistler called Pasta Lupino. They make pasta fresh and have recently celebrated their 20th anniversary. We also dropped by the grocery store to pick up a Gatorade and a bottle of water. $35.33
5:00 pm – I went to Milestones for some patio time while Eric continued catching pokemons. I got a 100% Groudon from a raid while enjoying a glass of refreshing beer. #ifyouknowyouknow $6.9
7:00 pm – Our room at the Fairmont Chateau Whistler was ready not long after lunch so we rested a little after settling in. We then took the shuttle back to the village for more Pokemon action before it was time for dinner. I was craving Asian food so we gave Ohyama Ramen a try. The ramen was below average but there weren't many similar options around so that still hit the spot. $35.63
8:30 pm – We dropped by the supermarket again for some snacks before returning to our room for the day. Eric worked on his laptop for the rest of the night while I caught up on some Netflix. $10.78
Daily Total: $112.3
Day Two
8:00 am – I heard about the breakfast scrambler from Portobello when I was researching the hotel so I was beyond excited to finally try it. It was as good as expected and also very filling. $29.40
9:00 am – After breakfast, we walked to the Lower Village again. We each got our caffeine fixes for the day – Starbucks for me and Blenz for Eric. Eric's preference is normally anything but Starbucks. $4.55
2:30 pm – We spent the morning playing Pokemon Go in the village until we went back to the hotel to rest. Eric didn't want to move after he found "his spot" in the room so I went down to the pub for a beer and some reading. We then dropped by the grocery store again to pick up Gatorade after. $27.2
6:00 pm – We had dinner early because walking makes me very hungry. I grabbed some Mexican food while Eric had KFC. One nice thing about outdoor dining is the option to eat different food together. $32.68
7:30 pm – I headed back to the hotel room while Eric finished off his Pokemon Day in the lobby as that was where the action was. We had the swimming pool booked for that night (had to make a reservation due to capacity restrictions) but ended up cancelling it as we were really tired. $0
Daily Total: $93.83
Day Three
6:30 am – I had the swimming pool booked first thing in the morning so I went down for hot tub time while Eric stayed in bed half-awake. As inconvenient as it was to have to book the pool in advance, it was very serene to basically have the pool all to myself (+ another guest). $0
8:00 am – We went back to Portobello for breakfast this morning. Eric had the same breakfast scrambler as yesterday while I tried something else on their menu. $34.65
9:15 am – We weren't due for check-out until 10 am (earlier than normal due to enhanced cleaning measures as per the hotel) but we checked out early anyway. I got a really good deal for the 2 nights at Fairmont Whistler so the total bill was a lot lower than usual. $462.84
9:45 am – I rarely start a travel day without Starbucks so we dropped by the location in the village after we picked up our car. $0 (gift card)
11:00 am – We went to Alta Lake and Nite Lake for a short morning stroll and some pictures before leaving Whistler. After that, we got gas and some fried chicken in Downtown Squamish. $57.3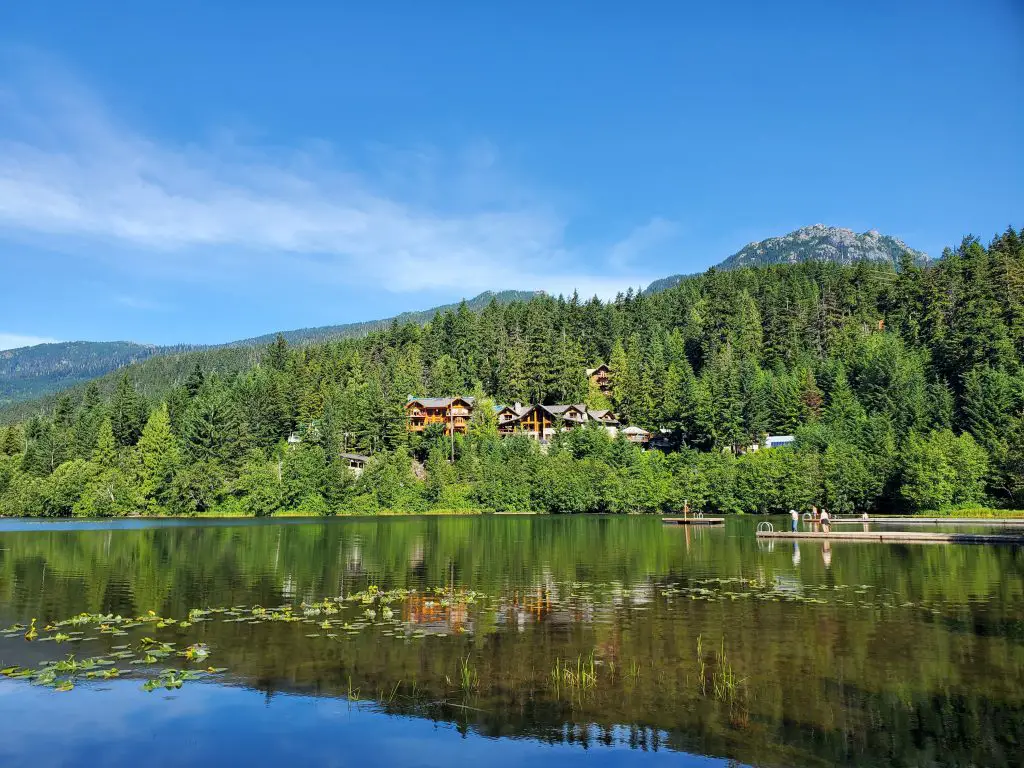 12:30 pm – I love waterfalls so when I saw the signage for Shannon Falls, I convinced Eric to make one last detour. It was a very short easy walk to the viewpoint which was perfect as my feet started hurting from 2 days of walking. We then continued straight home. $0
Daily Total: $554.79
Weekly Summary