Join me on Instagram for regular CPA tips & updates! Also, don't forget to subscribe to my newsletter so you don't miss any CPA posts!
As of the writing of this post, I am in the final week of Part 3 of the report. Unlike the first two parts of the report, we are not allowed revision opportunity for Part 3. This means my group needs to make sure our report is as complete as possible. Just like for Part 1, we aim to do just that by following Week 7 instructions closely. My group got Part 2's feedback back early last week and no revisions were needed (came as a surprise to me – will explain in the post).
Read All CPA Capstone 1 Posts Here
Capstone 1 Week 3 to 5 Submissions & Tips
| | |
| --- | --- |
| Timeline | Submission |
| Friday of Week #5 | Group: Part 2 of Capstone 1 Report (1,800 words) |
CPA Capstone 1 Week 3 – 5 Submissions
Part 2 of Capstone 1 Report
Even though Part 2 was the only submission for three weeks, time went by rather quickly. My group met once every week and kept in touch on Whatsapp between our meetings. Below are some tips I have learned from my experience that I think will help with your Part 2 report:
refer to Week #5 instructions and use the task list like a checklist for Part 2
refer to sample Part 2 reports (you should be given two) to determine the format and level of details

when there is a discrepancy between the sample report and Week #5 instructions, follow Week #5 instructions

before you even start working on the report, roughly allocate the number of word per strategic options

for example, for my session, there are 4 strategic options to analyze; allocate around 50 words for introduction before allocating the rest to the 4 options

note, not all option is the same hence this allocation is only a rough estimate; your group should work with each other to share word count if required
this is very important as it is very time-consuming to cut down words rather than not write as many (learn to be concise)

the word limit is for the body of the report ONLY (1,800 words)

another thing before you start: get familiar with how the exhibit excels will be counted

the limit for exhibits/appendices is going to pose a challenge for this part of the report
I suggest you and your group start by getting familiar with how to 'set print area' and 'page break view'

this way, you will know how to set up your analysis to minimize page count

the page limit is for the appendices ONLY (20-page)

only submit your work to D2L when it is final

the reason why I was surprised to not have any revision to do is that I submitted the version with wrong margins 36 hours before the deadline (34 pages when we print-previewed instead of 19)
my group thought we can email the facilitator to re-submit but my facilitator explained it was not within the rules (per the PEP Candidate Guide, the only time resubmission is allowed is when a completely different file was submitted e.g., part 1 report submitted for part 2)
however, a couple of people reported saying their facilitators allowed them to resubmit so your mileage may vary; at the end, my facilitator skipped the blanks & pages with only a line or two when she reviewed our report so everything was reviewed
my suggestion would be to submit only the final version just to be safe

(OPTIONAL) assign one of your groupmates to be a floater

I was the floater (we did a random draw) for Part 2 meaning I was in charge of assisting, formatting & submitting
since we did not pre-allocate the word count (as I suggested above), it took hours to cut down Part 2 from 2,700 to 1800 words
same with the exhibits – we started with over 50 pages when the limit was 20 (the challenge with formatting someone else's exhibit is the risk of messing up the formula)
the floater's job is to be the extra person when someone else needs help or if something comes up; it's not necessary but it definitely helped make sure things are getting done as scheduled
however, depending on your group size, it simply might not be practical
Do you want a guide that answers all of your Day 1 questions?
use code JENTHINKS for 10% off!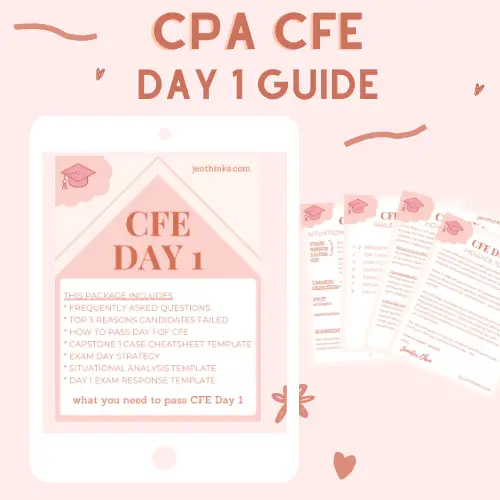 Thinking Ahead to Part 3 of Capstone 1 Report
As your group is wrapping up Part 2 of the report, you will realize there is not much time left before Part 3 is due. Unlike the three weeks you get for Part 2, you get only two weeks between Part 2's deadline and Part 3's. To make it more challenging, you might or might not have to submit revisions for Part 2 while you are supposed to be working on Part 3 already. Below is the timeline my group used to get ourselves ready for the last leg of Capstone 1:
Timeline
Tasks
Week #5
Group: Part 2 of Capstone 1 Report Due (1,800 words)
OPTIONAL: Part 3, start working on Operational Issues
Week #6
Group: 3 Questions for the Facilitator
Individual: Peer Assessment, Self Assessment
OPTIONAL: Part 3, Decision Matrix (pending feedback from Part 2 to finalize) & Data Analytics (pending finalization on recommendation)
Week #7
Group: Part 3 of Capstone 1 Report Due (7,000 words)
Week #8
Group: Video Presentation (30-minute) & Slides
Individual: Module Survey
RELATED POST – CPA Capstone 1 – Tips For Week 1 – 2 Submission (Part 1)