Join me on Instagram and subscribe to my newsletter so you don't miss any Personal Finance post!
When I looked at my November's Questrade statement, it showed my year-to-date's return is 16%. Since my self-directed investment account is a Tax-Free Savings Account (TFSA), any gain will not be subject to tax when I sell (unlike investment in a non-registered account where the gain will be subject to capital gain tax/loss). In this post, I am sharing the step-by-step process I will continue using to invest in TFSA in stocks (ETFs) in 2021. This will help you meet your financial goals in 2021 and beyond.
Note, you don't need to be number-savvy to do this. It is most ideal if you understand the relationship between risk and return but don't be discouraged if you don't. My process is designed to make TFSA investing simple, easy-to-understand and time-efficient. The reality is, not everyone has the skills nor interests to read financial statements but everyone should save and take advantage of TFSA. As a bonus, I have also shared my TFSA ETF portfolio in this post for reference.
Click here to see how you can earn a cash bonus of up to $100.
Warning: this post is purely informational and caution should be used when following my advice. I have been investing myself for years but that does not make me a qualified expert on this topic. I am merely sharing my personal experience. You are encouraged to consult a fee-only financial advisor if you want professional guidance on this matter.
Disclosure: Some of the links below are affiliate links, meaning, at no additional cost to you, I will earn a bonus if you click through and apply for an account.
Before I Start, Here Are Some Common Questions That You Might Have Now or Down The Road
Is Investing in TFSA in Stocks (ETFs) Going to be Difficult/Confusing/Time-Consuming?
The answer is not at all. I probably spent two hours in total at the beginning of the year to pick my ETFs for the rest of the year. I had an idea of the target industry and region splits I want in order to achieve diversification so the selection took most of the time. I am sharing my TFSA ETF portfolio with you so it is even simpler for you to follow.
After the initial 2 hours, depending on the frequency you decide on, you might spend an average of 5 minutes per week or per month to purchase more shares. My process is as "lazy" as investing can be.
RELATED POST – 5 Tips on How to Manage Money in 2021
Will I Get 16% Return Every Year? If Not, Is It All About Luck Then?
No, you will not get a 16% return every year. One thing you will learn as you invest is that nothing is guaranteed. You can listen to the most respected experts in this field and they can still be wrong. Nothing short of being able to predict the future can promise you a fixed return from the stock market (unless you invest in treasury bills offered by the government which are as risk-free as investments can be).
However, it is by no means all about luck the same way gambling does. A very common misconception about investing in the stock market is that it is like gambling at the casino. As someone who likes going to the casino for fun, I can tell you betting at the blackjack table is a lot riskier than a diversified portfolio. Diversification is the key to risk management and that is why I strive for diversification in my portfolio.
Is There No Other Way to Invest in TFSA?
No, there are many ways to invest in TFSA. If you have read the recent survey published by BMO, you would know that you can even leave your contribution as cash in TFSA. If you want to learn more about what you can invest in your TFSA, ratehub has an article with excellent information on that.
However, my simple guide invests in 100% ETFs as I have found that to be the easiest and cheapest way to achieve diversification. For example, VCN is an ETF that seeks to replicate the FTSE Canada All Cap Index which is an index of Canadian large-, mid-, and small-capitalization companies. In another word, the Canadian stock market. By investing in this ETF, you are essentially achieving diversification for the Canadian market.
An alternative way to achieve that is by purchasing shares of individual companies which can be cost-prohibitive. For example, one single share of Constellation Software Inc. (CSU) is trading at $1,645 as of Dec 20, 2020. Depending on your budget, this might represent a large proportion of your portfolio when CSU represents only 1.1% of the market capitalization of the Toronto Stock Exchange (TSX).
Why Should I Trust You? What If I Lost All of My Money?
My rule of thumb is never trust anyone on the internet 100% so same goes to you. As I have mentioned in the beginning of the post, I am not an expert on this matter and caution should be taken when following my advice. I am sharing what has been working for me and friends and family I have shared this with. I made this as simple as it can be so anyone without a finance background can follow, however, it is always best to do your own research.
I do not believe it is likely to lose all your money overnight if you invest in a diversified portfolio. Another factor that can protect you against the risk is investing with a long time horizon. It took around 4 years for the market to recover after the 2000s and 2007/2008 recession. This means the market has always recovered in the past and kept going upward but it does fluctuate.
Even though I will never guarantee the worst will never happen, I personally believe that when the worst happens, your portfolio is probably the last thing on your mind (imagine a catastrophe).
The Step-by-Step Guide to Investing in TFSA in Stocks (ETFs) 2021
Step 1 – Confirm You TFSA Contribution Room
Login to your MyCRA account by googling* MyCRA My Account for Individuals. Scroll down to the section called RRSP and TFSA where you will find your TFSA contribution room as of Jan 1 of the current year. Note, if you have contributed and/or withdrawn from any of your TFSA since Jan 1, it will NOT be reflected here. This is important as there is a penalty if you over-contribute.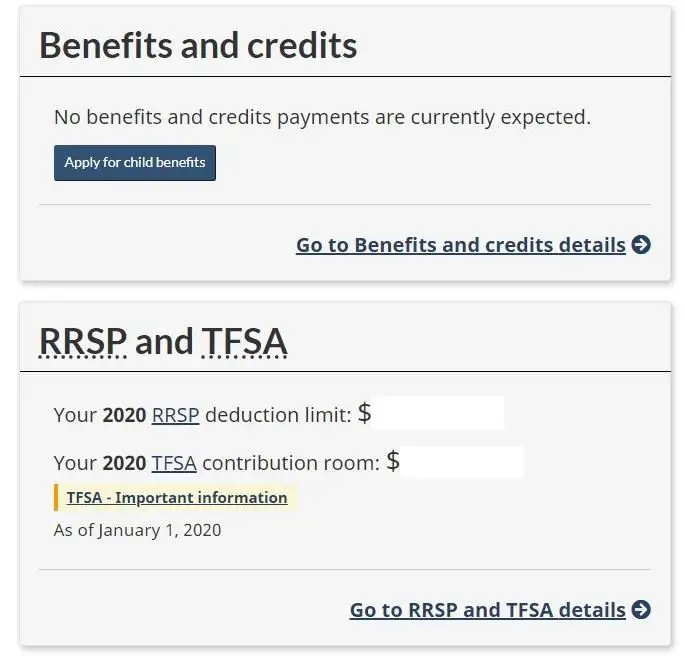 *I did not want to provide a link as you should never rely on links provided by someone else for logging in to your CRA account as the link could be fraudulent
Step 2 – Open A Self-Directed Investment Account (I Use Questrade)
Almost every financial institution offers TFSA products. However, not all of them are self-directed investment account. Personally, I have used both BMO Investorline and Questrade before. I now only trade on Questrade as it is cheaper since there is no commission to buy ETFs (there is a low fee for selling). A free or extremely low-cost method for purchasing ETF is critical for my investment method. I suggest you do your research on Questrade as there are a lot of reviews for them out there (a common alternative is WealthSimple).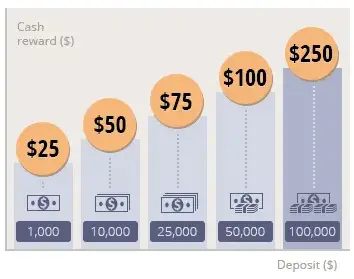 If your research tells you Questrade is also right for you, you can open an account by clicking here. Use my offer code 665606020437843 to be eligible for a cash bonus of up to $100 (see instruction in the screenshot below)!
Note, even though the maximum bonus per the chart is $250 if you fund at least $100,000, the maximum TFSA contribution room as of 2021 is only $75,500 (assuming you were at least 18 in 2009 and have never contributed towards a TFSA before). You should never contribute more than your contribution room.

Step 3 – Fund Your TFSA Account
Once you have followed the step to open a TFSA account with Questrade (or other platforms), you should have received instructions to fund the account. I have always funded my TFSA account by using Bill Pay on my regular banking app (with the chequing account I get my paychecks in). Depending on the platforms, you might also be able to fund by writing a cheque and/or visiting a branch in-person (e.g., BMO Investorline).
Step 4 – START INVESTING!
Once the fund arrived in your account, you can start investing! This is a fancy and often intimidating term for "buying shares of a company/an index that has shares of companies." In reality, the mechanics are not any more complicated than online shopping.
The Dollar-Cost Averaging Method
In late 2019, I cancelled my BMO Investorline account and transferred all the money to my Questrade account in 2020. I decided to invest systematically using a method called dollar-cost-averaging (DCA). Basically, the concept is that if you split your money evenly and buy regularly, the average cost of your shares will be lower than if you just randomly pick a day and use all the money at once. This method helps reduce the volatility of the stocks you are buying because it is unlikely that the day you pick is the cheapest day of the year (i.e., risk management technique). When the market crashed in March 2020, I decided not to speculate whether the stocks will go cheaper and stuck with my original plan to invest.
In order to invest with the DCA method, you need to first decide on a cadence (daily, weekly, or monthly). Once you made a decision, all you have to do is login to Questrade to purchase your ETF once every day/week/month.
A Dollar-Cost Averaging Example
Joe has decided to invest monthly with the DCA method so he contributed $50,000 to his TFSA on Jan 1, 2021. On Jan 15, he will buy $4,166 ($50,000/12 months) worth of ETFs in his portfolio based on the % he decided for each. Using my portfolio as an example, that would mean buying $208 worth of ZAG (5% of $4,166) and $417 worth of XEC. He then set a recurring monthly reminder for himself and repeat this process every 15th of the month.
Note, if he decides to contribute regularly using the "pay yourself first" method, he will have to adjust his monthly purchase amount. For example, if he decides to contribute $50,000 on Jan 1 and another $1,000 every month, his annual total is actually $62,000. It is important to note that he actually should be investing $5,166 per month ($62,000/12 months) instead.
My TFSA ETF Portfolio 2020
To make this process as easy as it can be for you, I am sharing my TFSA ETF portfolio for 2020. Note, I strongly recommend you do your own research on what others' ETF portfolios look like and create one that is most suitable for you. One thing to note is that my 2020 portfolio is predominantly equities (company shares; medium risks) and not bonds (low risks). This is because I am in my late-20s and have a rather high-risk tolerance (in my working years). If you are close to retirement, your portfolio should be lower risks because you might want to cash out sooner than me.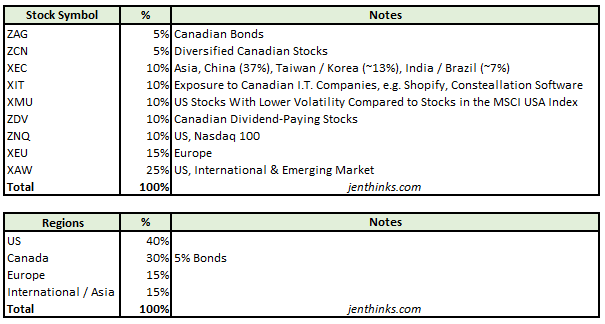 Step 5 – Fund, Invest, Fund, Invest.
Throughout 2020, I have made minor modifications to my TFSA ETF portfolio but nothing drastic (once was due to an ETF closing down). Depending on your preference, you might not need to review it more often than once a year (still recommend reviewing it at least once a year).
The "Pay Yourself First" Method
For most, after the initial work on coming up with your TFSA ETF portfolio, all you will need to do is to continue funding your account (if there is contribution room left) and buying more shares. I use the "pay yourself first" method so I have recurring bill payment set up to fund my Questrade account on my pay dates. This way, I will not "accidentally" overspend the money meant for investing!
Closing Comment
TFSA is an excellent tool that can help you reach your financial goals, whatever they may be, faster. If you still haven't started taking advantage of it, 2021 is the year to start.
You do not need to start with $50,000 like I have illustrated in the example. Even if you are living paycheck to paycheck (which one report claimed 46% of Canadians is), you can often still find something to save. It doesn't matter if you start with $5 or $20 a month. What matters is you start now rather than later.