Introduction
Should you make a BC Ferries' reservation? Yes!
We travelled on the Spirit of British Columbia on Easter Monday to/from Tsawwassen (Vancouver, BC) and Swartz Bay (Victoria, BC). This post will explain why I think paying the $10 reservation fee for BC Ferries is worth it especially during the holidays and also what is there to do onboard.
Reservation
We always try to travel on the ferry with a reservation because we don't want to wait around if the first one is full. I said 'try' because last year I made a reservation for the wrong date for our return trip from Victoria. Luckily, that sailing was not full so we were able to get onboard.
You can make a reservation on BC Ferries' website and each sailing costs $10 so for a round-trip, it will be $20 (edit 7/7/19: reservation fee varies depending on how far in advance the reservation is made, the 3 tiers are $10, $17 & $21). The reservation fee is due upon making the reservation, so if you don't end up making the trip, that part is non-refundable. Note, not all sailings are eligible for online reservations. For example, when I looked up the Salt Spring Island-Swartz Bay route, it was not available under the reservation system.
You are required to arrive anywhere from 30 to 60 minutes before the departure time for check-in otherwise your reservation will not be honoured. That means if you arrive later than 30 minutes before departure, you will be treated the same as if you didn't have a reservation (first-come-first-serve).
Since we were travelling on Easter Monday this time, which was the last day of a 4-day long weekend, I made the reservation (& triple-checked the date😂) a week prior. I was glad I did that because the return sailing I originally wanted became full when I was still deciding. Note, "full" here only means the spots for reservation are filled but you can still try to get on that sailing as a walk-on. However, if a sailing is "full" 1 week before departure, chances are it will be a busy day. I suggest making a reservation for another sailing of your choice which is what I did.
I was once again very glad we made a reservation for our return trip as the 4 PM sailing was full before 2 PM. The ships departed and arrived on-time for our round-trip.
Arrival by Vehicle – Tsawwassen Ferry Terminal
Upon arrival at the terminal, you just follow the sign with your destination name on it. You then pull up to the check-in agent (similar to when you cross the US-Canada border) and give them the credit card you used to make the reservation because that's how they will be able to retrieve it. You have the option to pay for the ferry with another card though.
If you did not have a reservation, this is where you purchase the ferry ticket as well. You are then given a small printed ticket with a number on it and that tells you which vehicle line up to proceed to.
We arrived exactly 30 minutes before our departure and only waited 10 minutes before driving onboard. Once in position on the vehicle deck, you leave your car parked and hand brake activated and must exit the vehicle during the journey as per Transport Canada's guideline.
The Ship – Spirit of British Columbia
The most notable change since our last visit on a BC Ferries' fleet (Dec 2017 on Coastal Renaissance) was the addition of the Pacific Buffet. It now occupies the forward lounge on Deck 5 of the ship. The buffet ranges from $21 to 26 CAD (Apr 2019) and different meals are served depending on sailing times.
On our return trip, we actually sailed on a different ship called the Spirit of Vancouver Island but the two are very similar as they are both S-Class ferries and the largest ones in the BC Ferries' fleet. 
Amenities – Spirit of British Columbia pictured
Food & Beverage
Arbutus Coffee Bar (baked goods, flatbreads, quiche, croissants, coffee and espresso beverages)
Seawest Lounge ($13 for entry; complimentary light snacks, coffee, and reading materials; perfect area for peace and quiet while working or resting)
Coastal Café (White Spot menu, breakfast platter, benny, sandwich, prepared salads, bottled beverages, coffee and espresso beverage)
Pacific Buffet (salad bar, meat choices, dessert and drinks are included)
Vending Machines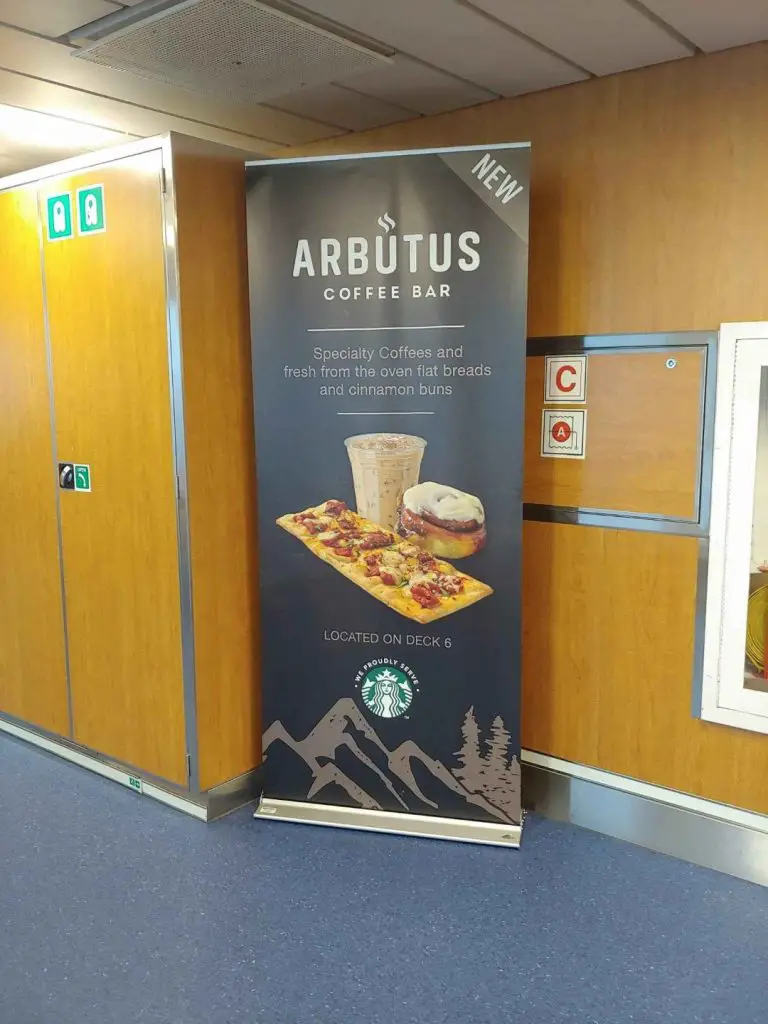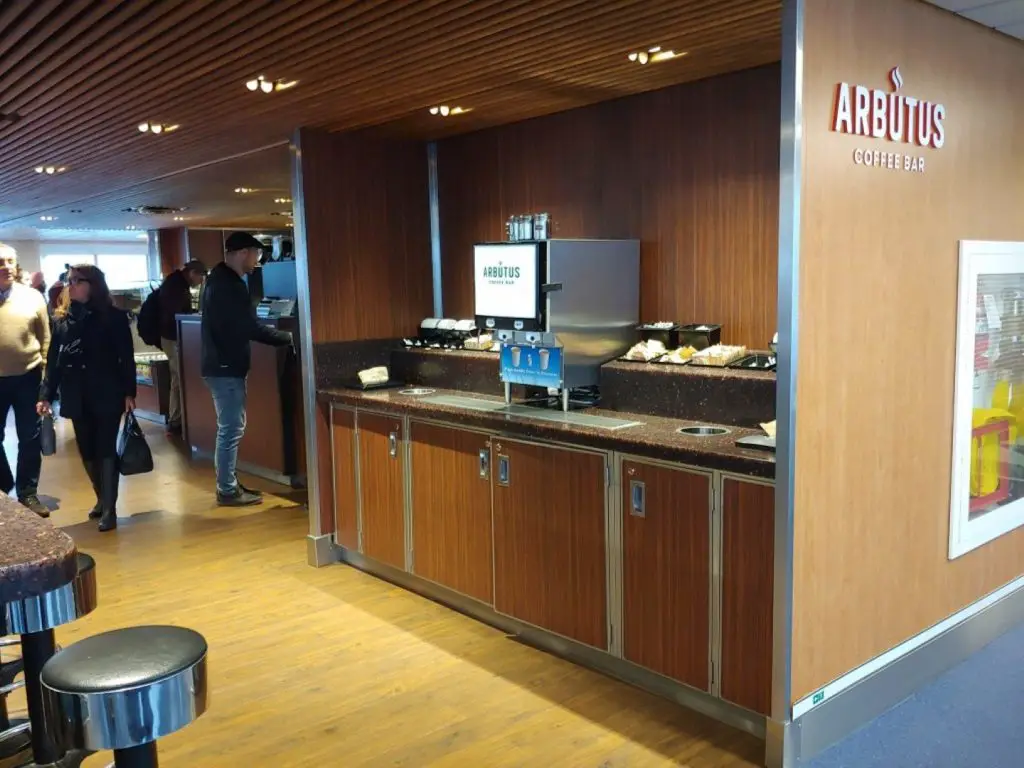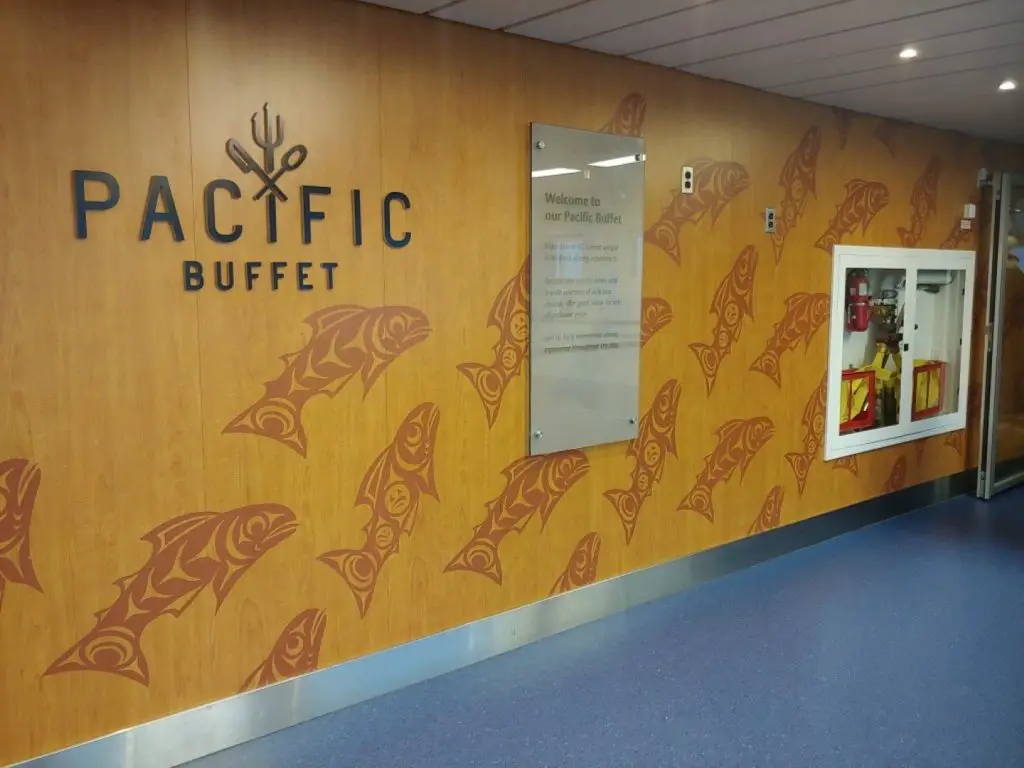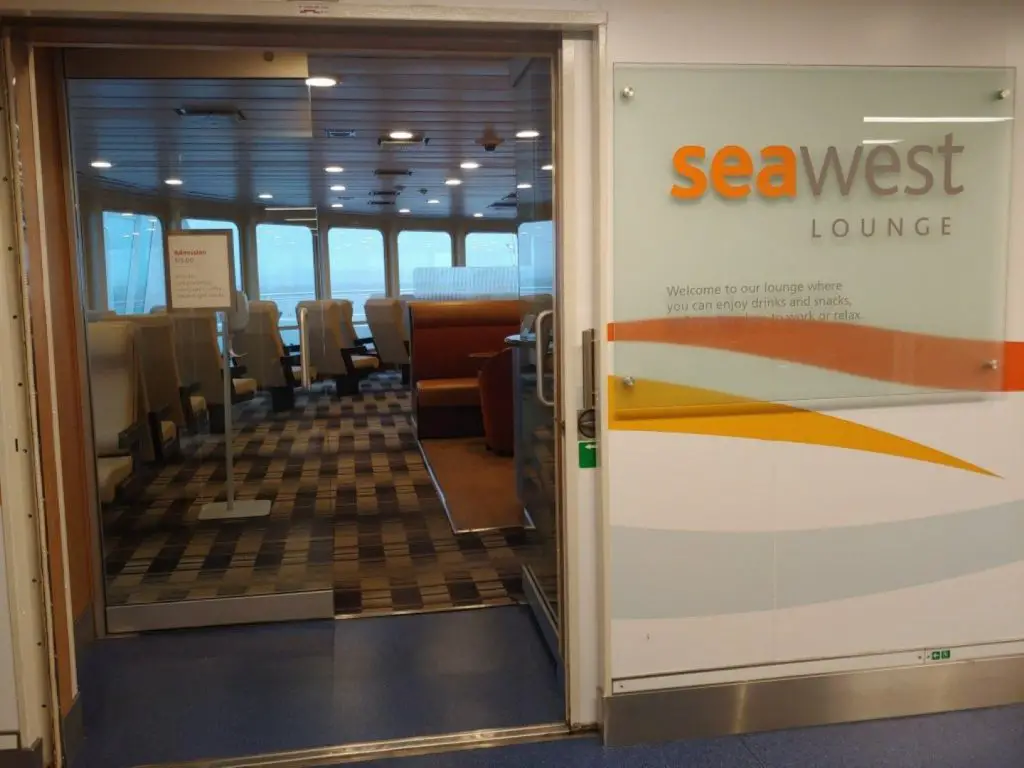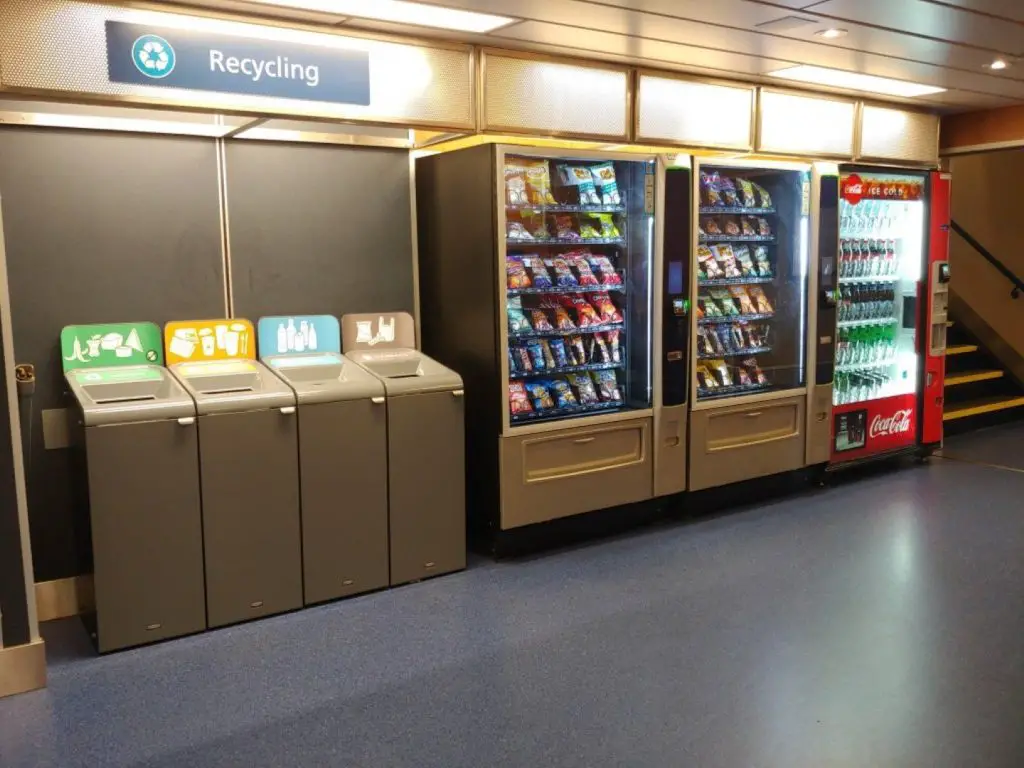 Entertainment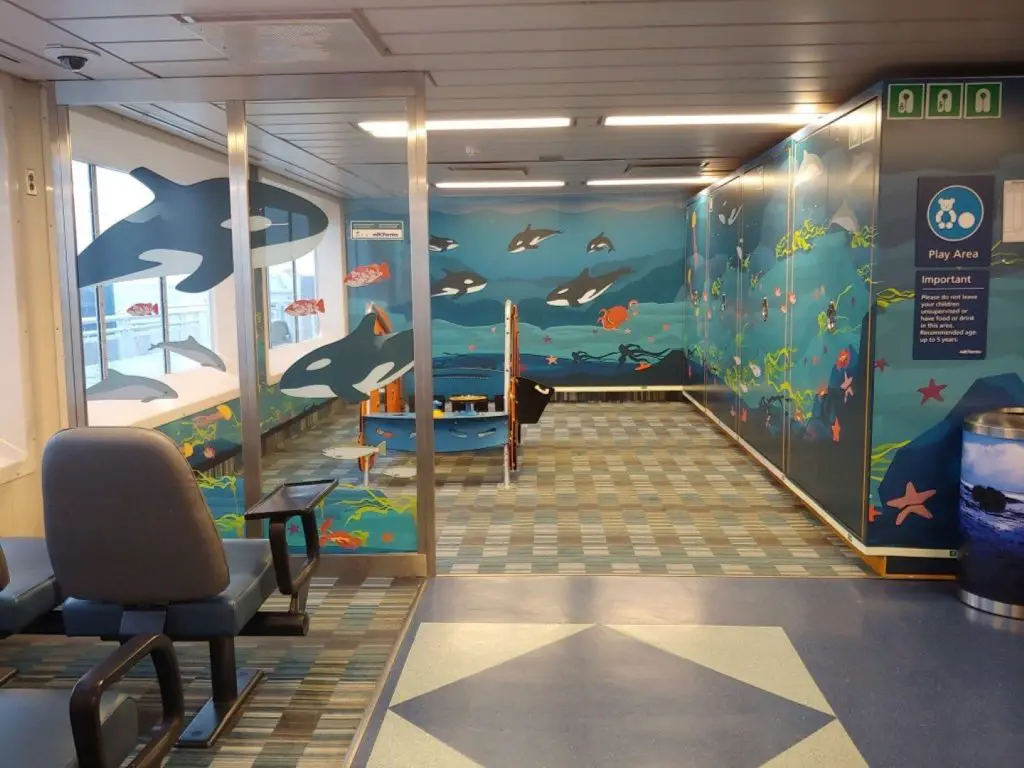 Retail Store on Deck 5 (clothing, souvenirs, wine glasses etc.)
Best Buy Vending Machine (earbuds, charger, headphones, speakers, cables etc.)
TV in the forward lounges, leather seats & working desk with plenty of electrical outlets
Complimentary wifi (however, both Eric and I had trouble connecting to it for most of the trip but we had no problem with our cell network )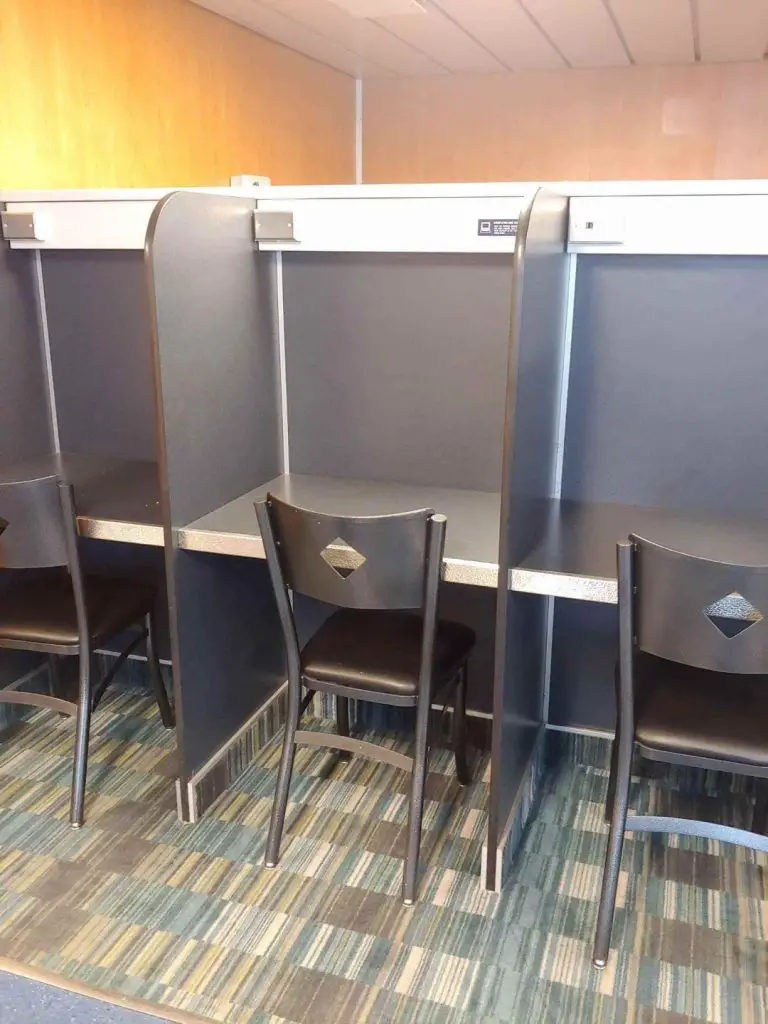 Cleanliness – General Area
In general, the ship was really clean. One of the washrooms smelled a little off but it looked clean and well-stocked. The condiment areas were cleaned by the staff onboard throughout the journey as well.
Conclusion
As I have already mentioned, I was glad that I made a reservation this time as it turned out to be crucial due to the Easter long weekend. For $10, I think it's worth the money to secure a spot when you are travelling with a vehicle to minimize wait time.
The prices for food and beverage are slightly higher than food court prices but as expected for a "monopoly" since there is literally nowhere else to go while onboard. However, you are always welcome to bring your own onboard as there is plenty of seating area on the ships.
The ferry round-trip including reservation fees was $204 (Apr 2019) for a passenger vehicle and two adults. It is quite pricey for a local trip but compared to alternative transportation methods to/from Vancouver and Victoria, there isn't really any cheaper options unless you choose not to bring your vehicle onboard. For example, if you travel by air which takes 30 minutes (vs. 1.5 hours by ferry), a round-trip would cost $414 with Harbour Air. You can also park and ride and the parking rates are $11 for 6 hours and $16 for 24 hours. The lot can get filled up during the holidays though.
Another tip to save money is to check out the BC Ferries Vacation website. It offers great travel packages that include hotel stays and ferry tickets. For hotels in downtown Victoria, the parking that's included alone could be savings as high as $40 per night. The promotion varies and sometimes they offer 3rd night free or free hotel category upgrade.