Update 06/2019 – price for the combo has increased from to $59.80, all else remains the same
Overview of Grand Palace Restaurant
Grand Palace Restaurant is one of our favorite dim sum places in Coquitlam because of the spacious seating and reasonably-priced dim sum menu.
They are slightly pricier than Kam Ding and Rainbow Butterfly nearby but it makes up for it with the comfortable dining environment and location.
It is situated on the second floor of Henderson Mall which means parking is plentiful. In fact, there are a number of reserved parking spots right next to the mall entrance on the same floor for its customers as well.
Review of Dinner Combo Special
They have recently released their Dinner Combo Special for $49.80 CAD. Available on weeknights after 5 PM, holidays excluded. It comes with
3 dishes from the list of 18 options below
3 bowls of rice
daily special soup
dessert soup & cookies (we got 4 servings as there were 4 of us)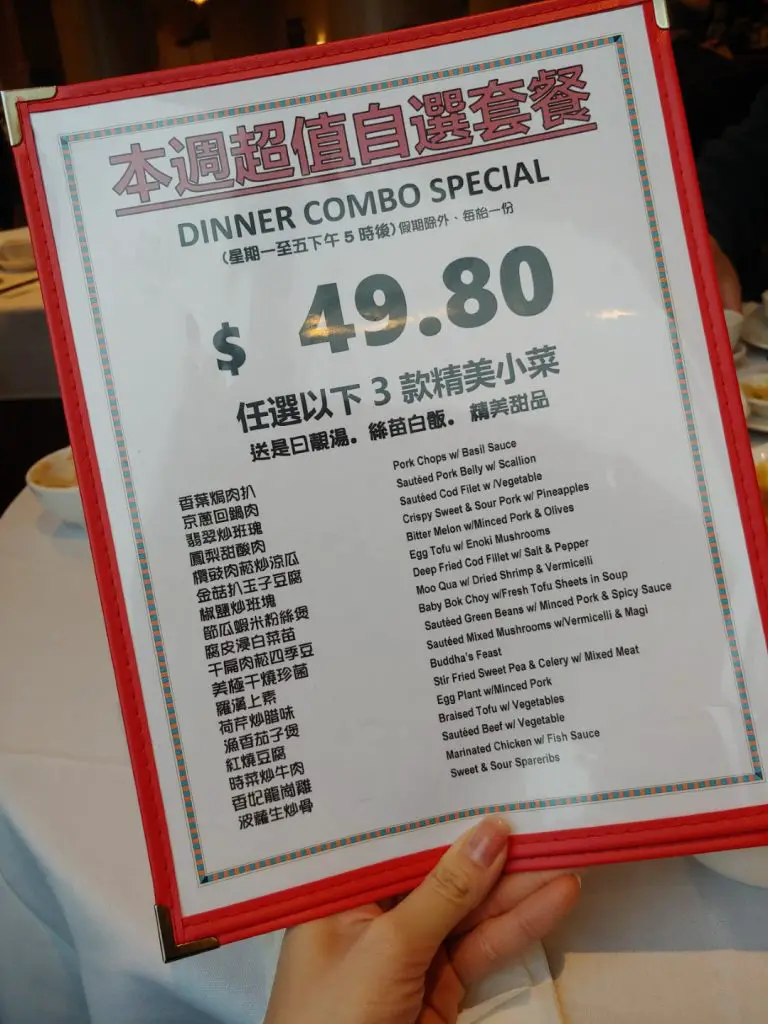 The daily soup was shredded pork with melon and salted egg which happens to be one of my favorite Chinese soups. It came in a big soup bowl that was enough for more than 4 people. There was also a generous amount of toppings inside.
The Egg Tofu with Enoki Mushrooms was served with crispy fried egg tofu with a slightly thick savory sauce mixed with enoki mushrooms and steamed broccoli. Marinated Chicken with Fish Sauce was served with ginger-oil dipping sauce. The chicken was not very meaty but their skin was very fat. If you love chicken skin, you will love this. The pork pieces in Crispy Sweet & Sour Pork with Pineapples was freshly fried. There was a good mixture of pork, onion, peppers, and pineapples.
The Taro Coconut Milk with Tapioca Pearls was delicious as it wasn't too sweet with plenty of taros and tapioca pearls. I wasn't sure what flavor those cookies in the back were but they were crunchy and was a perfect ending for the meal.
Conclusion
Our party of 4 all enjoyed the friendly service and food. The price was also unbeatable for the value. The items we ordered were delicious, however, there are other items that we would like to try out as well, for example, the Moo Qua with Dried Shrimp & Vermicelli. The only downside was that a couple of my usual favorite Chinese dishes weren't listed.
When we told the owner who happened to be serving customers that we enjoyed our meal, he seemed genuinely happy and appreciative. It is always nice to support local business.