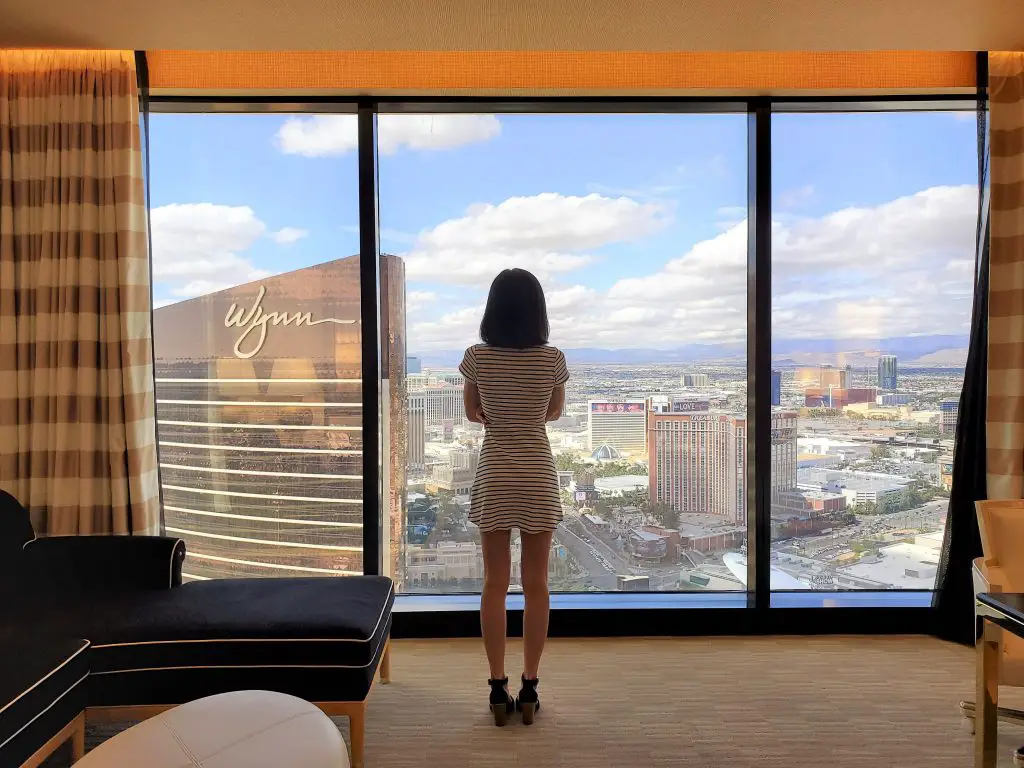 In the last post of the All Things Vegas Series, I shared my list of restaurants in Las Vegas you have to try. In this post, I will be sharing my list of hotels in Las Vegas you have to stay at. One of the reasons why I love Vegas is the affordability for 5-star luxury hotels compared to anywhere else in the world. You can stay at a 5-star hotel such as Wynn Las Vegas for less than $200 USD per night with taxes and fees. In metro cities like San Francisco, that will barely get you a night at a 3-star hotel like Holiday Inn.
I love Vegas. I am one of those friends who would respond with 10+ messages when you ask a simple question about Vegas. Since I won't be visiting Vegas in the near future with all the travel restrictions, I have decided to write a series of Vegas posts for fun. Note, all opinions are my own and you may have different preferences. One of the beauties of Vegas is that they truly have something for everyone!
As an Amazon Associate I earn from qualifying purchases.
Hotels in Las Vegas, NV That You Have to Stay At
ARIA Resort & Casino
ARIA is conveniently located close to the middle of the Las Vegas Strip making it easy for first-time visitors to explore. There is a complimentary tram that connects Park MGM/ARIA with Bellagio with a stop at The Crystals (luxury shopping centre). The rooms at ARIA were amongst one of the first to be equipped with different smart gadgets including panel-controlled blinds. The hotel itself is modern and luxurious and is one of the newest hotels on the strip.
Recommended Room Type: the Deluxe Rooms (basic category) at ARIA have the smart features and floor-to-ceiling windows.
Bellagio Hotel and Casino
I personally have not stayed at Bellagio yet but there is no doubt the Bellagio is one of the most classic hotels in Vegas. If you have watched Ocean's Eleven, you will recall the ending scene where the crew stood in front of the Bellagio Fountain.
Recommended Room Type: splurge on a Fountain View Room as that is part of the iconic experience.
Delano Las Vegas
We stayed at Delano Las Vegas for the first time shortly after it opened (booked at Mandalay Bay but was offered an upgrade to Delano for a fee). The all-suite hotel was one of the nicest hotels I have stayed at back then and it blew our minds. Even though the hotel is attached to Mandalay Bay, it had its own distinctive style and smell (love the smell so much I got a hand cream that reminds me of it). The only downside is it being located at the far end of the strip making it less ideal for first-timers.
Recommended Room Type: as an all-suite hotel, the Delano Suite (basic category, 1 king or 2 queens) offers more than enough.
Encore At Wynn Las Vegas
Encore at Wynn Las Vegas is an all-suite hotel located at the opposite end of the strip as Delano. It is a sister hotel of Wynn Las Vegas but I prefer Encore. It has more privacy being further away from the strip and offers its guests access to both its pool and Wynn's pools. Also, if you ask for a room facing Downtown Las Vegas, you can avoid the noise from the pool parties on the weekends.
Recommended Room Type: the Encore Resort (basic category, 1 king or 2 queens) offers over 700 sq ft of space with a sofa and a desk making it more than enough.
Hotels in Las Vegas, NV That You Have to Stay At…. Once
Luxor Hotel & Casino
Luxor has to be one of the more iconic Las Vegas hotels. Its pyramid shape is unlike other hotels in Vegas and makes it one-of-a-kind. I recommend at least staying there once for the unique experience. The Luxor is connected by a complimentary tram between itself, Excalibur and Mandalay Bay.
Recommended Room Type: I recommend staying at a Pyramid Premium Room (1 king or 2 queens) at the minimum because it is the lowest category of refreshed rooms. These rooms are located at the Pyramid itself but if you don't mind staying at the new tower, the Tower Premium Rooms are even nicer.
MGM Grand Las Vegas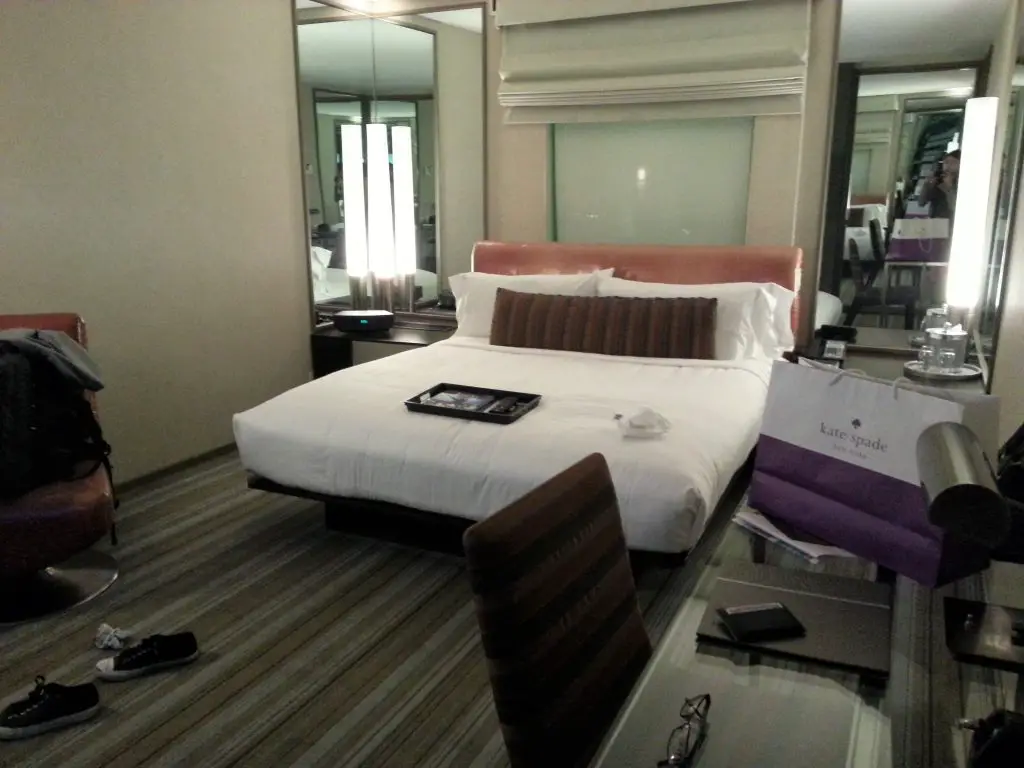 There used to be a lion habitat at the MGM Grand but it closed in early 2012. However, the MGM Grand remains one of the more iconic Vegas hotels due to its history and massive size. David Copperfield, the famed magician, has a long-running residency there.
Recommended Room Type: the Grand rooms (1 king or 2 queens) are the minimum category I would recommend as the West Wing rooms are tiny with an odd floor plan that is definitely not ideal for non-couples.
Hotels in Las Vegas, NV That You Need to Avoid Staying At
Circus Circus Hotel & Casino
I have never stayed at Circus Circus and do not plan on staying there. It is a very dated, family-friendly hotel at the north end of the strip. The walk from Circus Circus to any attraction on the strip itself is boring (might change when Resorts World finally opens) and deserted. It is definitely a budget hotel but I prefer taking advantage of staying at fancy hotels for much less than what you could anywhere else when you are in Vegas!
Excalibur Hotel & Casino
Excalibur is another family-friendly hotel (still has a casino though) located in a much better location than Circus Circus. I don't recommend this because it is also very dated with its most recent 2016 renovation getting mostly negative reviews. Until the rooms undergo major refresh and upgrade, I don't think staying at the Excalibur will offer you the best Vegas experience.
Conclusion
There goes my list of hotels that will hopefully help you plan which hotel to stay at in Las Vegas. As mentioned in the beginning, these are all my opinions based on my preferences. There are also many hotels on the Las Vegas strip that I did not discuss on this list but are worth looking into (e.g., Cosmopolitan, Caesars Palace, the Venetian etc).
Leave a comment below and tell me your favourite hotel!