Whistler is our favourite staycation spot that is only a 2-hour drive away. The drive on the sea-to-sky highway is one of the most scenic drives in Canada and we have luckily never encountered any traffic. On our way there, we would usually stop by Squamish for a quick fuel up or a coffee break before continuing for another 45 minutes to Whistler.
As you may already know, Whistler is a world-famous travel destination (skiers in the Winter, mountain bikers in the Summer). There are plenty of restaurants to choose from and Eric and I definitely have some favorites that we go back to every time we are in town. However, we do discover new one every trip so we continue adding to the list.
Whether you are going to Whistler, BC for the first time or a return visit, check out my favorite restaurants below. You might find one you have never tried!
Restaurants in Whistler, BC That You Have to Try
COWS Inc.
There is almost always a line up for ice cream at COWS Inc. Since I am not a fan of ice cream, this is technically Eric's choice. When he is craving ice cream in Whistler, COWS is almost always his go-to. Even though it is not the best ice cream he has had, it served the purpose. The Whistler location is also the only COWS location in British Columbia so you have to try it once.
Crêpe Montagne
Nothing says vacation morning more than enjoying a breakfast crepe with eggs or a sweet Nutella crepe. Crêpe Montagne near the Whistler Olympic Plaza is the best spot for that.
El Furniture Warehouse
We only found out about El Furniture Warehouse on our last trip to Whistler last year. Their Whistler location offers an entire menu of $5.95 items. The wide selection includes salads, soups, appetizers, sandwiches and more. The taste of the food was average during our visit but the value more than makes up for it. It is the perfect place for a more affordable meal in a tourist town like Whistler.
Pasta Lupino Whistler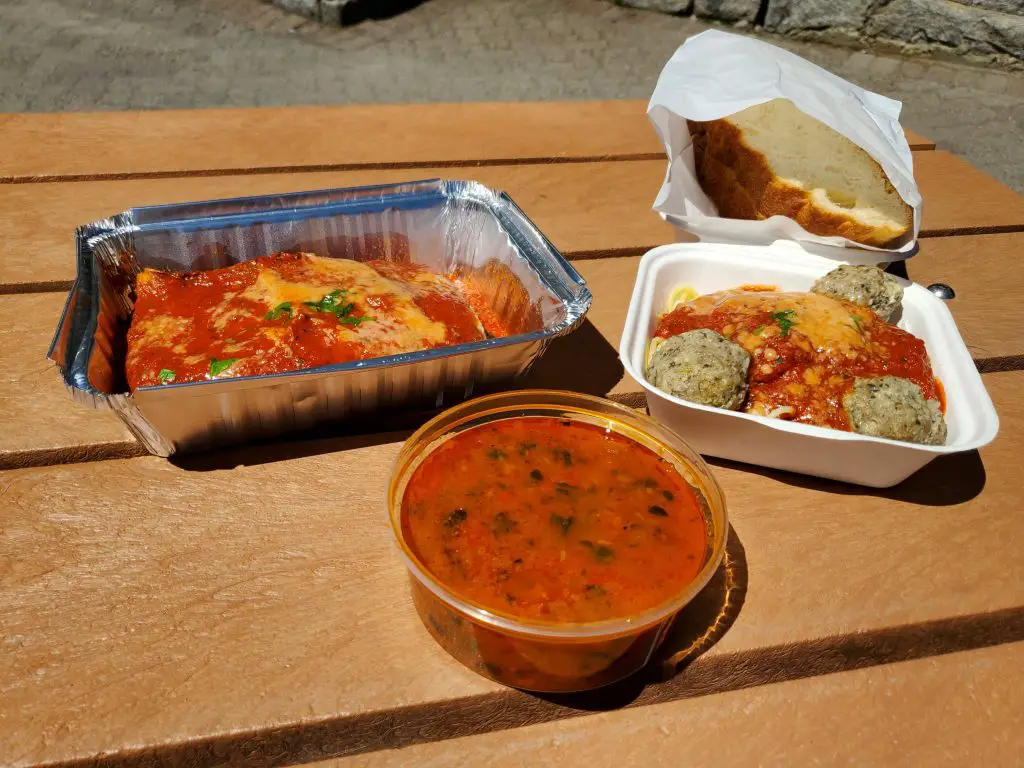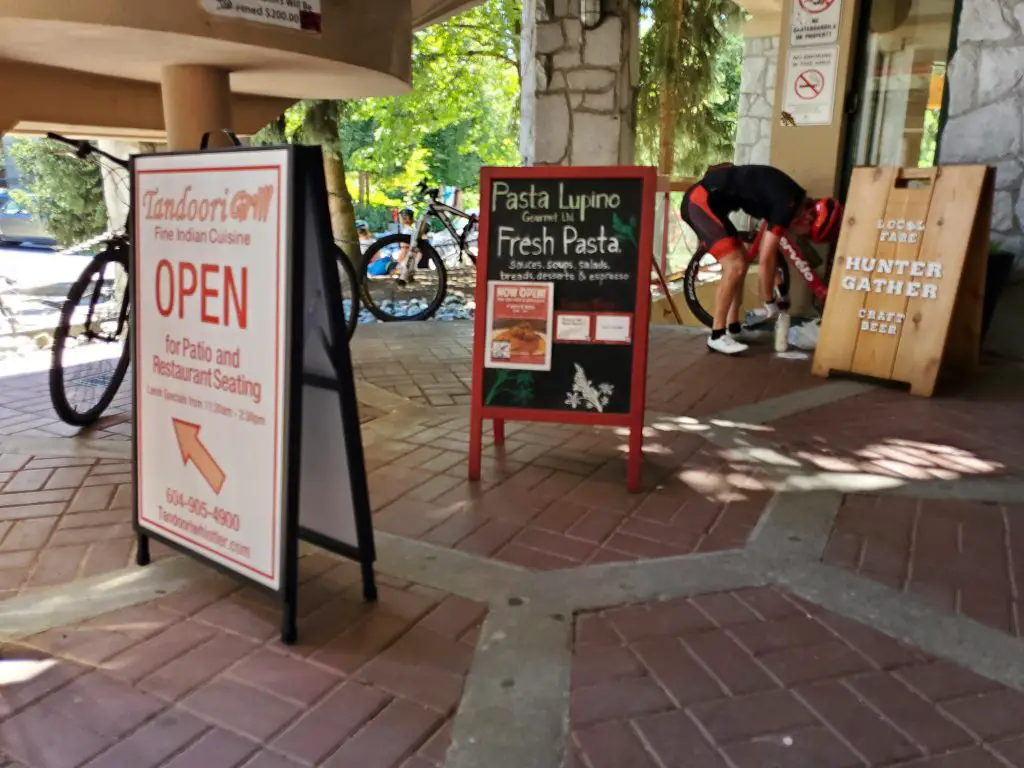 Another one of my favourite restaurants is Pasta Lupino Whistler. They make their pasta and focaccia bread in-house which are also available for sale if you want to take some home. This italian restaurant is another more affordable option in Whistler.
Peaked Pies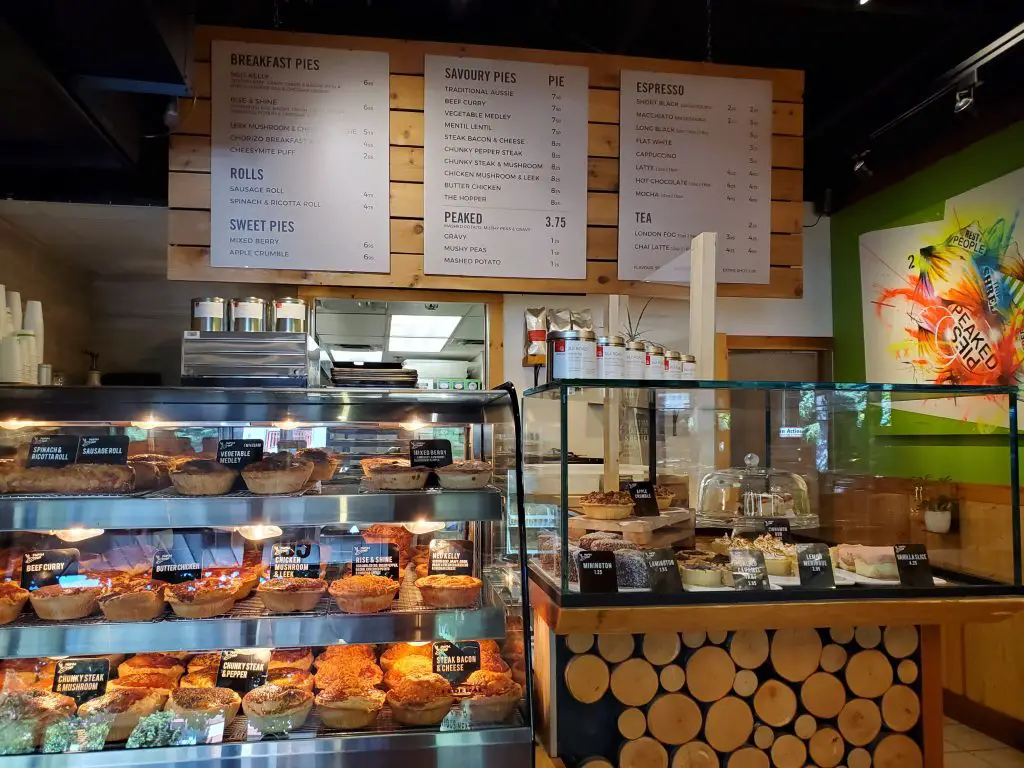 Peaked Pies is my favourite restaurant in Whistler as it serves one of my favourite food – pies! I almost always order their Chicken, Steak & Mushroom pie and Minington (more commonly known as Lamington). If you are up early, make sure you give their breakfast combo a try too.
Sidecut at Four Seasons
We have been to Sidecut at Four Seasons twice and were not wow-ed until the second time. The steakhouse at the luxury hotel is perfect if you are celebrating a special occasion in town. The heated patio seating in the winter offers an upscale private dining experience.
Restaurants in Whistler, BC that We Don't Plan On Returning
Main Street Noodles
One of the downsides of Whistler is its limited Asian food options. I was craving hot noodle soup/pho noodles when I decided to give Main Street Noodles a try. Unfortunately, it did not meet my expectation at all. It was oily and lacking in flavour.
The Old Spaghetti Factory (Whistler)
The Old Spaghetti Factory is a chain restaurant known for its all-included pasta meal for one low price. In addition to your choice of an entree, the price comes with sourdough bread, soup or salad, ice cream and coffee/tea. Even though it is a great place to keep the dine-out cost low, the taste of the food is usually below average. With many locations all over the mainland, I will not be returning to The Old Spaghetti Factory in Whistler anytime soon.
Conclusion
I hope you will fall in love with at least one of our favourite restaurants in Whistler, BC in this post.
Comment below if you want to share your favourite restaurant in Whistler as well!