Getting There from Vancouver, BC
Late-Feb 2020, O°C to 4°C
When I was doing research on the drive to Kamloops, it seemed winter tires (illegal to drive without from Oct 1 – Apr 30) and frequent check of road conditions were the biggest tips. To be on the safe side, we also made sure our windshield fluids were topped up and also snacks and bottled water were available.
I used both Google Maps and DriveBC's website to stay updated on road conditions and closures. This drive was a mix of Highway 1 and Highway 5 (Coquihalla highway) and the weather changed rapidly and drastically.
However, it was also a very beautiful, scenic drive that we would love to do again.
Merritt, BC
On our way to Sun Peaks, we stopped at both Hope and Merritt. There is much more to do in Merritt as soon as you get off the Coquihalla Highway than Hope but we filled up in Hope first just in case we get stuck on the Coquihalla.
Where to Stay
Sun Peaks Grand Hotel
Between the elegantly furnished rooms and magical slope view, there is nowhere else I would rather stay than the Sun Peaks Grand Hotel (full review here).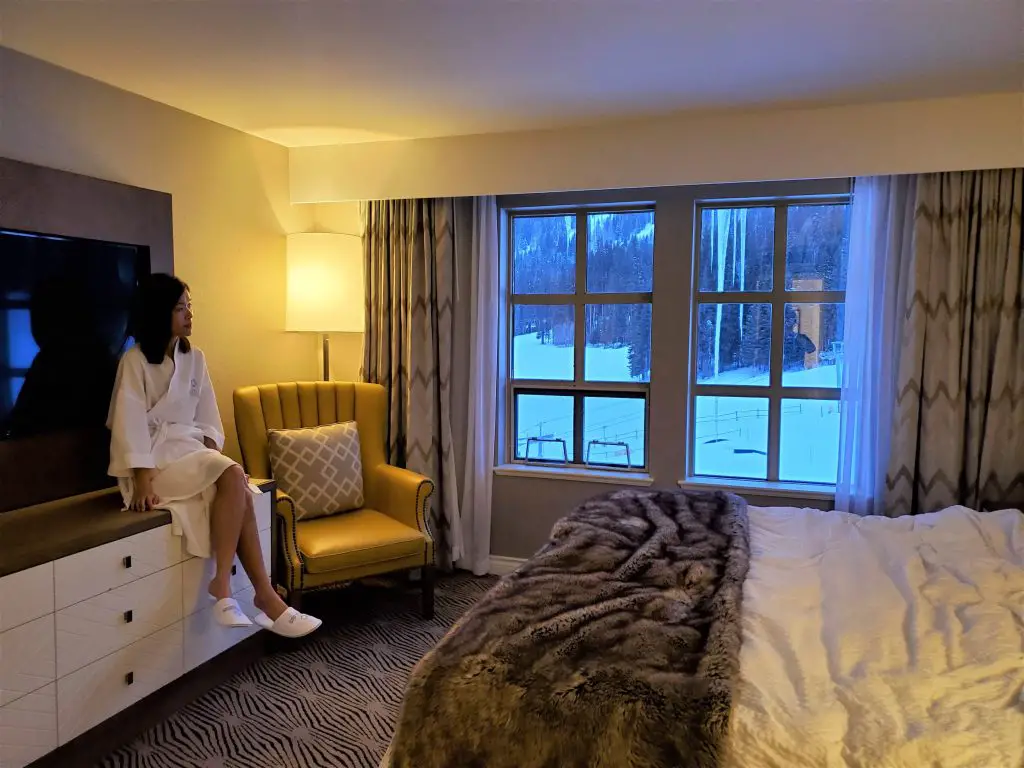 Where to Eat
Todd Mountain Cafe
They served coffee, crepes, bagels, and breakfast sandwiches. There wasn't much seating inside but there is outdoor seating available overlooking the village. The food was nothing special but served its purpose.
5forty Cafe & Deli
We chose to sit at the bartop but there were actually plenty of tables. You order at the counter and food gets delivered to you. I had a whole wheat wrap with chorizo sausage and quinoa while Eric enjoyed the Farmer's Breakfast.
Once again, food was nothing special but it was priced reasonably for its location.
The Annex
A cafeteria right in front of the bunny hill. It offered free-wifi and plenty of window seatings with a selection of beers on tap! This was actually my favourite spot to people watch.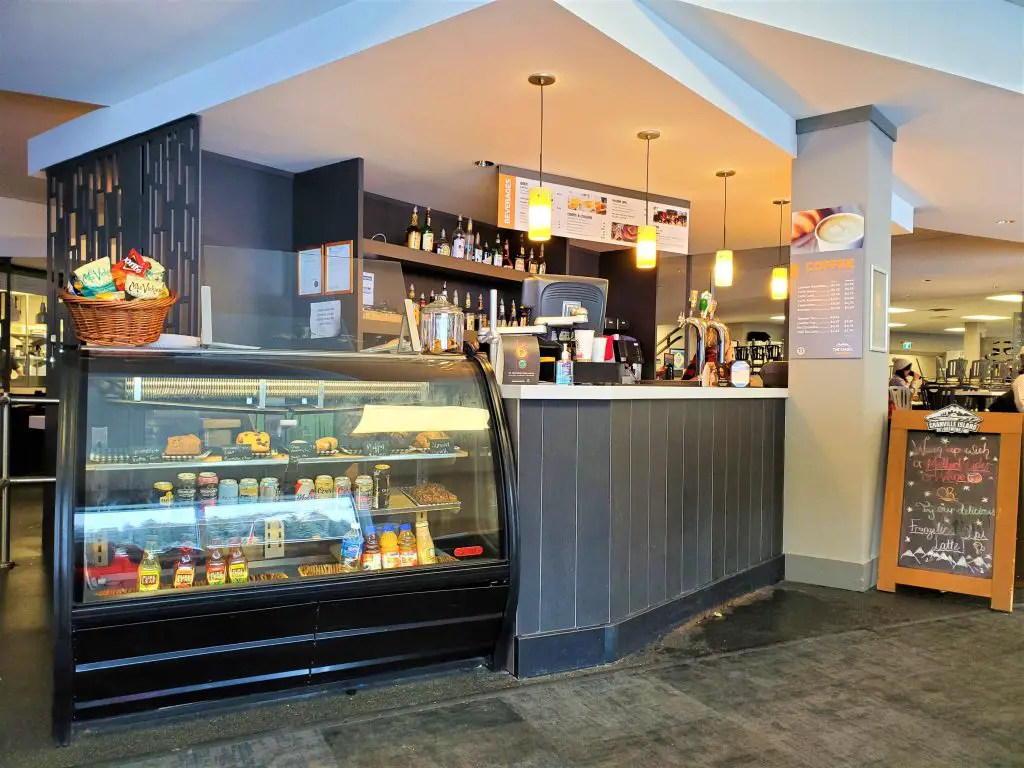 Mountain High Pizza
Online order was quick and easy. Eric had a small meat lover and he said it was quite good. It was less than a one-minute walk from the Sun Peaks Grand and you won't want to miss it after a tiring day of activities.
What to Do
Ski
Between getting rescued by ski patrol and getting up & down on the bunny hill, I can't say I skied much this trip. However, there was never a long wait for the 2 chairlifts from my observation which I think many skiers can appreciate.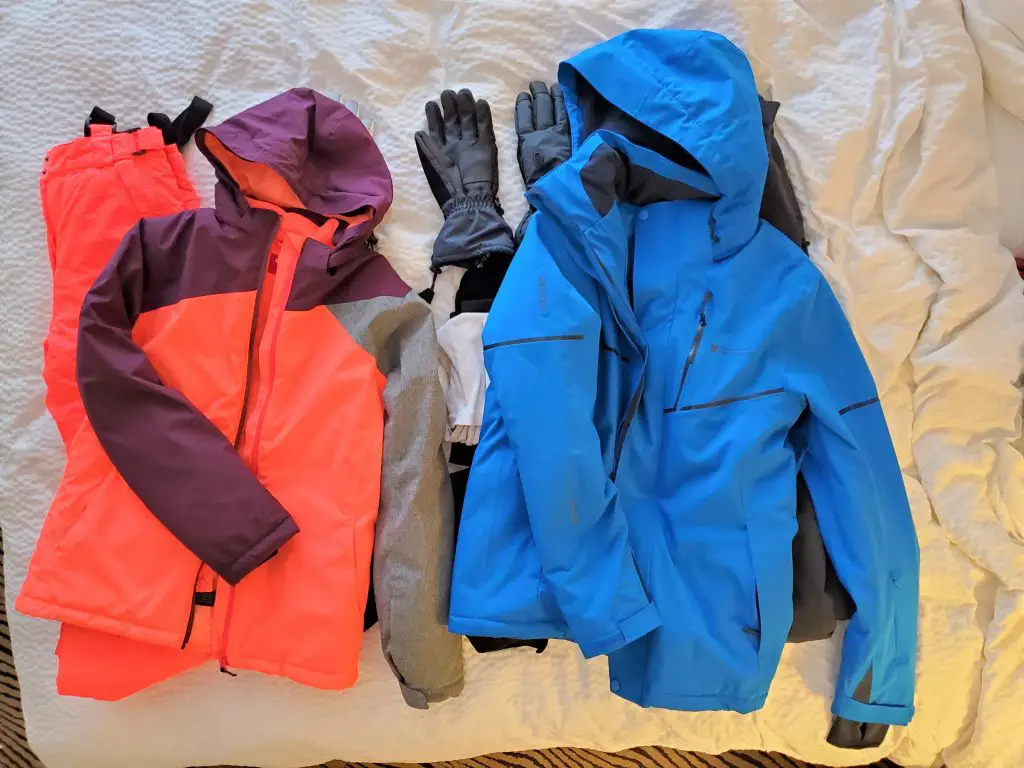 Snowmobile Tour
We joined a 2-hour Snowmobile Tour at the Activities Desk inside of the Village Daylodge. It was just under $300 with taxes for a snowmobile with one passenger.
Both Eric and I had lots of fun and the driving time was a good 1.5 hours. We stopped at a few viewpoints including a frozen lake. Our tourmates mentioned that this was much more superior to the one they offered in Whistler. It seemed the Whistler one did not offer as much driving and covered fewer grounds.
The tour guide also took care of Eric and me when we didn't dress properly for the tour. We were provided snow pants, snow boots and helmets to keep warm.
Bonus – Kamloops Downtown
On our way home, we stopped by Kamloops Downtown for a quick bite and some snacks. Since it was snowing, we decided instead of trying a restaurant downtown, we would just stop by the mall there for something to eat.
To our pleasant surprise, Senor Froggy on Landsdowne St hit just the right spot!