I have been meaning to do a spending recap for our last-minute weekend trip to Seattle last month. In the past, I would do a recap of our travel costs only for longer trips like a week in Vegas. Also, on jenthinks, I have only shared trip reports and never the costs. But one of my goals this year is to share more financial content on jenthinks so here's how much our two days in Seattle cost in February 2023.
Cost Breakdown by Category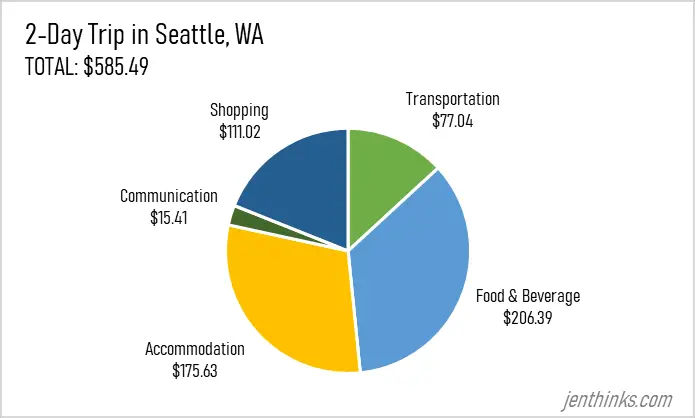 ACCOMMODATION: $175.63 CAD
Since this trip was last-minute, I booked a basic King room at Sheraton Grand Seattle only the day before our trip. With Express Deal on Priceline, I was able to get a really good rate for a Saturday night.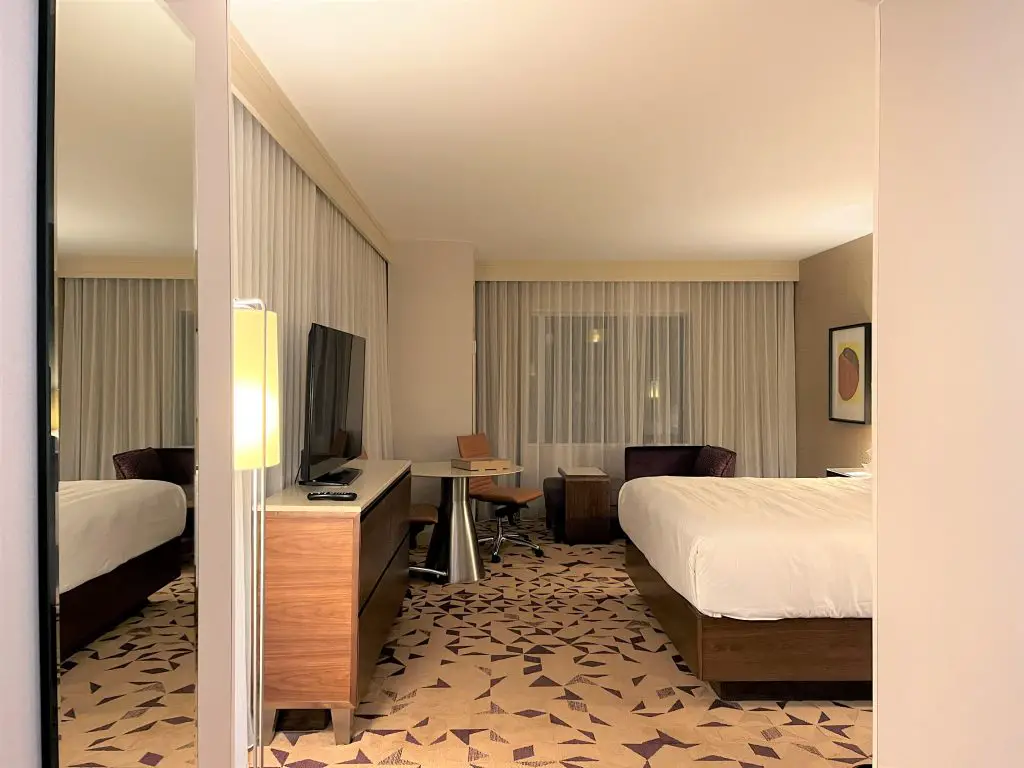 When we checked in, I asked the agent if a corner room was available. It did not take him long to find one on a high floor. Normally, I would book direct for status points and/or a higher chance of upgrade. However, the rates were too different between the Express Deal on Priceline and direct booking this time. I am glad I still got the more spacious and brighter corner room despite booking with 3rd party last-minute.
FOOD & BEVERAGE: $147.60
Here are the top 3 food places we visited this trip:
1. Delfino's Chicago Style Pizza, Seattle, WA
We ordered a Medium Stuffed Meaty Masterpiece ($36 USD) and it was definitely way more than enough food for 2 (menu said it will feed 3 to 4). We didn't dine in because we wanted to eat in the hotel room instead. The pizza was no longer piping hot when we took our first bite in our room but it was SO GOOD. I can't wait to go back and try again.
2. Four Seasons Buffet, Burlington, WA
Saturday lunch price for adults was $16 USD when we went in February 2023. We were one of the first tables there and every station was clean and presented nicely. The quality of the food was slightly better than what you would expect at an affordable buffet. They also had my favourite Mongolian grill station in addition to some seafood options. Eric and I both thought it was a solid option at this price point.
I do recommend going early if you want a calm buffet experience as the restaurant filled up rather quickly.
3. Kizuki Ramen & Izakaya, Bellevue, WA
We walked by this ramen restaurant located inside of Bellevue Square last time and there was a line. It was outside of busy lunch time when we went this time so we were able to get a table right awat. The ramen was nothing to travel all the way here for but it was a solid choice if you were already shopping at the mall. The portion was on the small side as I was able to finish it all (I tend to have leftovers). The prices for their ramen ranged from $14 to $16 USD.
TRANSPORTATION: $77.04 CAD
Parking: Our hotel, Sheraton Grand Seattle, is conveniently located in downtown Seattle. The prime location meant only Valet was available like other hotels in the area. Eric is not a fan of valet so we opted to park overnight at the nearby underground parking at Pacific Place a few minutes walk away from the hotel. The overnight rate was $30 USD which would have added up quickly for an extended trip but since we were only there for a night, it was fine. Since the parking lot was gated, it felt very safe and we did not see any broken windows.
Charging: For the two-day road trip, we had to charge our car twice at a Supercharger which totaled $25 USD. There was a bit of a wait at the Supercharger at Westfield Southcenter Mall in Tukwila, WA. On our way back, there was virtually no wait at the Supercharger in Burlington, WA.
COMMUNICATION: $15.41 CAD
Mobile Data: For this trip, I purchased he Airalo's 3 GB for 30 days eSIM ($11 USD) before I left Vancouver. I believe I used just under 2 GB which made the 3 GB package perfect for a weekend trip like this.
SHOPPING: $111.02 CAD
With the Canadian dollar as weak against USD as it was (1:1.4 USD/CAD), we barely did any shopping. Most of the expense in this category was spent on household items we would have picked up back home anyways. I mostly picked them up out of convenience.