Subscribe to my monthly newsletter here or follow me on Twitter so you don't miss any personal finance post!
If you follow my Monday Hour One recaps, you might already know that I update our net worth monthly. Every once in a while, I also run some retirement scenarios to see if we are on track at our current saving levels. I thought I would share my most recent scenario here hoping it might inspire you to do the same. You might be saving regularly but are not sure if you are saving enough for retirement, know that it is important for you to know for sure. This way, you can either adjust your spending habits or continue as-is.
How Do I Envision Our Retirement Lives To Be?
We plan on retiring when I turn 55 which leaves us with just over 26 years to reach our goal (debated whether to hide my age but in the name of relevance, I had to share). One very important question we must ask ourselves when it comes to retirement planning is how do we envision our retirement life would be. I have broken our perfect retirement life into the following categories in order to come up with how much money we will need.
Housing Costs
One of my goals before retirement is to be mortgage-free for both our principal residence and investment properties. Therefore, I only expect to have recurring strata fees, property taxes, home insurance and property management fees.
RECOMMENDED POST – Why I Chose The Amex Cobalt Card
Transportation
We have almost always leased our vehicle. I do not enjoy driving one bit so I don't expect us to have two cars. Things might change in the future making an extra vehicle more convenient. However, at this point, I only include one fully-paid vehicle in our retirement future. Therefore, the only recurring cost should be car insurance and gas.
Living Expenses
Since I have been budgeting for a while, I have a pretty good idea of how much our current expenses are. This category includes everything from Netflix, food (groceries & take-outs), clothing, entertainment and more. Unless something drastically changes our way of living, otherwise our current spending habits are quite comfortable.
Travel
The reason why I want to retire at 55 is partially because I envision a lot of comfortable travelling meaning nice hotels and no red-eyes (I have in fact never taken a red-eye flight because I know I will waste the entire next day recovering).
How Much Does It Cost To Live The Retirement Life We Want?
Now that I have a pretty good picture of how I want our retirement life to look like, it's time to get started with the numbers. Note, for simplicity's sake, I did not account for inflation.
Even though I am presenting Income before Expense, I actually figured out the expenses first. In order to figure out how much we will need monthly, I took all the factors mentioned previously into consideration. From there, I calculated the income required. Rental income will vary depending on the properties themselves but I included a target amount anyway. For reference, in 2020, a new 650 sq ft. one-bedroom unit in downtown Victoria with parking will bring in $1,800 monthly rent.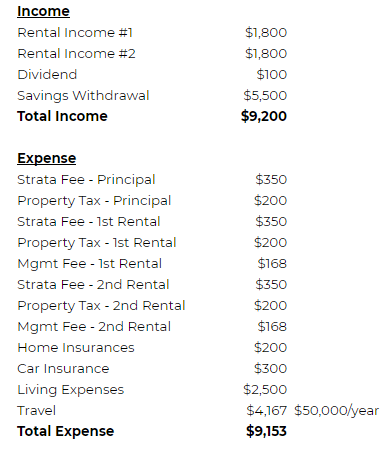 Since owning 2 mortgage-free rental properties has always been one of our retirement goals, I included rental incomes first. Then, I also included an estimated amount of dividend income from stocks. Last, I figured out how much we will need to withdraw from our savings for the remaining expenses.
Answer is, $5,500.
How Much Do We Need To Save For A Monthly $5,500 Withdrawal?
There are many savings withdrawal calculators online and I have chosen this one by Bankrate. I input the $5,500 per month withdrawal and worked backward to figure out the starting amount. I included a very conservative 2% rate of return (e.g., term deposit, savings account) as I don't anticipate investing in high-risk-high-return products (e.g., company stocks) with the savings during retirement.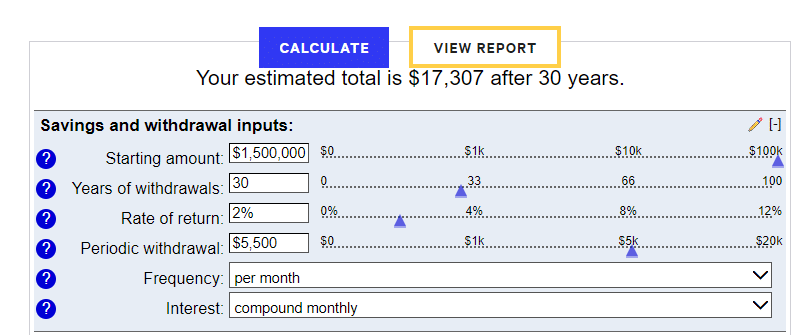 As you can see from the result, $1.5 million will allow for a monthly withdrawal of $5,500 for 30 years assuming a 2% rate of return. This means, in order to retire the way we want to, we will need to pay off the mortgages for our principal residence and rental properties and save up $1.5 million cash*.
How Do We Get There?
Paying off 3 mortgages while saving $1.5 mil sounds impossible. However, if you have not already heard, compounding interest and time really do wonder. In my next post, I will share my plan on how to invest and save for our dream retirement.
*does not need to be actual cash; can be investments instead