Subscribe to my monthly newsletter here or follow me on Twitter so you don't miss any Money Diary post!
After my mid-month update, I told Eric we had to stop eating out so often so we can end the month within our budget. Of course, that did not happen. In fact, I think we ate out/got take-outs more often than usual (similar to pre-WFH level). At one point, Eric even reminded me I said we had to eat out less often. I told him my happiness mattered more than my budget so there is that. 😏
Budget vs. Actual for August 2020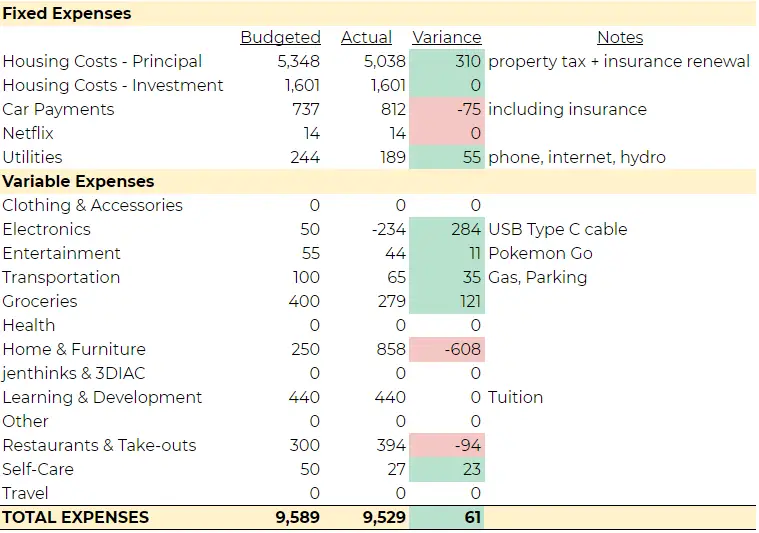 Categories We Did Well On
I already mentioned in our mid-month update that the positive variance in Housing Costs – Principal was due to the cheaper condo insurance I found with Schill Insurance. Nothing else under Fixed Expenses changed for the rest of the month.
Since we didn't buy any Electronics after refunding the mouses, there remains a positive variance. Since we didn't go far this month, we also only had to fuel up once under Transportation.
As mentioned, we ate out/got take-outs more often than usual this month. This caused a positive variance in Groceries and the opposite for Restaurants & Take-Outs. Overall, we ended August just under budget for food.
The couple of Self-Care items I picked up still managed to put us under budget for the category.
Categories We Overspent On
We way overspent on Home & Furniture. If anyone thought it was because we decided to finish off our complete console table look, I am sorry to disappoint.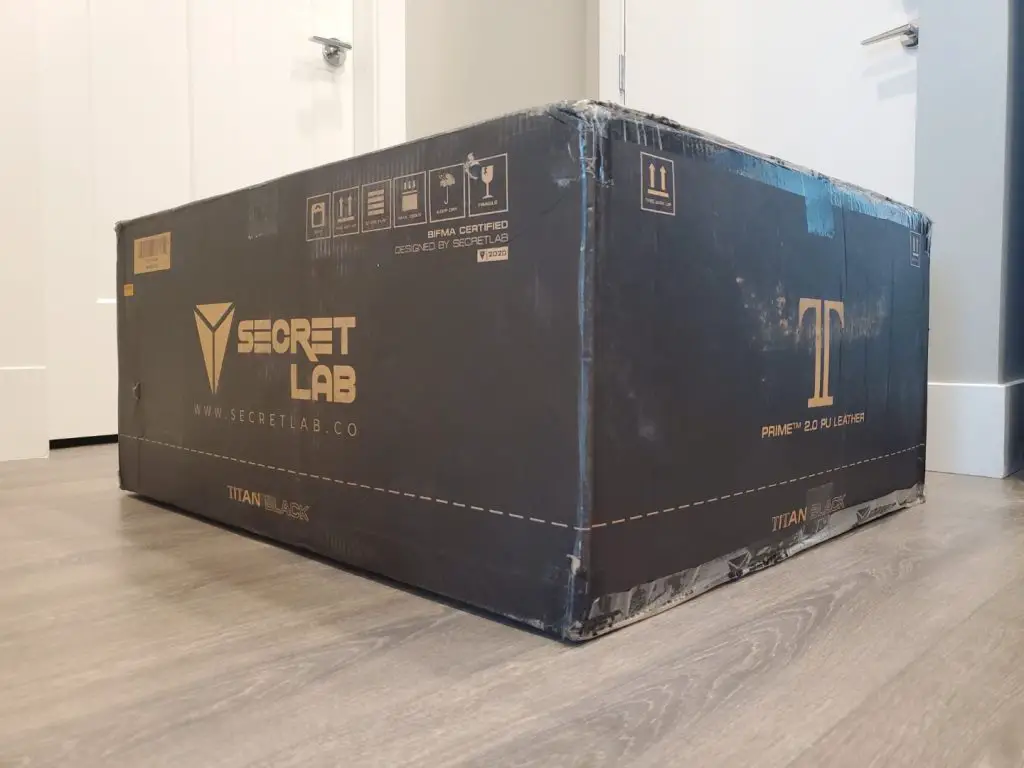 Eric ordered a fancy gaming chair from a Singaporean brand called Secret Lab while I tried the interior design service provided by Modsy x CB2. The biggest perk of this service is you get to use the design fees you paid towards any product at CB2. If you shop at CB2 already, the service is essentially free.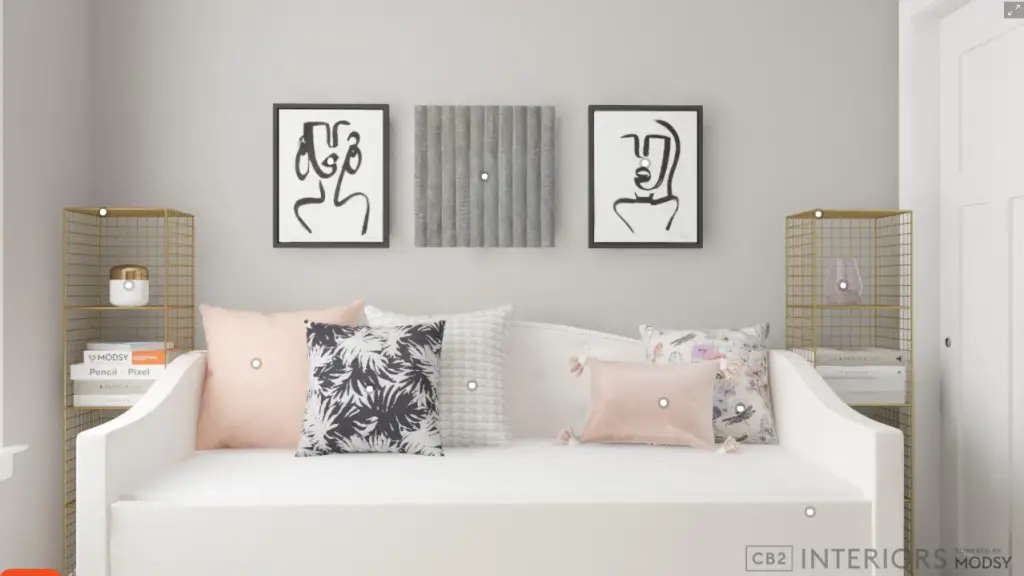 Conclusion on Budget vs. Actual
Overall, we ended August under budget by $61. The money we saved on the condo insurance and from the mouses refund helped offset the Secretlab chair and design services.
Money Diary
Day One
8:00 am – I had a full to-do list for today so naturally I stayed in bed watching Netflix for as long as I could. When I finally got out of bed, it was because I was hungry. I had cup noodle and coffee for breakfast.
10:00 am – Eric and I finally inspected our condo for deficiencies as the one-year deadline was approaching. We have been meaning to do it for weeks but had been dragging our feet. It felt nice to be done with it. We found and reported a few small deficiencies at the end.
11:30 am – I convinced Eric to walk to Starbucks with me just after I started working on my CPA PERT. I felt I needed to clear my mind before tackling the task. After we got our coffees, we went to Homesense and came out with some decorative pumpkins for our console table. $14.55 (Homesense) $3.14 (Timmy's)
1:00 pm – We ended up playing some Pokemon Go before heading home.
4:00 pm – I finished all of the tasks on my to-do list and felt very accomplished! I then baked an oreo cheesecake and decorated the console table with my newest purchase.
8:00 pm – I did some reading and ended the night watching Modern Family (replacement for New Girl)
Daily Total: $17.69
Day Two
9:00 am – Eric headed out early today but I stayed in bed until 8-ish. Had a slice of the Oreo cheesecake I made for breakfast and spent the rest of the morning watching Modern Family. Another day of a full to-do list so it was extra hard to get started!
11:00 am – Eric picked up Starbucks for me (half-willingly) on his way home. I finished an assignment for CPA (item #1 on my to-do list) before heading out to do some light grocery shopping. $37.43
1:00 pm – We headed out to play some Pokemon Go and picked up some groceries. $29.16
3:00 pm – I wrote another section for CPA PERT before watching more Modern Family. I then had left over poached salsa chicken on rice after I made Hot & Sour tofu on rice for Eric for dinner.
6:00 pm – I made our favourite pasta salad with the bacon I got from this butcher that was new to me. The price was even higher than another chain butcher in town but Eric noticed the difference in quality.
Daily Total: $66.59
Day Three
9:00 am – I went back to sleep after the alarm woke me up at 6 am. I thought it must have been 7 am when I woke again but it was actually 9 already. Went out to pick up coffee and Pokemon. $3.14
10:00 am – My morning was ruined by finding out Google Adsense had put a hold on my blog due to invalid traffic. I thought it must have been the traffic bot that kept coming to my site until I realized Adsense wasn't even registering those traffic. Spent the rest of the morning trying to resolve it but decided at the end to leave it be.
1:00 pm – It was hard to get motivated after this morning but I did anyway. I ended up finishing everything on my to-do!
Daily Total: $3.14
Day Four
8:00 am – My alarm went off at 6 am as usual but I stayed in bed to watch Modern Family instead of studying (rest day for CPA). Had a bagel before starting work as it was going to be a busy day!
12:30 pm – Work was as busy as expected for Day 1 of month-end. Had leftover poached chicken on rice for lunch and watched more Modern Family.
4:00 pm – Eric went out to play Pokemon Go and I watched…… more Modern Family and even a movie on Netflix. Eric picked up mayonnaise for me on his way home for the pasta salad I made yesterday. $2.5
7:00 pm – I needed reassurance from Eric that it was okay to slack once in a while. He said yes. We watched another movie together before ending the night.
Daily Total: $2.50
Day Five
6:15 am – Staying in bed for just a little bit after the alarm went off. I had studying scheduled for this morning so I finished that first. Spent the rest of the morning before work on
12:00 pm – Day 2 of accounting month-end is one of the busiest so skipping lunch is rarely an option! Had the last bits of left over pasta salad and watched Modern Family. I love WFH.
4:50 pm – I had to work a little OT today to make sure the first part of month-end is done. It was quite a smooth one – will not be as lucky next month without one of my team members.
7:00 pm – I made Shin Ramen (instant noodles) and instantly regretted it because I finally realized how bloated I get every single time. I google a little and it seemed to be the salt content in instant noodles. I might cut down drastically on them from now on (I probably ate them 4 times a month). Eric went out to play Pokemon Go and picked up fast food on his way back. He also spent some money on in-game purchase as well. $17.54
Daily Total: $17.54
Day Six
6:25 am – I woke up to a gloomy, rainy morning and had to turn our lights on for studying.
1:00 pm – I had a late lunch as work was busy in the morning.
5:00 pm – We decided to get Popeyes yesterday night so we were craving it all day. It's a bit of a drive away so we decided to eat-in. Everything really has changed since the pandemic started – most tables were closed off and sanitizers were everywhere. I also didn't feel super comfortable eating in. $37.38
Daily Total: $37.38
Day Seven
7:30 am – I stayed in bed until breakfast time. I ate leftover from yesertday and it was sooo good.
12:50 pm – It's half-day Friday at work but I wasn't able to logoff right at noon. One of my coworkers is going on an extended leave soon so I wanted to make sure I catch her before she leaves.
Daily Total: $0
Weekly Summary