Subscribe to my monthly newsletter here or follow me on Twitter so you don't miss any Money Diary post!
As an Amazon Associate I earn from qualifying purchases.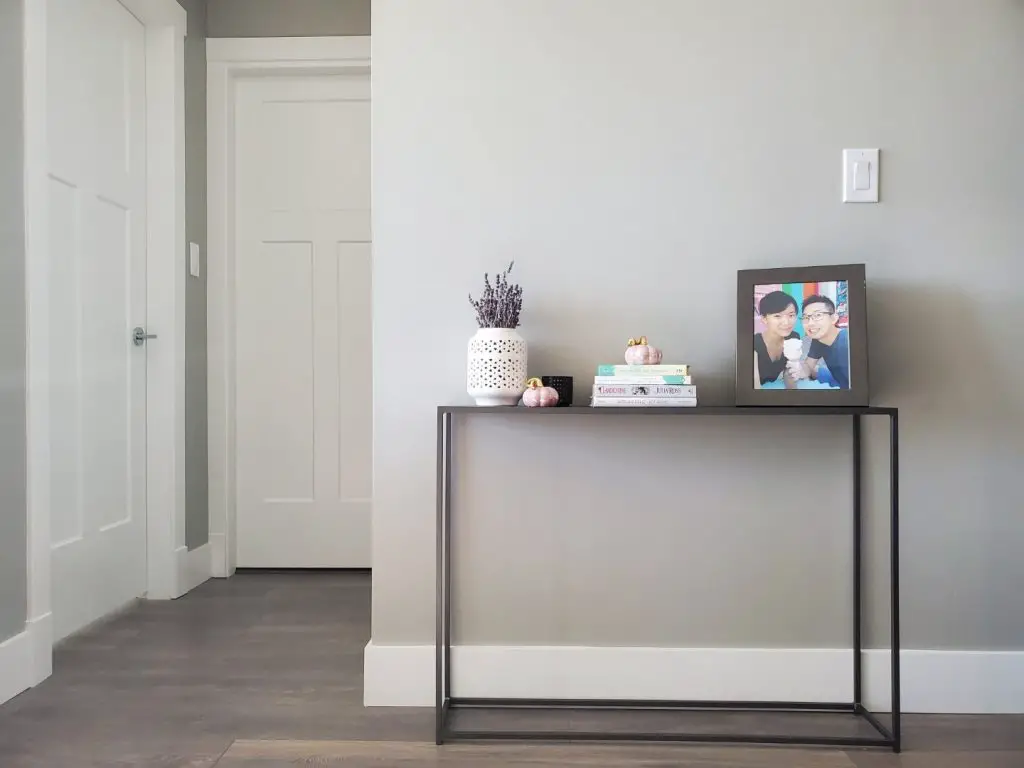 ---
Mill Mini Console Table from CB2 / White Ceramic Vase from Structube (no longer available, similar one here) / Tealight Holder from CB2 / Metalic Photo Frame (similar one here) / Ceramic Pumpkin from Homesense
---
Eric and I have a 4-day weekend in August so I had been itching to fit a trip to Sooke on the island. I was so close to finally booking it when I ultimately decided not to for a number of reasons: travelling during the pandemic is less carefree and more tiring (learned from our trip to Whistler), August is going to be an expensive month ($11k😲) without a trip and would be nice to have more time to work on my blogs.
I limited our "fun expenses" this month but still budgeted for some because a restricted budget won't work! August will be an important month for learning and development as I have a number of items I want to dedicate time to.
Read all of the Money Diary posts here
Budget for August 2020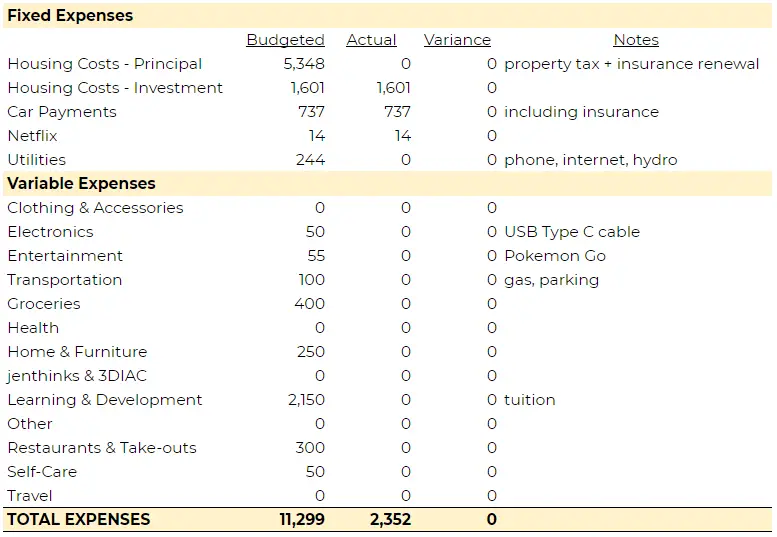 Fixed Expenses
One of the reasons why August is an expensive month is because of the property tax for our principal residence and insurance renewal for both properties. Those of us in BC must have heard of the buzz that was going around about strata insurance deductible increase. The quote I got from our current insurance provider was 70% more than what it would have been had the deductibles remained the same. That is in addition to a 10% increase from last year. All in all, it was going to be ~80% more than last year.
I reached out to a few insurance providers this weekend (at the suggestion by my current broker actually) and hopefully will find something more reasonable.
Electronics
This is a tricky category because if it is up to Eric, the sky is the limit. I came up with this amount by asking him to tell me the item(s) he was planning to get. If I had asked him for an amount, he would have given me a random amount so he can start shopping with that "budget" instead. I am constantly amazed by the variety of electronics you can buy 🙄.
Entertainment
Pokemon Go has been one of the biggest sources of entertainment for us since the pandemic. When the game was first released in 2016, in-person interaction was the only way to play (e.g., had to be at a park physically). However, a lot has changed since then and many remote features have been introduced to allow for social distancing (also to keep revenue from in-game purchase flowing).
For this, I also needed Eric's help because it is mostly him spending money on in-game purchases. #thetruePOGOplayer
Groceries / Restaurants & Take-Outs
The 60/40 grocery/restaurant split food budget worked out quite well last month. However, since I was under budget for groceries, I decided to budget less this month. I kept Restaurant & Take-Outs the same but it will actually be more challenging because I had actually categorized our meals in Whistler last month under Travel. Had I categorized them under Restaurants, we would have over-spent.
I will see how this month goes but food is the one category that I am more flexible on because food is life.
Home & Furniture
Since we postponed our decor purchase for our console table last month, I have budgeted the money for it this month. The mirror will cost the most, so, depending on which one we get, we might or might not be able to buy everything else that goes with the table.
Learning & Development
Our tuitions get reimbursed by our employers but since there are always timing differences, I have decided to budget for them anyway.
Self-Care
I will have to pick up hand & body lotions (one for my nightstand and one for the guest bathroom) as my hands have become super dry from all the hand washing and sanitizing. My face was also acting weird for a week or so after I started using the new toner and/or moisturizer I got but it eventually returned to normal. I still want to look around and see if there is anything else I like.