Subscribe to my monthly newsletter here or follow me on Twitter so you don't miss any Money Diary post!
We are already at the beginning of the second half of 2020! What a crazy 6 months it has been. I updated our net worth this morning and was happy to report that June was another positive month for us.
July will be a tad bit more expensive because we are going to Whistler for a weekend. However, we originally had a one-week Texas trip booked for July before COVID and that would have been 5 times more expensive. We are saving a lot of money going to destinations much closer to home.
Budget for July 2020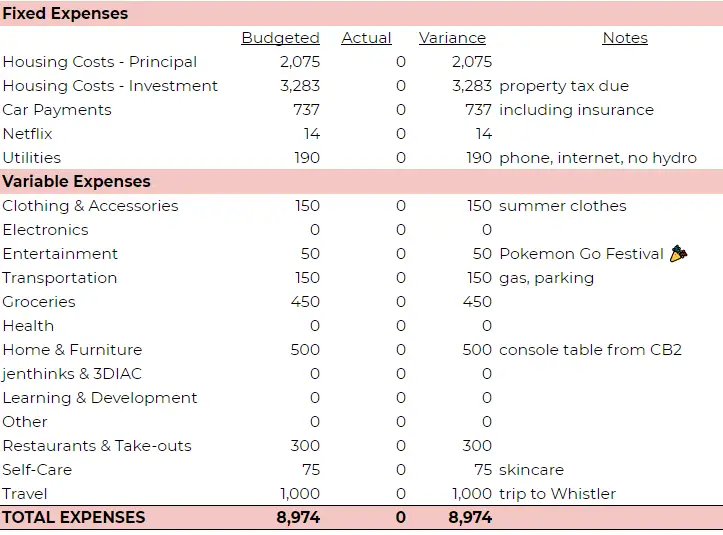 Fixed Expenses
Since the property tax deadline for our principal residence has been postponed to September, we only have to pay the tax for our investment property this month. Everything else in the fixed expense categories is the same as usual.
Clothing & Accessories
I forgot the last time I bought new clothes since I rarely go out now. For the first 2 months after I started working from home, I only went out once or twice every 2 weeks. Now that the businesses are slowly re-opening in Vancouver, we have been going out more and for longer (~2 to 3 times per week). The budget is for an outfit or two for our trip later this month.
Restaurants & Take-Outs / Groceries
After failing spectacularly with my food-related budgets last month, I made sure I budget more for restaurants & take-outs and less for groceries this time around. The overall budget for food is $750 which is still less than what we spent on food pre-COVID.
Home & Furniture
As mentioned in my last Monday Hour One update, I finally found the perfect console table at CB2. The reasonably priced ones we have found so far are all too deep (14″ to 16″). This one is a perfect size (38″x28″x8″). We have been to the Crate & Barrel store (same company as CB2) a few times and thought their furniture seemed high quality.
Self-Care
I am out of a couple of daily skincare items so, with the hot weather approaching, it's time to pick up some products more suitable for the heat. I love getting skincare at the drug stores in Japan (huge selection and cheap) but since our Asia trip didn't happen this year, Shoppers Drug Mart will do.
Travel
The budget for travel is for our weekend trip to Whistler. My budgets for trips are all-inclusive so this amount includes meals, activities and hotel stays. I scored a great deal for 2 nights at the Fairmont Chateau Whistler. I am so excited as it will be my first time staying at a Fairmont property. I lost my Titanium Elite status with Marriott Bonvoy (dropped to Gold) and with so many cancellations this year, I decided not to chase the status back anytime soon. As a result, I am more flexible with which hotel chain I stay at now.
This Fairmont location offers complimentary yoga classes and activities for their registered guests so we will be taking advantage of them in the morning. For the rest of the day, it will be Pokemon Go all the way!