Subscribe to my monthly newsletter here or follow me on Twitter so you don't miss any Money Diary post!
I shared my budget for June 2020 at the beginning of the month for the first time since I started my Money Diary series. I have been keeping a rough household budget for years now but this was my first time sharing it with someone other than Eric (who is only mildly interested). I thought I would subconsciously alter my behaviours because of the public aspect but I actually managed to largely spend as I always have (little conscious, little spontaneous).
The only adjustment I made was to the fixed expenses mid-month when I found out property taxes will be due later this year due to COVID. Other than that, I kept everything as it was.
Overall, we overspent $246. I thought we must have overspent on furniture (reading nook, some shelves & home decors etc) so I was really surprised when I found out we actually came under-budget by $82.
The category we did worst on was Restaurant & Take-Outs. I have been cooking a lot less now that the restaurants have re-opened in my city. We underspent on Groceries (+300) and way overspent on Restaurant & Take-Outs (-466). Eric also picked up a couple of Lululemon jackets at really good prices so Clothing & Accessories was another category that we overspent on.
In the Learning & Development category, I ended up getting Rachel Hollis' book with a gift card to Homesense so I decided to put The Ride of a Life Time on hold.
Budget vs. Actual for June 2020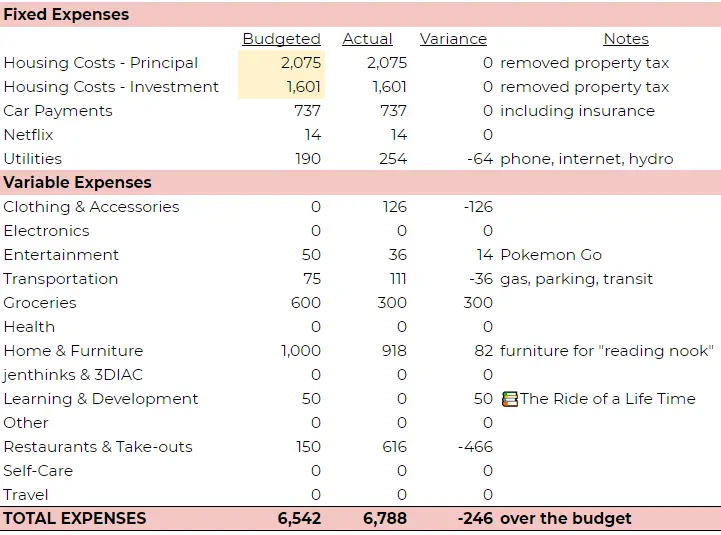 Money Diary for the Month
Day One
6:00 am – Happy Monday. I studied for my CPA exam for about 35 minutes and then worked on my first post for Money Diary until it was time to start work. Made coffee at home (ever since I started working from home).
11:00 am – Hunger struck so I took a quick break and enjoyed a Ham on Blueberry Bagel.
12:00 pm – Even though I am working from home, I still take my lunches right at 12 unless someone scheduled a meeting at noon (WHY). There were only a couple of meetings today so I took lunch on time. Made Bacon & Bean Sprouts Egg Noodle for Eric and I watched The Office instead.
4:00 pm – It was a productive day at work today and my team was done with month-end as scheduled. After I turned off the work laptop, I played on my phone for a little bit before starting to prepare dinner. Made 2 dishes (Chives and Bean Sprouts with Minced Pork, Pork Slices with Sesame Dipping Sauce) and finished some leftover from yesterday.
7:00 pm – Published a post on 3DIAC that I started working on last week. Added some finishing touches and it was good to go.
9:00 pm – Continued reading Books for Living by Will Schwalbe until bedtime. I started this book 2 weeks ago and only finished 1/5 of it. The author shared the deaths of one of his mentors (the librarian) and close friends and I can't help but felt his loss through his words.
Daily Total: $0
Day Two
6:00 am – It was raining in the morning and I seriously contemplated sleeping in. I gave myself an extra 10 minutes and went out to the living room to study. Then I worked on the blogs until 8 AM.
12:00 pm – My teammate took the morning off so I took a look at our inbox first thing to make sure nothing was urgent. I had a couple of meetings and caught up on some emails. For lunch, I had leftover from yesterday and Lay's Sour Cream and Onion chips for lunch. Then I watched The Office while working on the blog.
4:00 pm – Eric declared he wanted Dominos for dinner as soon as he finished work. I decided to get McDonald's so we headed out after placing an order online for a large pizza and 2 chocolate lava cakes. I used the McDonalds app to order my food as soon as we picked up the pizza and waited for the curbside for a little bit. I ordered the Sausage & Egg McMuffin meal and Hot Cakes with Sausage so I can have leftover for breakfast tomorrow. $26.93
7:00 pm – Worked on the blog for an hour after dinner and finished watching The Night Clerk on Netflix before bed. I didn't really enjoy the movie. It was too slow and bland so I googled the ending as I was watching it (I spoil myself a lot). I thought the main actress looked familiar and realized I have been seeing her on Instagram with Ben Affleck.
Daily Total: $26.93
Day Three
6:00 am – Another usual weekday morning – study and then blog. I caught up on some Pins this morning as I haven't created any since the last time I batch created.
12:00 pm – I had a bit of a busy morning at work as we had to train someone "new." She is "new" to my team but has been a manager of another function within Finance for years. Quite happy about having someone to help out for the next little while since we have many interesting projects we can pursue if we have the capacity. My manager is also off sick today so I had a last-minute task to take care of. I made 3 dishes for lunch today: chives and pork, cucumber and pork and blanched gailan.
7:00 pm – Eric was busy this evening so I had a simple dinner: leftover from lunch and from McDonald's yesterday (HOT CAKES love). I worked on the blogs and published a CPA PERT post before Eric was done with what he was doing. We started watching Broken City on Netflix and finished half of it before going to bed.
Daily Total: $0
Day Four
6:00 am – I wasn't in a study mood this morning so I was glad that I scheduled only light reading today (I have a study schedule for leading up to my exam). I then started working on a new post for 3DIAC.
12:00 pm – I spent my lunch hour testing Werewolf (the game) out virtually with the Social Committee members at work. We all had a blast. I haven't played this game before and was happy to find out it was as fun as I expected. I wish we could play in person though.
4:00 pm – I made dinner for Eric and me while I was on the phone with my coworker. I had the last few perogies we had and he had bacon and corn alfredo. My coworker (more like a friend really) and I had so much to talk about (or to rant about) so the quick call ended up being an-hour-and-a-half long. We used to be able to talk in person multiple times a day in the office so this was just catching up. Afterwards, Eric and I finished watching Broken City and started this other Brazilian apocalyptic show before going to bed.
Daily Total: $0
Day Five
12:00 pm – Spent my lunch hour on a call with another coworker/friend of mine. I am really glad the work-from-home situation hasn't affected the dynamics that I liked the most when I worked in the office and saw them face-to-face. If anything, I feel the connections have become stronger.
4:00 pm – Went for bubble tea and dinner after work. Since there was no other customer, Eric and I dined in. The food and price were as good as always but I really wished the place was cleaner.. $46.33
6:00 pm – We haven't been to the Strubtube since it opened a new location so we went there next. I wasn't looking for anything specific but left with a vase for my dried lavender. Picked up a copy of Girl, Stop Apologizing by Rachel Hollis at Homesense afterwards. It was covered by a gift card I got for Christmas. $14.56
7:00 pm – I didn't work on the blogs at all but spent the evening watching Reality Z on Netflix instead.
12:00 am – I have been looking for the perfect place for our next staycation and ended up staying up late to book a weekend stay in Whistler for late-July. Only to forget all about it when I woke up the next morning until I checked my emails and saw the confirmation.
Daily Total: $60.89
Day Six
7:00 am – The problem with staying up late occasionally is that it does not mean my body will sleep in the next morning. Eric drove me to pick up a coffee from Starbucks before heading back out to the mall by himself. Since I used my Starbucks Rewards, I did not have to pay.
10:00 am – Eric went to the mall by himself and lined up for Lululemon again (which took over an hour). He came home with a pair of jogger that was on sale while I spent the morning reading reviews of the Whistler hotel I booked instead of studying. $66.08
Daily Total: $66.08
Day Seven
10:00 am – We have been low on groceries so we skipped dinner yesterday. I woke up so hungry so we decided to go eat at the mall. Eric had KFC and I had the breakfast platter from A&W at the food court at the mall. However, we didn't end up getting groceries and I went home instead. $21.20
2:00 pm – I studied (while being distracted by music videos but my own fault) for a couple of hours and published my weekly Monday Hour One post. I spent the rest of the day watching Sweet magnolias (Coach Maddox is so cute).
8:00 pm – Since we skipped our grocery run, I had decided to give grocery delivery a try. The ordering was super easy and there was a time slot available the next day. Since it was my first time, I also got free delivery (would have been $5). $140.6
Daily Total: $161.80
Weekly Summary