As an Amazon Associate I earn from qualifying purchases.
I have done a fair bit of travelling this year so I have been packing & unpacking every month or so. Each time, I tell myself I need to pack smarter and more methodically next time so the whole process is more efficient. I have been getting better but still… it is hard.
I am sharing my own Travel Checklist that I hope will be useful if you don't already have one. You can also download the Excel version here if you want to tailor it to your needs.
Travel Packing Checklist (Excel Version Here)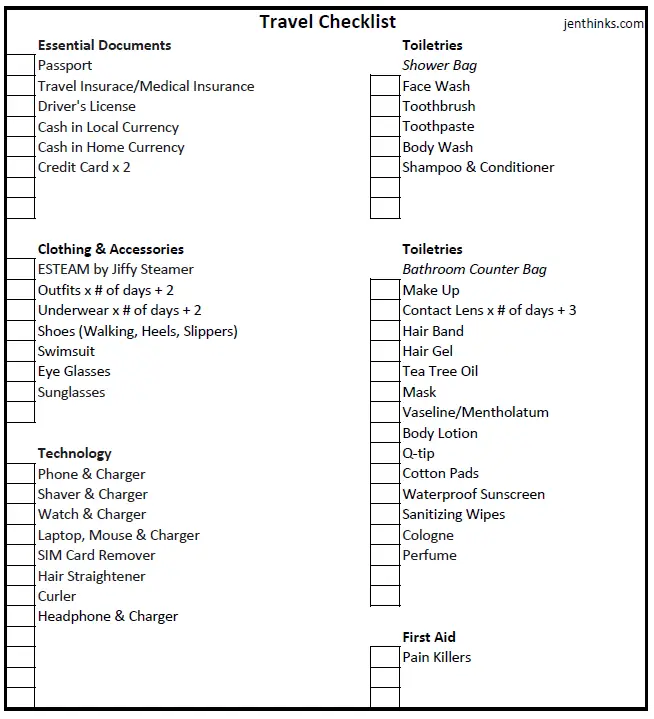 Clothing & Accessories
If you ask Eric, he will tell you I bring an excessive amount of clothes and shoes. Don't listen to him. I plan my outfits and bring extra in case my mood changes. Overpacking clothes helps ease my worry about not packing the right items so I think it's worth it.
Before I got the ESTEAM by Jiffy Steamer, I used to steam all of the outfits with my Jiffy J-2000 (full review here) before I put them in the luggage but they got wrinkly as quickly as they went in.
I have been on two trips with the ESTEAM so far and it is quick to set up and easy to use. I refill it with tap water, plug it in, wait for it to heat up in less than a minute, then STEAM! I can't imagine travelling without it now.
All that is left to do is to convince Eric to stop putting on wrinkly clothes before I even have a chance to steam them…
Essential Documents
I try to bring as few pieces of ID/Credit Card as possible when I travel but I always bring my passport and Driver's License so I have 2 pieces of government-issued IDs. I also started keeping copies of these two IDs electronically in case they are stolen/lost and I will have something to help with getting a replacement.
The reason why I choose to bring 2 credit cards is that I use the one with a favourable foreign exchange rate as the primary card but also a second as a back up in case anything happens to the primary one. Sometimes, with the amount of pre-authorization hotels and car rental companies put on your card, you might need a second card just to cover the immediate expenses.
I never travel without travel insurance because it is a small price to pay (but check your credit card and company's benefits before paying for one) for peace of mind. I always find it useful to bring a physical copy of the information even if you have it on your phone in case anything happens and someone other than yourself needs to access the information.
Also, I always exchange currency before the trip so there is one less thing for me to worry about when I arrive. I bring both local and home currency in case I need to pay for anything in cash when I return.
Technology
I rarely bring my own hairdryer as it is provided at almost all hotels but straightener and curler are hit or miss and even if they are offered, they have to be requested.
When my travel involves a long-haul flight, I bring my wired headphones so I can connect it to the in-flight entertainment system. When it doesn't, I bring my wireless one instead.
I only bring the SIM Card Remover when I know I will be buying a local SIM card for data, most recently in Japan.
Toiletries – Shower Bag & Bathroom Counter Bag
I have yet to pack this way but I will be starting my next trip: a bag of toiletries that go straight to the shower/bathtub and another bag going to the bathroom counter. Note, if my travel involves a long-haul flight, I also pack a small bag of travel-sized face wash, toner and lotion for freshening up when I land.
First Aid
The only item I bring in this category is a pain killer but I might start doing research on common over-the-counter medications just to have as a backup.
Pack on, fellow travellers!
Thank you Jiffy Steamer for partnering on this post! However, all opinions are my own.