With only a few days left in 2020, I am going to do what everyone else seems to be doing – a recap of the year. Looking back, I have never done an annual recap. The holidays were usually quiet and chill for us (rarely travelled as I couldn't justify the peak costs when we could have travelled any other time of the year) and Eric's family didn't really celebrate Christmas. No big gifts, big parties or big meals. I only got a Christmas tree last year for the first time in the last 10 years (which I sold this year and didn't end up replacing).
I am in the camp of being generally pretty happy every day of the year so I never placed too much emphasis on the end of the year. However, as we all know, 2020 is one special year. A lot has changed overnight and it is far from over. I experienced a lot of gains but also loss.
This post is going to focus on what I have gained and accomplished and I wanted to point that out first. You are about to see a lot of recaps of 2020 everywhere on social media but remember, most of us lost something but not everyone chooses to talk about it. Be kind.
Careers
A year after my last promotion, I got promoted to Team Lead for the AP team just before the start of the summer. It was exciting as it was my first managerial position but I eventually made the decision to accept a new opportunity. When I was trying to decide on what to do, I was given different advice from different people. I ultimately weighed the pros and cons using all the information I have gathered and learned whether I solicited it or not. When I analyzed my options, I thought of what would be most beneficial for CPA, my happiness and my long-term career goal. If you are going through something similar, remember only you know what you truly want and you must always listen to advice from others with that in mind.
Never ask advice of someone with whom you wouldn't want to trade places.

Darren Hardy
I just passed my probation last week for my new position as a Corporate Accountant and have already accumulated a number of experiences for my CPA PERT reporting.
CPA
I finished Core 2 and wrote the exam at home due to the pandemic. I just wrote the Finance exam at home a couple of weeks ago (won't know whether I passed until mid-Jan but I am pretty confident).
RELATED POST – What I Think Went Well With Finance Module & Exam
For PERT, I got a total of 13.1 months recognized and 3 Level 1s. I am about to submit another report for another 3 months at my new job. My designation timeline has been delayed by a few months due to my job change but I think the quality of experience I can get in my new role will be worth the wait.
RELATED POST – Tips & Another 5 Months Recognized Via EVR For CPA PERT
Financial
I did a proper annual budget at the beginning of the year for the first time in 2020. I first gathered our spending data for 2019 on our credit cards (90% of our purchases were on credit cards) and categorized the purchases. I then came up with the categories and budgeted monthly/annual amounts for 2020.
Since we had a few trips planned for 2020 (including our 2-week Asia trip), our travel expense was going to be the most expensive at $13,000. However, most of those trips ended up being cancelled and were replaced with a couple of much cheaper local trips in BC instead.
RELATED POST – Trip Report – Staycation in Whistler, BC
We did spend a lot more than planned on home & furniture as both of us switched to work from home completely. Eric and I both managed to furnish our own offices before the year is over despite all the delays in shipping and low inventory.
To my surprise, we are still wrapping up 2020 under budget. Ironically, the budgets I shared in my Money Diaries monthly turned out to be less accurate than the annual budget I made back in Jan 2020. I attribute this all to the power of using actual data from 2019! All the money we saved from gas and travelling ended up covering all of the surplus furniture expenses.
As a result of spending within our budget and also a sizable jump in our income (Eric also got a new job), we were able to increase our net worth more than expected. This is a huge accomplishment as the market value for our principal residence went down by more than 10% which was not budgeted for in January. That means we were able to save a healthy chuck and our investment did well (more than 16% return).
RELATED POST – How to Invest in TFSA in Stocks/ETFs 2021 (Step-by-Step Guide)
Reading
I read 25 books this year and reviewed some of them on jenthinks.
Personal Finance & Business Books To Read
Boss Bitch, Warren Buffett, Hercule Poirot & Disney CEO
Leadership, Imposter Syndrome & New Hercule Poirot
5 Best Personal Finance Books I Read in 2020
I set a goal of 10 books for 2020 back at the start of the year. However, I gained a lot more free time when I started working from home as I no longer had to commute 2.5 hours a day. Before all the libraries closed during the first lockdown in BC, I made sure I stocked up on reading materials from the library. I expected the libraries here to be closed as the libraries closed in Hong Kong and there were fewer cases there.
When my first reading goal was reached in May, I decided to level it up to 40 books. I didn't turn out to read as many as I took a reading break for a couple of months (work was hectic then). I am still very proud of myself for reading as many books as I did. I have always enjoyed reading but it was more on-and-off. 2020 was the first year where I tracked my reading progress using the Goodreads app. It was a fun little way to stay motivated.
Relationships
Eric and I celebrated our tenth anniversary in Victoria this October. We went on our first hike together (ever) and had a nice but overpriced steakhouse dinner that day. We didn't exchange gifts because we both got what we wanted and more this year. I still haven't annoyed him away with my hilarious jokes which I thought was quite an accomplishment.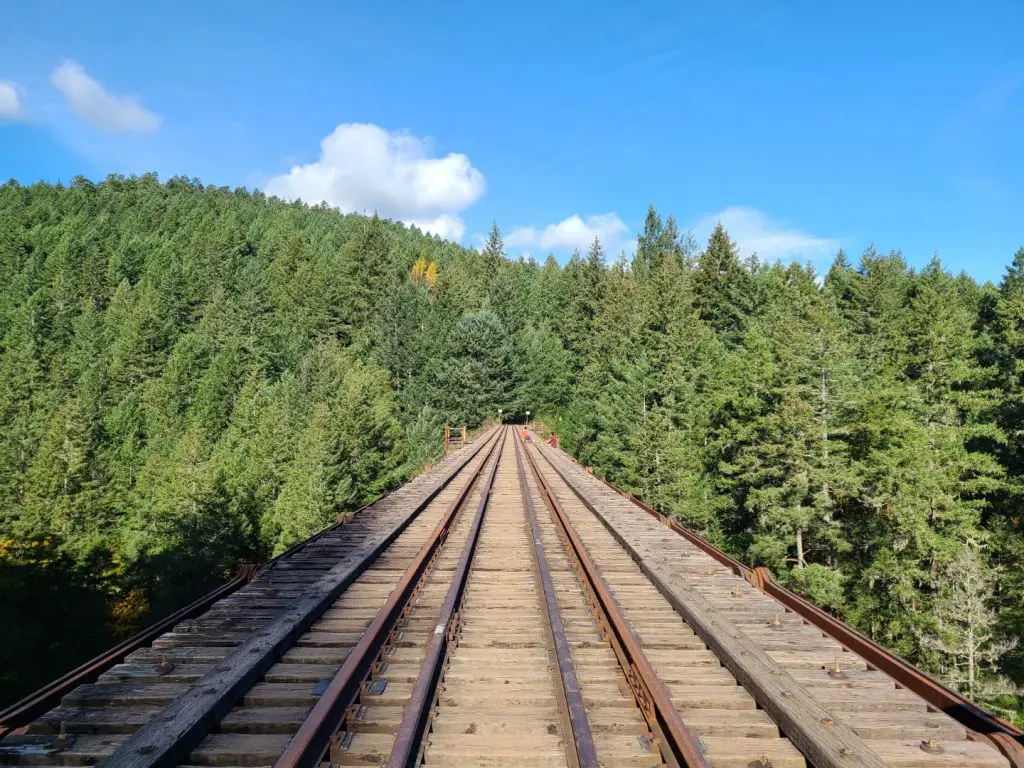 As I have been closer to my 30s than my 20s for a few years now, I have realized there is really no need to like everyone and to get everyone to like me. People who I once trusted or believed in turning out to be something else used to bother me a lot when I was younger. Not anymore. In the end, it could be me that turned out to be different than what they thought hence the change in attitudes.
I have learned to focus on people I truly care about and support them in any way I could. I was reminded of this a couple of times this year and was proud of my ultimate decisions. I will remind myself to always make the decision that will allow me to sleep at night.
Jenthinks & 3DIAC
3DIAC – My Travel Niche Website
If you follow my Monday Hour One series, you have probably seen the term 3DIAC as one of my accomplishment categories. It was a niche website I started in April to utilize all the extra time I gained from not having to commute. However, the traffic simply didn't pick up and I didn't enjoy creating content for that site as much as I did for jenthinks. I decided to give it up sometime in the Summer to focus only on jenthinks instead. The site is still up as I paid for a full year of hosting but I won't be updating it anymore so when the year is up, the website will be history.
Finding The Niche for Jenthinks
jenthinks turned out to be the wildest dream for me this year. I would never have thought my CPA posts would turn out to be as popular as they are. I did realize sometime in 2020 that I found a niche by accident. I received the first email from a reader in June and I would never forget that morning. It was on a weekend and I couldn't believe it. I have only ever been the reader that emailed at that point so it was a dream comes true as a blogger to have a reader reach out to me.
I started jenthinks in April 2019 and only really had targeted traffic from brand mentions until April 2020. The problem with that type of traffic is that it didn't really convert. They usually come to jenthinks for a specific post and would leave my site right after. However, I started getting organic traffic (e.g., Google) for my Monday Hour One introduction post in late April. I ended up with 131 views that month. Then the growth continued.
RELATED POST – What is Monday Hour One & My Week #1 Experience
Over the following 8 months, I wrote a lot of posts. Shortly after that 131 views, I started noticing an uptick in my CPA traffic due to my posts ranking on the first page of Google results for some popular CPA keywords. I started creating CPA content with the intent of informing and educating. Up until that point, I mostly shared my personal experience but I realized I needed to start answering questions.
I wrote my 100th post (72nd in 2020) in July and dedicated it to Eric and my sister. They were the ones that read all of my earlier posts giving me advice and feedback. Five months later, I am sharing what I accomplished this year by writing the 153rd post I published in 2020 (181st all-time).
RELATED POST – My 100th Post – Remembering The WHY of Starting Blogging on JENTHINKS
Getting Accepted Into Ezoic (Bye Google Adsense For Now)
After 8 months of growth rate I could not even imagine one year ago, my monthly traffic grew enough for me to switch from Google Adsense to Ezoic. These are both display ads programs that pay me for displaying ads to my readers (my main revenue source for the blog). However, Ezoic has a minimum traffic requirement that Adsense doesn't have but pays a lot better (people reported anywhere from 60% to 200% more revenue). I am happy to report that I applied and was accepted into Ezoic the first week of December. This was definitely one of the bigger milestones for jenthinks.
Experiments, Failures & Successes
Out of the 153 posts I wrote this year, I wrote about many topics in addition to CPA. Some posts took off in ways I didn't imagine (e.g., Black Friday) and brought me a small amount of affiliate income and some never quite picked up the way I wanted them to (e.g., Money Diaries). However, all the experiments, failures and successes have really provided me with valuable insights for 2021 planning.
2020 was a great year for jenthinks but 2021 will be an even greater year.🥂
Conclusion
As I said, I believe most of us have experienced loss this year and I am no exception. However, I have chosen to focus on the gains for the purpose of this post because I find it all too easy to focus on the loss as the default.
I am ending the year happy, healthy and rested. I will always remind myself this is always more important than money in my bank account or the number of likes on my posts.