In this post, I will be sharing the 5 best things to buy at Uniqlo for women. Eric and I are big fans of Uniqlo and before they came to Canada, I would stock up on our favourite Uniqlo items when I went back to Hong Kong. They offer quality basic clothing items at affordable price tags. I find their quality is generally better than other affordable brands like H&M and Old Navy.
Looking for the 5 best things to buy at Uniqlo for men instead, click here!
As an Amazon Associate I earn from qualifying purchases.
Best Things to Buy at Uniqlo for Women
I have the Supima Cotton V-Neck Short-Sleeve T-shirt in black, white and grey. I am also pretty sure I have more than one for each colour. The material is soft so it is not itchy at all. I also like that the v-neck isn't too low.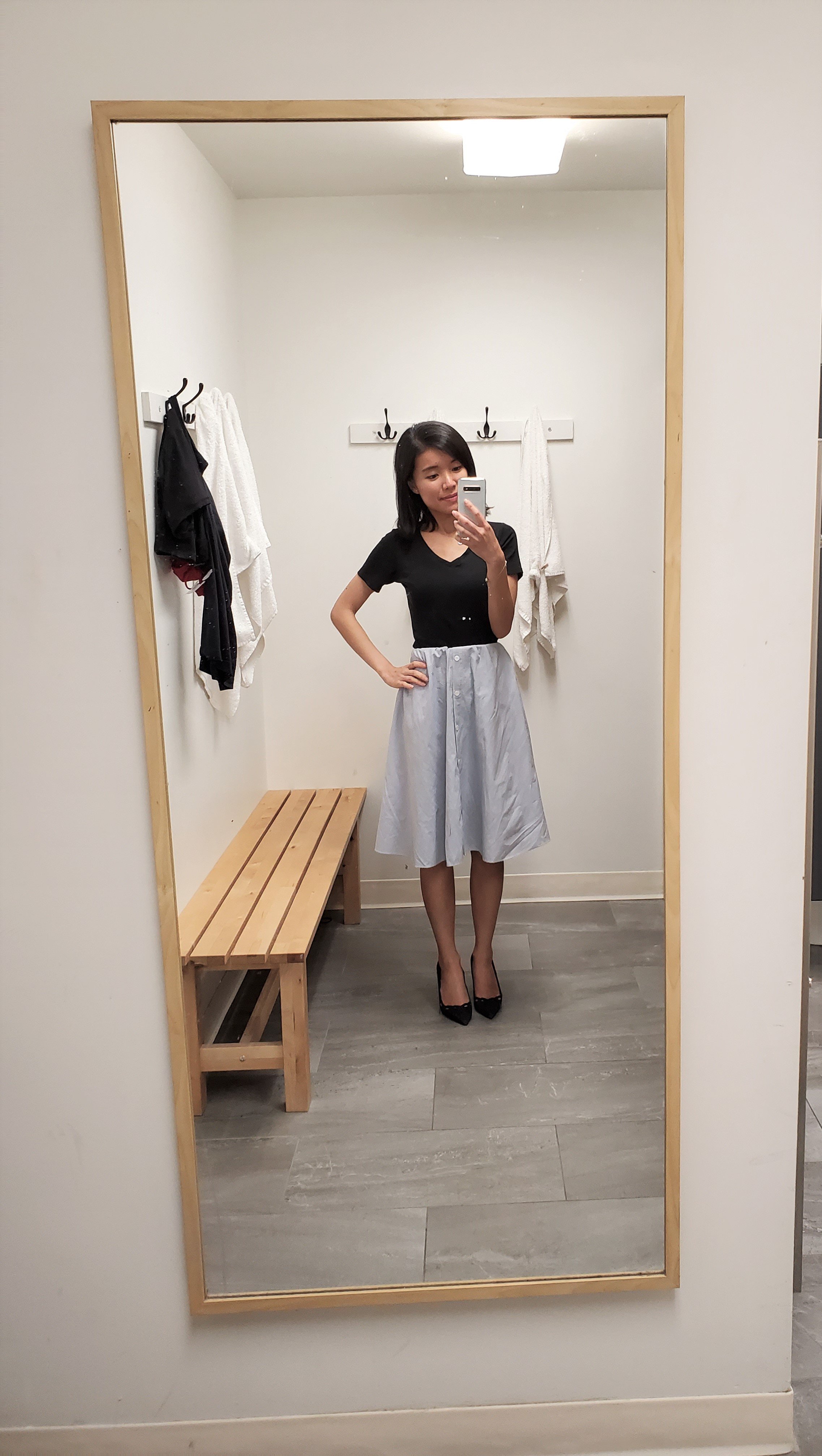 ---
top: Uniqlo Supima Cotton V-Neck T-shirt / skirt: Uniqlo (no longer available) / shoes: Banana Republic Madison 12-Hour Glitter Pump
---
I have the AIRism Camisole in both black and white but I almost always go for the black for my outfits. The material is thin but not see-through so it's the perfect tank top for everyday wear with a cardigan. I sometimes wear it as the inner layer in the Fall and Winter as well.
---
top: Uniqlo Women AIRism Camisole / navy cardigan (bought in HK) / ONLY asymmetrical skirt / Kate Spade flats (similar style here)
---
The difference between the AIRism Camisole and AIRism Camisole Bra Top is the bra top. I actually have not purchased it yet but having tried the previous option, I can only imagine how this will become a staple for me. The only downside with the no bra top option is your bra strap being visible unless you wear another layer or a cardigan. This bra top version will solve the problem which makes it perfect for Summer time.
I bought these leggings for the after-work gym classes at my old job. I didn't want to splurge on a pair of Lululemon while being uncertain how long I would work out for (spoiler alert: not long). I bought the smallest size but they are a bit too long for me (I am 5'3). However, they are so comfy that I would overlook the length.
---
top: Columbia Kruser Ridge II Softshell / bottom: Uniqlo AIRism UV Protection Leggings / shoes: Nike Air Huarache
---
I don't have pictures to share for this for obvious reasons but trust me when I say they will be the comfiest underwear you try. The material is super soft and thin which makes them perfectly seamless. I tried seamless underwear from other brands before but they simply did not offer the same thinness as the Uniqlo AIRism ones.
Conclusion
Here are my top 5 picks of favourite items from Uniqlo for women. Leave a comment below and tell me what your favourite items at Uniqlo are!