In my last post, I shared the news that I finally got my first 7 months of CPA PERT recognized. I had been meaning to write a guide for CPA PERT via EVR for a while but I wanted to wait until I have a successful experience first. The time is finally here and I can't be more excited! My hope is that this CPA PERT guide will help you achieve the first of 30 months of CPA PERT requirements.
Read all CPA PERT posts here.
Who Is This CPA PERT Guide For?
I work in the industry (as opposed to public firms like KPMG or PWC) and my position is not part of a pre-approved program (PPR). Therefore, this guide is meant for CPA candidates who work in the industry outside of a pre-approved program. You would know if your position is under PPR so if you are in doubt, you most likely aren't and will have to submit your experience under this Experience Verification Route (EVR) like me.
However, what I will be sharing in the tips section will potentially be applicable to you on the PPR route as well so do check it out.
Are you looking for a comprehensive guide for PERT with example Level 1 & 2 full responses, tips, templates and more? Check out my CPA PERT Guides!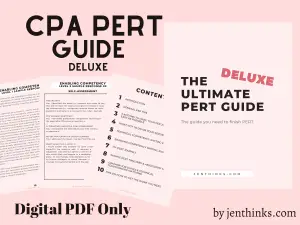 I Just Registered For Core 1 – What Is My First Step for CPA PERT?
I strongly recommend you do this before Core 1 starts because you are about to be very busy.
As soon as you have access to the CPA Practical Experience Orientation webinar on D2L, complete and pass the short module in order to gain access to the Practical Experience Reporting Tool (PERT) on My CPA Portal. You will be reporting all 30 months of experience using this tool so start getting familiar with it.
Once you have access to PERT, create a profile right away. Then, start thinking about getting a mentor. Note, you can get your current position assessed by submitting the PERT Pre-Assessment report without a mentor. However, I suggest you start thinking about it as soon as possible because you will come to realize later how important a good CPA mentor is. I will start by thinking about the CPAs you work with because it comes in very handy when your mentor has knowledge about your day-to-day work (I will explain more later).
RELATED POST – CPA PERT – How I Planned For PERT Via EVR For The Year
Next, you will have to submit a PERT Pre-Assessment report. This should also be done as soon as possible (ideally before Core 1 starts) because there is no writing involved. All you need to do is fill out the form with your employment details and submit a copy of your job description (ask your manager or HR department).
Once the assessment is completed, you will know if CPA thinks your current job duties will provide you with at least one Level 1 experience. This is important as it will determine whether you need to start planning with your manager so you can get qualified experience or seek out new employment.
Assuming you have a mentor on file and your current job qualifies for at least 1 Level 1 experience (result from the pre-assessment), you will now be assigned a PER Effective Date.
YOU MIGHT BE INTERESTED – Densmore for CPA PEP – Are The PEP Essentials Packages Worth It?
I Have My PER Effective Date Now – What is Next?
Your PER Effective Date determines the length of experience you can claim before that date and also the type of report you will submit. For example, my PER Effective Date is in Dec 2019. I can claim up to 12 months of experience towards the required 30 months prior to Dec 2019 using the Prior EV report.
Any experience you will report after your PER Effective Date will be reported using the Current Experience report.
~ More CPA Posts ~
CPA PEP Core 1 – How to Study for the Module and the Exam
CPA PERT – Ultimate Guide on How to Get Your First Experience Report via EVR Approved
CPA PERT – Enabling Competencies Examples
Densmore for CPA PEP – Are The PEP Essentials Packages Worth It?
CPA PEP Module – Regular Module or Extended Module?
What Are Some Tips on Writing the CPA PERT Report?
First, What Not to Do Based on My Experience from Getting Level 0
The following points were taken directly from my post where I shared what I did after getting assessed Level 0 for my first PERT report:
– my responses were brief
– my responses weren't addressing the questions in the blue question marks
– my responses weren't recorded under the correct Technical Competency Sub-Area (confirmed by the reviewer)
RELATED POST – CPA PERT – Technical Competencies Examples
Okay, Then What Are The Correct Things to Do When Writing the PERT Report?
The complete opposite of what I mentioned above and more.
Long Responses Using Sub-Headings & Bullet Points
I wrote my report in a similar way I would approach a CPA case. That means breaking the issue down by Purpose, Analysis and Conclusion (if applicable). Go to town with sub-headings and bullet points because when used correctly, they make it so much easier for the readers (your manager, mentor and the reviewer).
I have heard of success with brief responses but my suggestion is to try your hardest to not leave anything out. The key is not to achieve high word count for the sake of it (there is a 5,000 character limit after all) but to really explain all aspects of the issue and make no assumptions (e.g., referring to Concur without explaining what the software is).
Open the Blue Question Mark and Read It Carefully
One of the things I did wrong on my first report with Level 0 was submitting an experience under the wrong Technical Competency. The reviewer will not be able to grant any level if your responses are not in the right competency. It is true that you can re-submit a report for the same duration but the last thing you would want is to go through the process all over again for a simple oversight.
In order to confirm the accuracy of your decision, click the Blue Question Mark shown below on PERT for CPA's description of the competency. Note, the reviewer assesses based on the criteria here so it is not negotiable. You will not get lucky and be assessed a Level 1 if your responses have nothing to do with the criteria.
Make sure you pay attention to words like plus and or. They mean both criteria when they say plus so missing one component will cause your experience to be rejected.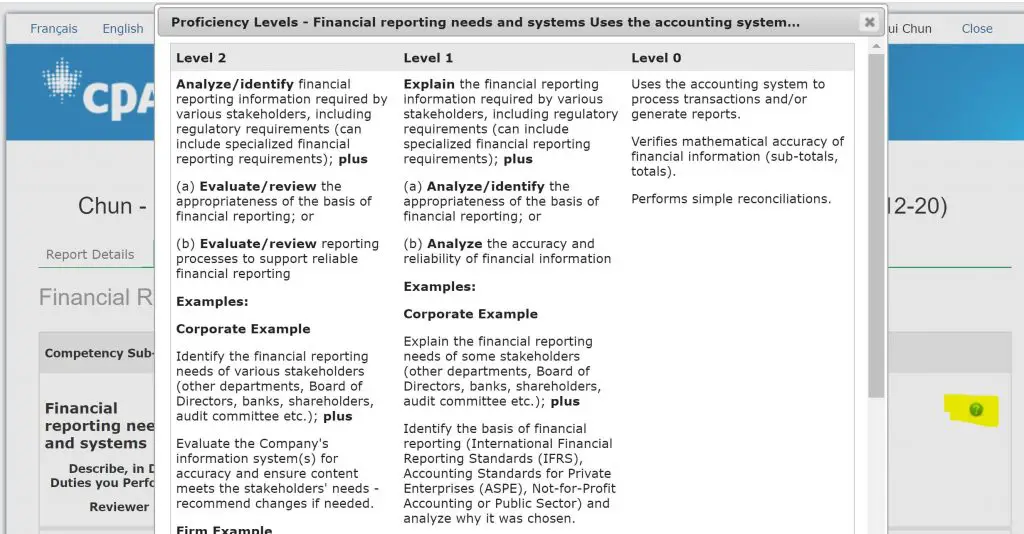 Take Advantage of the Available CPA PERT Resources Provided by CPA
If you go to CPA Canada's website, you will find a dedicated section for CPA practical experience. There are a number of useful PDFs that you should familiarize yourself with. Also, you can email the PER team for your provincial body with any questions.
(Update Jul 23, 2020: Check out the CPABC's Technical Competency Guiding Questions on their website) (Update Sep 27, 2020: the guide is no longer available)
RELATED POST – CPA PERT – Enabling Competencies Examples
Set Up Meeting with Your Manager And/Or CPA Mentor
If your CPA mentor is also your manager, that will be ideal because he/she will be the best knowledge of your day-to-day duties. For myself, I was lucky that I work with my CPA mentor and report indirectly into the manager who is also a CA. I had meetings with them separately to discuss my PERT report and receive feedback from them on different aspects of the report.
My CPA Mentor focused on Enabling Competencies (career development, team management etc) and my manager focused on the Technical Competencies as he had a good idea of what I do daily.
Note, as these meetings take up their valuable time, it is absolutely critical for the CPA candidate to not only initiate the meeting, but to respect their time by doing the following:
– complete the first draft of your PERT so they can review
– take notes during the discussion
– thank them for their time
Fill Out At Least One Enabling Competency Per Report
I think many of us would initially struggle with technical competency more as it has a more stringent criteria than enabling competency. Enabling competency is set up with questions that you answer and is more personal (no right or wrong answer) and open-ended (e.g., your career goal in the next 3 years). Some people I know and myself did not submit any enabling competency the first time as it is not mandatory. However, my suggestion is to fill out at least one. It provides a chance for you to practice and set the foundation for achieving Level 2 by showing progression later down the road.
Conclusion
I know many people who actually think PERT is more challenging than writing the CFE (supported by people who passed the CFE before getting any duration recognized). After going through this process for the first time myself, I totally see how that can be the case. With the PEP modules, we have start and end dates with a final exam at the end. Most students are more used to this structured format because we went through years of schooling that way.
With PERT, no one is there to remind you to register, submit a report and set up a meeting with your mentor. I personally think PERT is the real challenge that will help distinguish CPAs as competent professionals. The requirements are set up to challenge your self-motivation, discipline and critical thinking. You can't cruise through the CPA PEP program without thinking about what you are doing at work and what you will need to do to achieve designation.
The goal for this guide is to hopefully make the initial step easier for you so you don't wait any longer to start. Trust me, starting is the hardest part.