Subscribe to my monthly newsletter here or follow me on Twitter so you don't miss any Money Diary post!
If you missed it, check out my October Budget here
Let me start this check-in by telling you my office is 50% done with our furniture budget for this month 90% gone😂. The only big item I am still waiting for is my Pilsen desk from Crate & Barrel (ETA: late Dec). I can't wait to do the post on the whole furnishing process.
Budget for October 2020 – Mid-Month Update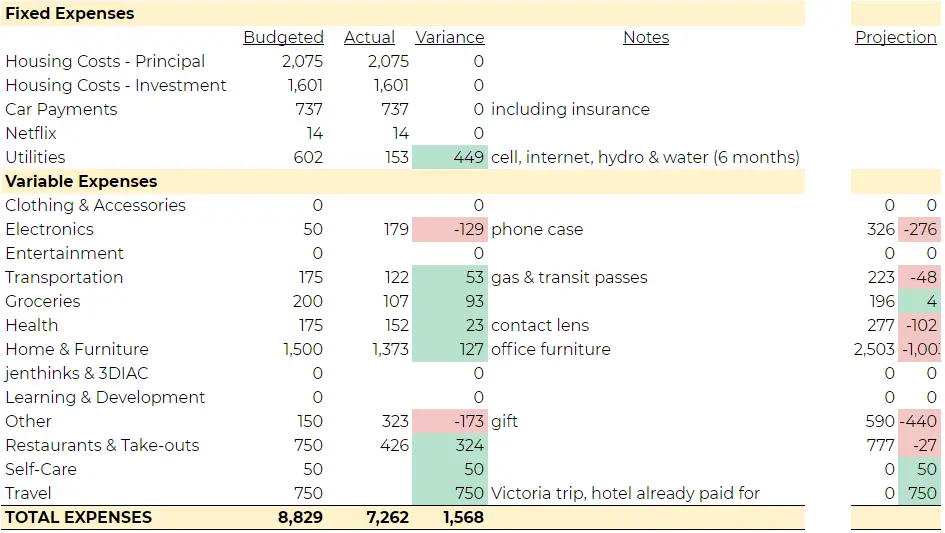 So, Where Are We At?
At first glance, there are way more greens than reds now that we are more than half-way done with October.
For Electronics, we are already over our budget thanks to Amazon Prime Day. The phone case turned out to be a lot less than what I budgeted but Eric picked up a few items when they were on sale on Prime Day. For Transportation, I only commuted for one week in the beginning of the month before I started working from home. However, since Eric and I have been eating in Richmond, we had to gas up more than usual (but, what is the usual nowadays). I think my projection for the end of the month will be accurate on this ($48 overbudget).
For Health, I ordered my 3-month supply of the Acuvue Oasys 1-Day Hydraluxe at my optometrist's office. They came out cheaper than I budgeted for thanks to the discount I got because I used to work for the owners. Note, they also happen to be the best optometrists I know so I will highly recommend them if you live in Metro Vancouver. You can find both Dr. Takhar and Dr. Sian at Clarity Eyecare in Surrey and Highstreet Eyecare Center in Abbotsford.
On the Groceries side, I only got groceries a couple of time to restock some essentials. We also picked up some bubbly when Eric got his job offer hence the essentials totalled to just over $100. For Restaurants & Take-outs, we have surprisingly been right on budget (thanks to slowly adjusting my budget in the past few months). Since we will be away for a few days and I have budgeted our meals when we are in Victoria under Travel, we might end the month under budget! Speaking of Victoria, since our trip hasn't happened yet, it makes sense for Travel to be underbudget.
We also ended up spending a bit more on the birthday gift hence we are slightly overbudget for Other. Also, I didn't end up getting her the Longchamp bag I was thinking about because she preferred another brand.
Now I Know Where We Are At, What Will Happen?
As soon as I saw that we were on track with our food budget, I immediately decided to dine out tonight! This worked out perfectly because I already cooked this morning.
I don't plan on making any more home & furniture purchases but I know Eric has a list of items he wants for his. Depending on which item he gets, it might instantly blow the remaining budget away. However, we still have the actual overall budget for the 2 offices ($3,500). It looks like I will be able to completely furnish mine with $2,500 while Eric's going to cost a lot more than expected (think new computer, monitor & lights up everything).