Subscribe to my monthly newsletter here or follow me on Twitter so you don't miss any Tsawwassen post!
Get your Holiday Stamp Card at one of the participating businesses and you could win a $500 gift card for supporting local businesses! Many of the stores in this post are participating!
I have been seeing a lot of reminders online to support local businesses this year because they have been suffering. I have to admit I have always been lured by the low prices and convenience by big brands like Walmart and Amazon in the past. However, I have decided to make a bigger effort in helping the local small businesses in my community. I am not abandoning my grocery trips to Walmart completely, but I am going to remind myself to shop local more often.
RELATED POST – Thinking Of Moving To Tsawwassen? My First Year Experience
If you live in Tsawwassen, here is a list of my favourite local businesses. Some of them like Albany Books and Ma Maison + Co are the perfect spot for Christmas shopping as well!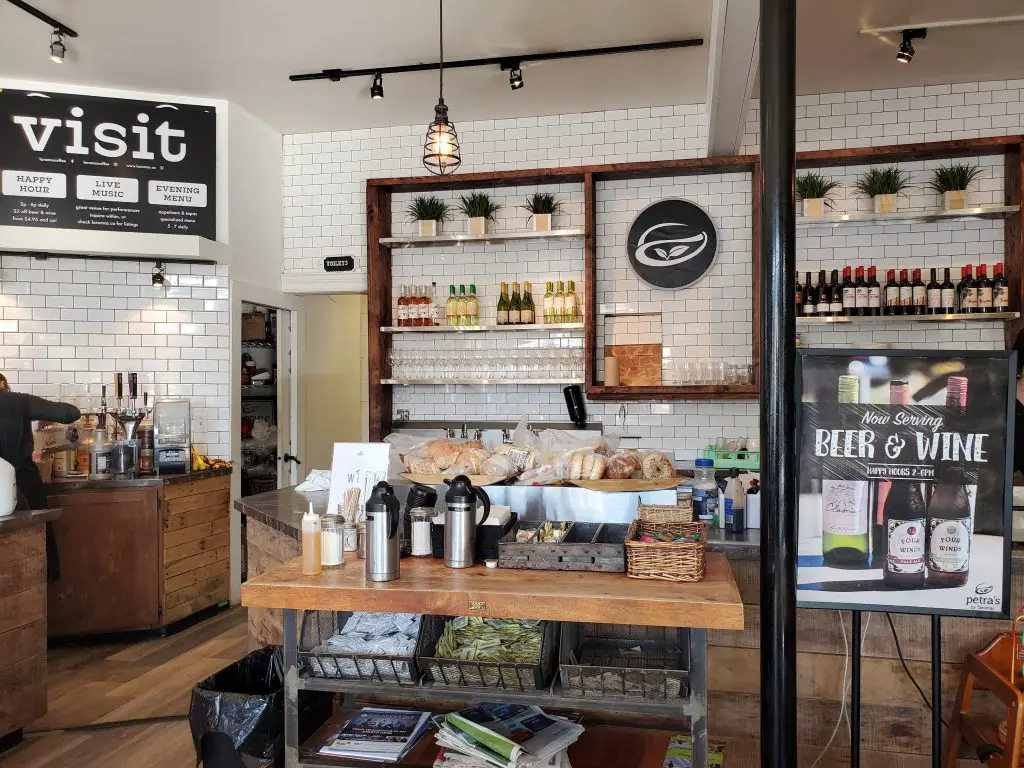 Bookstores
Albany Books: as a book-lovers, I appreciate the local bookstores such as Albany Books to still be in business despite the tough competition from gigantic retailers like Amazon; did you know they can bring in books for you if they don't currently stock them?
Boutique
Ma Maison + Co: owned by Mark, Janie and the dogs (Penny & Mason), Ma Maison + Co is easily one of my favourite stores in Tsawwassen; as soon as you walk in, you are surrounded by beautiful merchandise everywhere.
Rachel's Treasures: local resident Rachel shares her unique finds with the community at her cute little store. The best part? You never know what you will find! One of the latest offering is printed photos of the communities taken by local photographer Ms. Henkel.
The Beach Grove Cafe: don't let the name fools you because I thought it was a coffee shop until I saw their stunning Instagram feed; owned by local resident Shawn Corke, she is known to transform her cozy store into beautiful seasonal displays with merchandise to sell.
~ More Tsawwassen Posts ~
Best Stores in Tsawwassen Mills – An Indoor Outlet Mall
My First Year Experience Living In Tsawwassen
Wondering What Living In Tsawwassen Is Like? Why Not Spend A Day Here
5 Things To Do This Christmas in Tsawwassen & Ladner 2020
Grocery & Food
Coastal Olive Oil Co: owner by local husband and wife Steve & Dalia, Coastal Olive Oil Co is the best place if you or someone on your list are into specialty olive oils or balsamic vinegars. They pride themselves on brining in the best and freshest olive oils and balsamic vinegars to people in Tsawwassen.
Joe's Farm Market: owned by local Joe (hence, Joe's farm market) and his wife Michelle, this small but mighty grocery store even offers home delivery to combat the restrictions brought by the pandemic; this is my go-to spot for Asian ingredients (e.g., spices, greens) as it has the best selection in town.
Meridian Farm Market: though Meridian is not owned by a local resident, the chain, however, is owned by the 3 brothers whose parents started it all in Port Coquitlam in 1989; it is one of my favourite butcher shops with quality produce and deli.
Newmans Fine Foods: located at Tsawwassen Springs, Newmans Fine Foods is owned by the same family that also owns Seafair Gourmet Meats in Richmond. You can find anything from prepared sandwiches, sausages and local honey at this location.
Specialty Stores
Flowers Beautiful: a beautiful arrangement of a bouquet always make my day (or weeks depending on how long they last in my hands) so this locally owned florist is one of my favourite local business in Tsawwassen!
Pets-N-Us: I don't have a dog but if I did, I would be shopping at this local owned pet stores. Judging by the cute dogs on their Instagram, the store is a favourites amongst the local dogs as well.