Subscribe to my newsletter here or follow me on Instagram so you don't miss any Tsawwassen post!
I don't participate in a lot of giveaways because I think the odds of winning are too low (yet I play slot machines, opps). The last time I won something was a $100 gift card to La Senza years ago. I think it was one of those scratch-and-wins with every purchase. Recently, I won a $50 gift card to a local meat shop called Clancy's Meat Co. I have been there a few times since I moved to Tsawwassen because I stopped buying grocery store bacon last year. A neighbour shared the giveaway link on the community FB group I frequent and I thought it won't hurt to support a local business by liking and commenting.
I completely forgot about the contest until they messaged me and said I won! My immediate thoughts were: bacon and I have to write a post about it. Note, this post was in no way sponsored by Clancy's Meat Co. I only thought of writing a post about their products after I was told I won. It's simply a nice way to support a local small business.
Click here for all of my Tsawwassen posts.
As an Amazon Associate I earn from qualifying purchases.
What Did $50 Get Me At Clancy's Meat in Tsawwassen?
$50 was enough for me to pick up the following:
2 Can Dine Specials with 2 marinated New York steaks, 2 stuffed mushrooms, 2 twice baked potatoes and 2 shrimp skewers
Smoked bacon, 1 lb
1 package of frozen Chili, 850g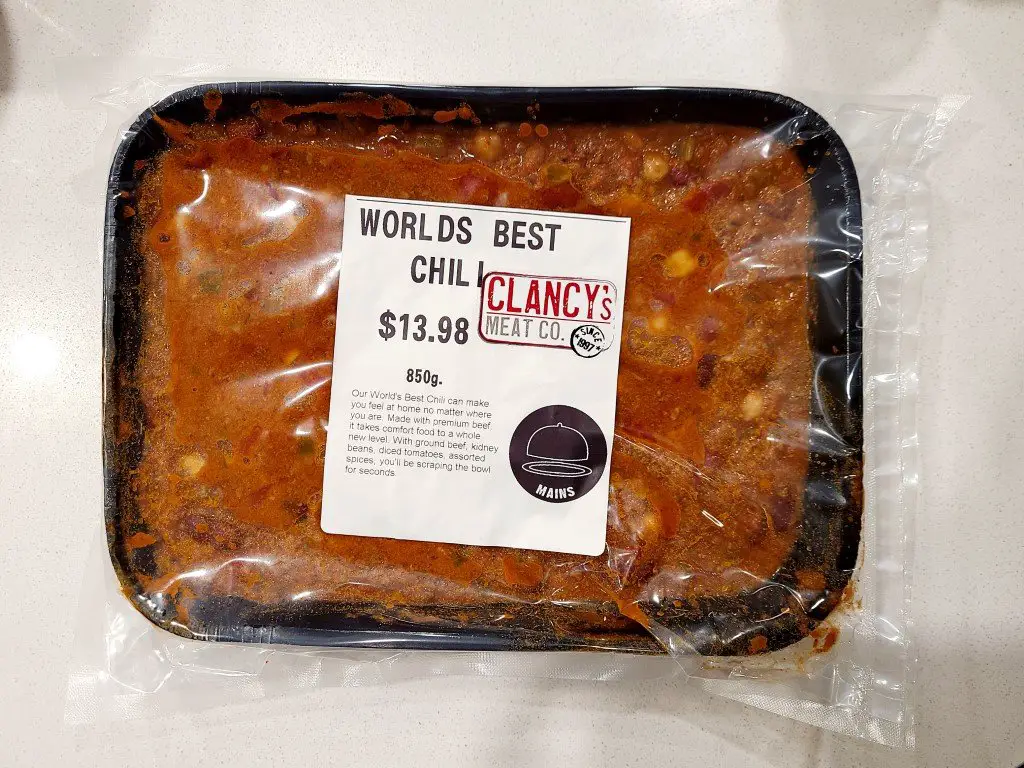 ~ More Tsawwassen Posts ~
Best Stores in Tsawwassen Mills – An Indoor Outlet Mall
My First Year Experience Living In Tsawwassen
5 Things To Do This Christmas in Tsawwassen & Ladner 2020
My Favourite Local Businesses in Tsawwassen
Where To Live In Tsawwassen? New Condo, Townhouse & Single Home 2021
2 Can Dine Specials at Clancy's Meat Tsawwassen
I am not sure there are many places where you can get a steak with shrimp and 2 sides for 2 for $28. I understand you can't really compare restaurant prices with home cooking but this meal literally took me less than 45 minutes from start to finish. One serving was enough for Eric and more than enough for me (the leftover was just as yummy).
I popped the potatoes and mushroom into the oven while I let the steaks returned to room temperature before cooking them with my cast iron skillet. Once I removed the steaks, I added more oil to the pan before grilling the shrimp skewers. This might not be the most proper way to cook this meal but they all turned out delicious and I was left with very few dishes to wash.
The mushrooms were my favourite and the shrimp skewer was Eric's. Even though the steaks were not the best steaks Eric and I had but for the price, I would say you simply can't be disappointed by the quality and value.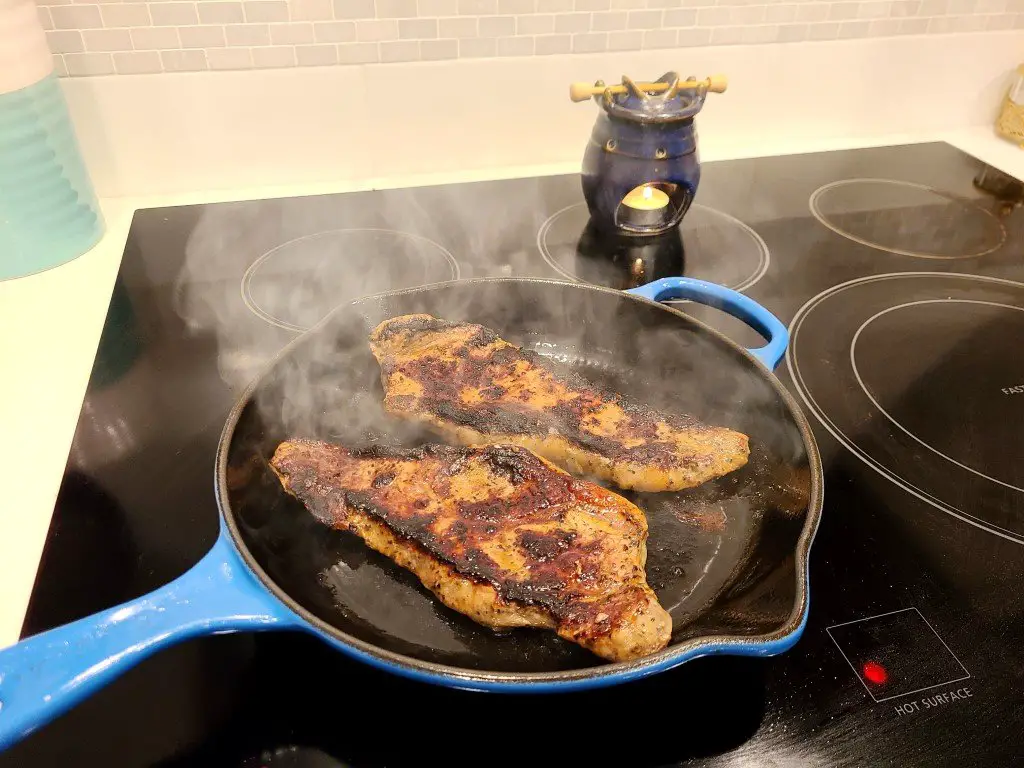 Smoked Bacon at Clancy's Meat Tsawwassen
As I mentioned, I stopped buying grocery store bacon (think Maple Leaf or Schneiders) last year. It was easy to notice the night-and-day difference between the grocery store and specialty meat shop bacon once you tried them both. Since the non-grocery store bacon is much more flavorful, I find I have been using less for the same recipe as well which helps offset the slightly higher price per lb.
I whipped this pasta dish up by loosely following this recipe on Youtube. It's basically garlic (lots of it), red pepper flakes, frozen shrimps and bacon. It didn't need a lot of salt as the bacon was jam-packed with flavour itself. I have always used frozen shrimps in my pasta and they always turned out delicious. I used the Great Value Raw Jumbo Pacific White Shrimp this time.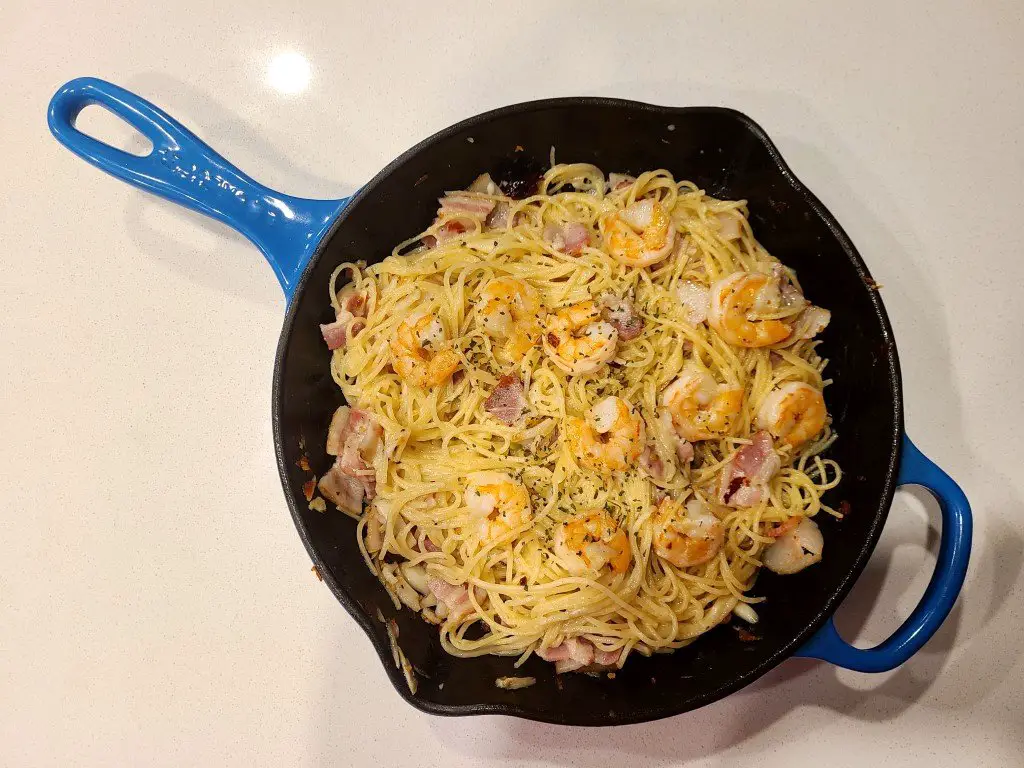 World's Best Chili at Clancy's Meat Tsawwassen
I am going to start this section by telling you I love all kinds of chili. The ones I make, the ones at Tim Horton's and the ones at BBQ restaurants. I have not met many chilies I didn't like and this one from Clancy's Meat was no exception.
I find every chili a little different but I want to say the world's best chili from Clancy's Meat is comparable to Tim Horton's. I love Tim Horton's chili. However, the vegetables in Clancy's chili had more texture and were more flavourful. The 850g package is equivalent to a bit more than 2 Large chilis from Tim Horton's making them similar in price. However, I didn't feel thirsty after I had Clancy's Chili the same way I would after I had Tim Horton's (which had close to 1,200 mg of sodium in their large size). I didn't pay attention to the nutritional fact of Clancy's Chili but I am pretty sure it is a lot healthier than the coffee shop version.