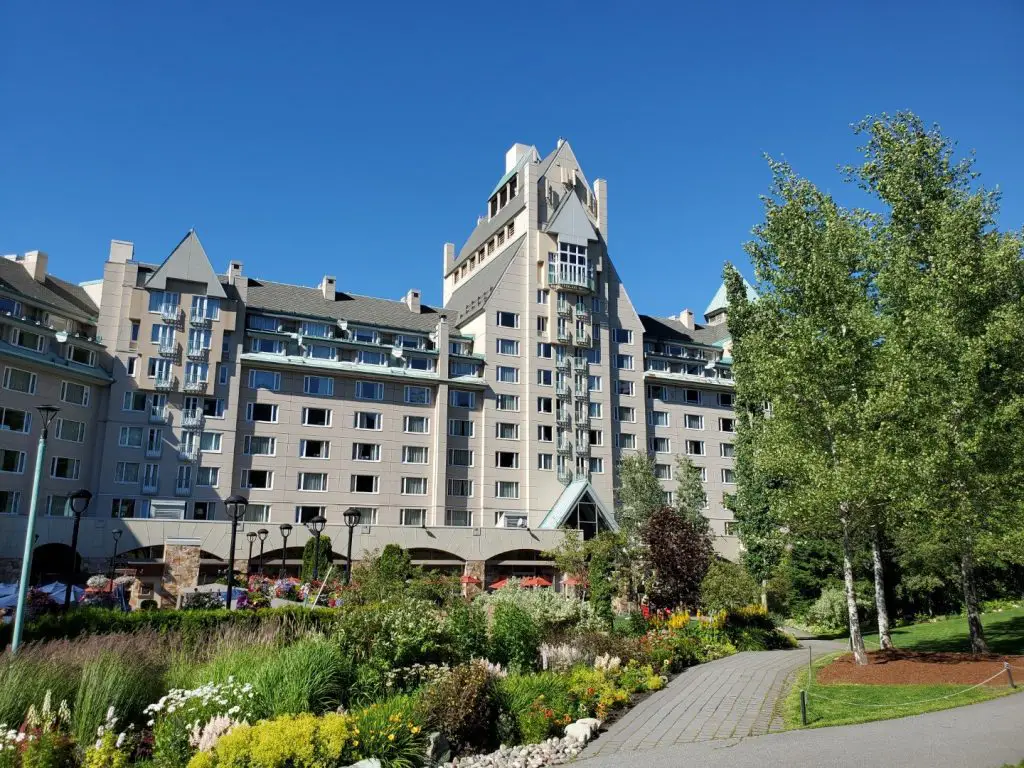 We just returned from a weekend in Whistler and it was our first trip since the pandemic changed everything. It happened to be another ski resort after going to Sun Peaks Resort in Kamloops in February.
I mentioned in one of my Monday Hour One updates that this was going to be my first time at a Fairmont property. I used to stay at Marriott Bonvoy hotels primarily as I was Titanium Elite but with a downgrade to my status from not staying enough last year, I thought it was time to give another chain a try.
Since my stay was during the pandemic, the hotel made a number of changes to accommodate the new health and safety guidelines. Masks were encouraged and provided but I would say around half of the guests didn't wear them. You will see some of the other measures in place throughout the post.
Read all of my hotel reviews here
Check-In
We arrived just after 10 AM so our room wasn't ready yet. We stored our luggage and checked in at the desk. I had actually "checked in" via email the night before but was recommended by the bellperson to check-in at the desk anyway.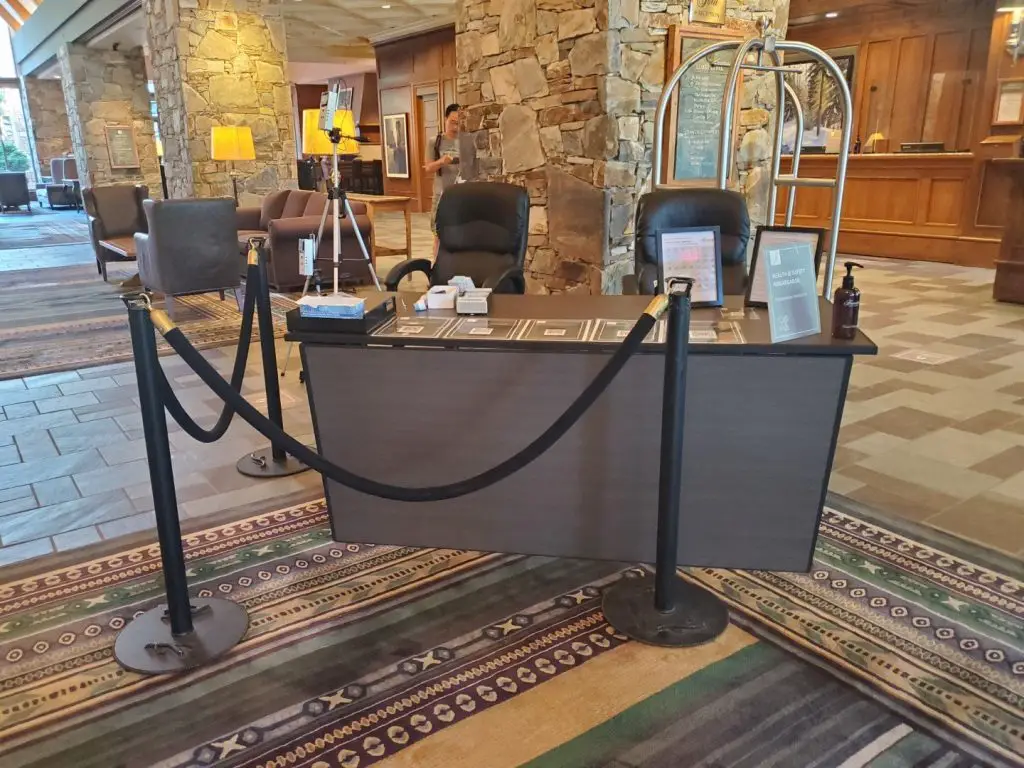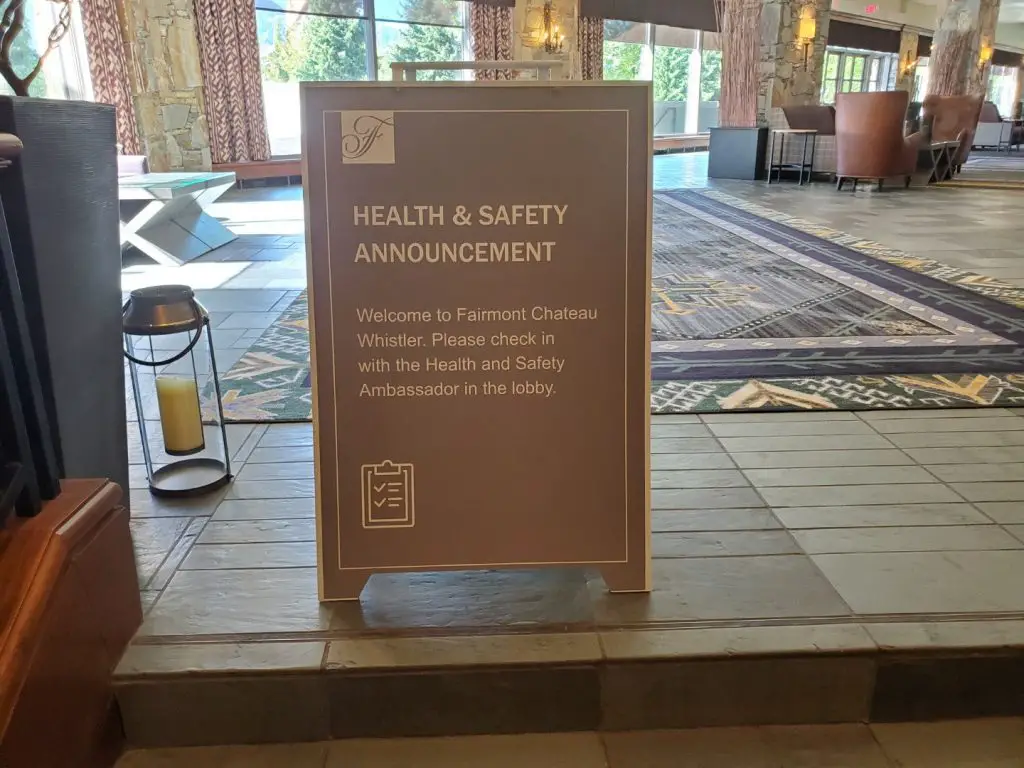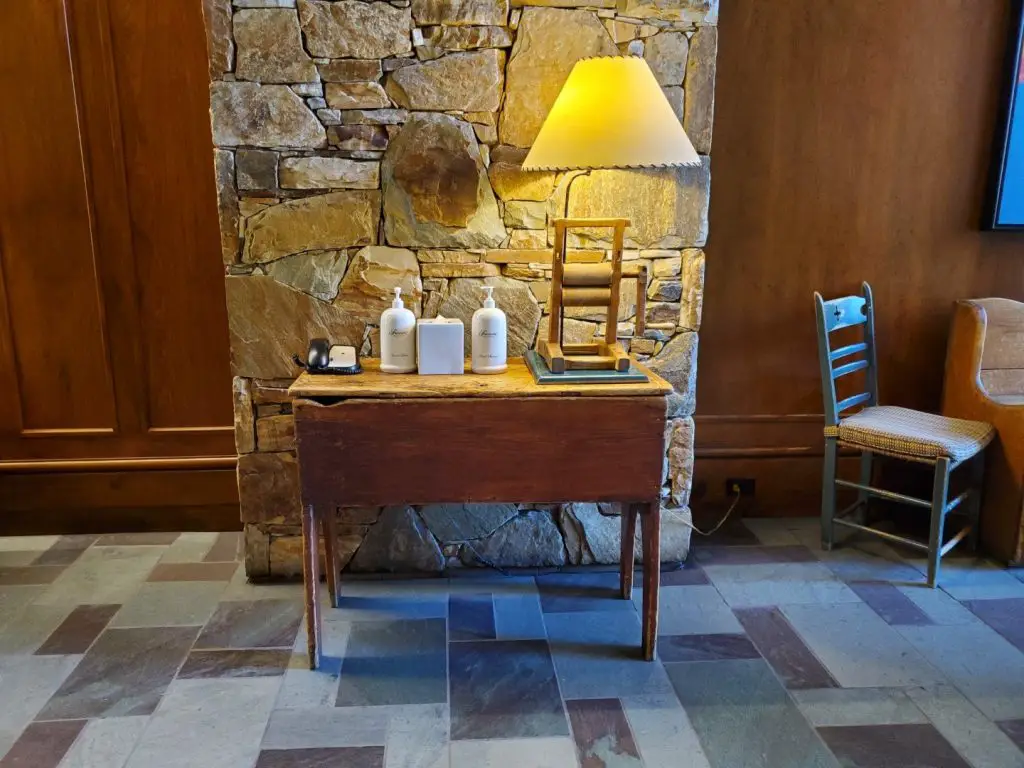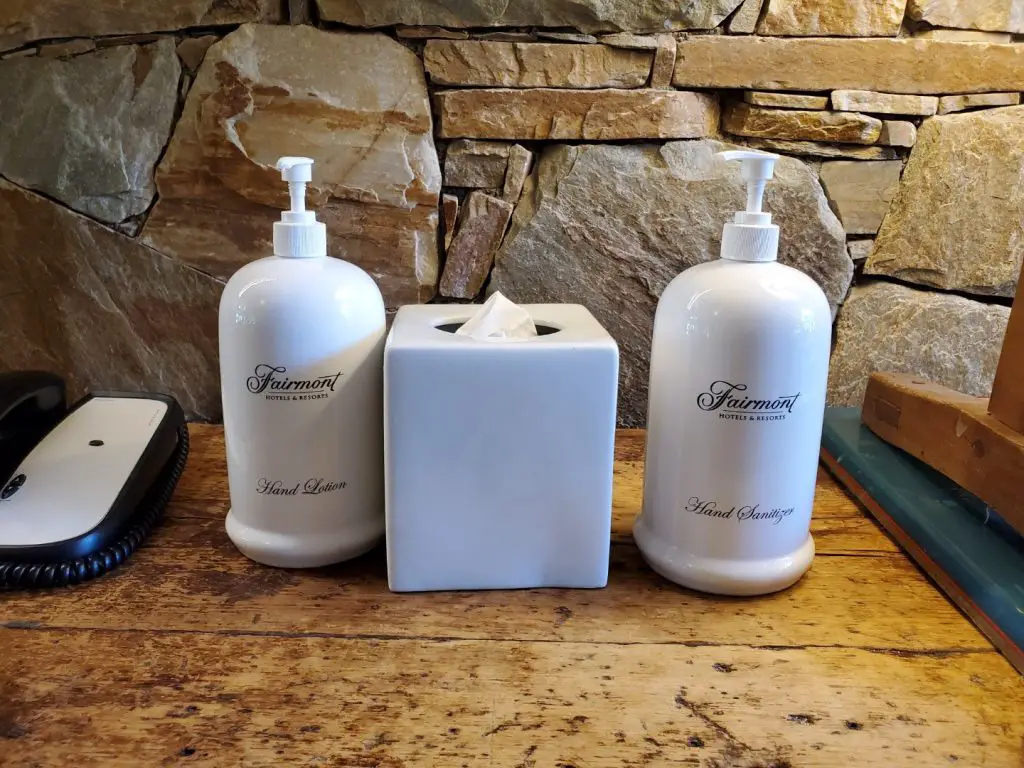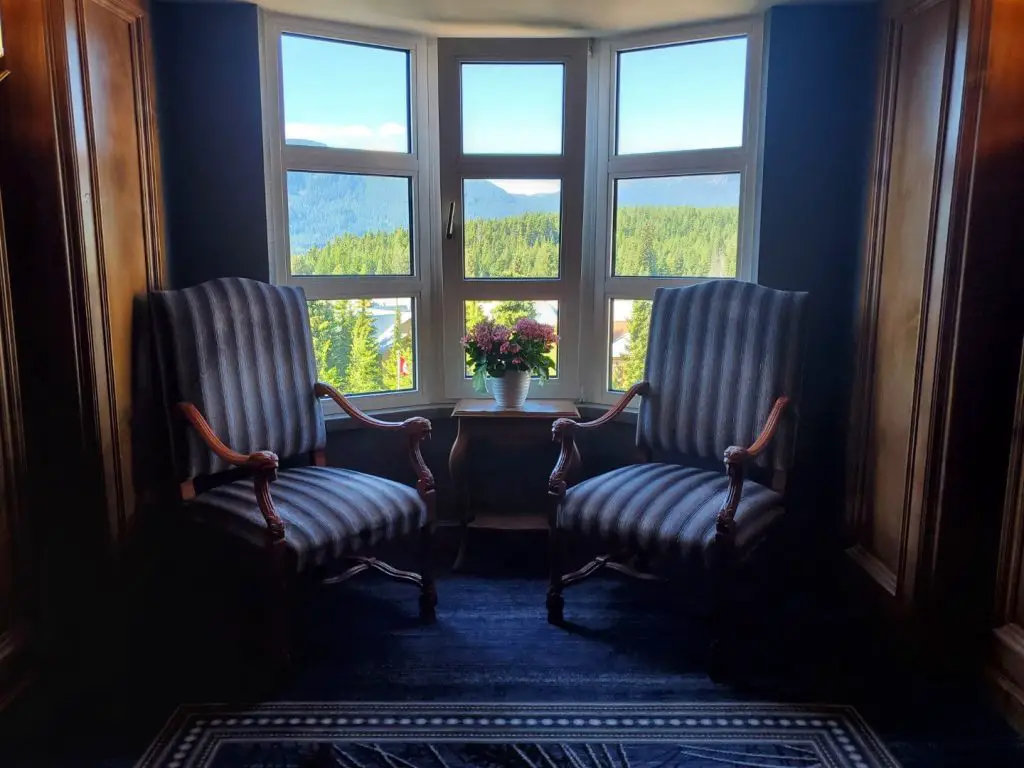 Room – Fairmont King Room, Village View
RELATED POST: Trip Report – Staycation in Whistler
I was told my room was upgraded to a Deluxe Room at check-in but when I finally got the room, it was the basic Fairmont King Room. As it was exactly what I booked, I just left it as is. However, I did not get a text or a call when the room was ready as promised. I only found out my room was ready when I called the hotel to inquire shortly before the official check-in time (5 PM).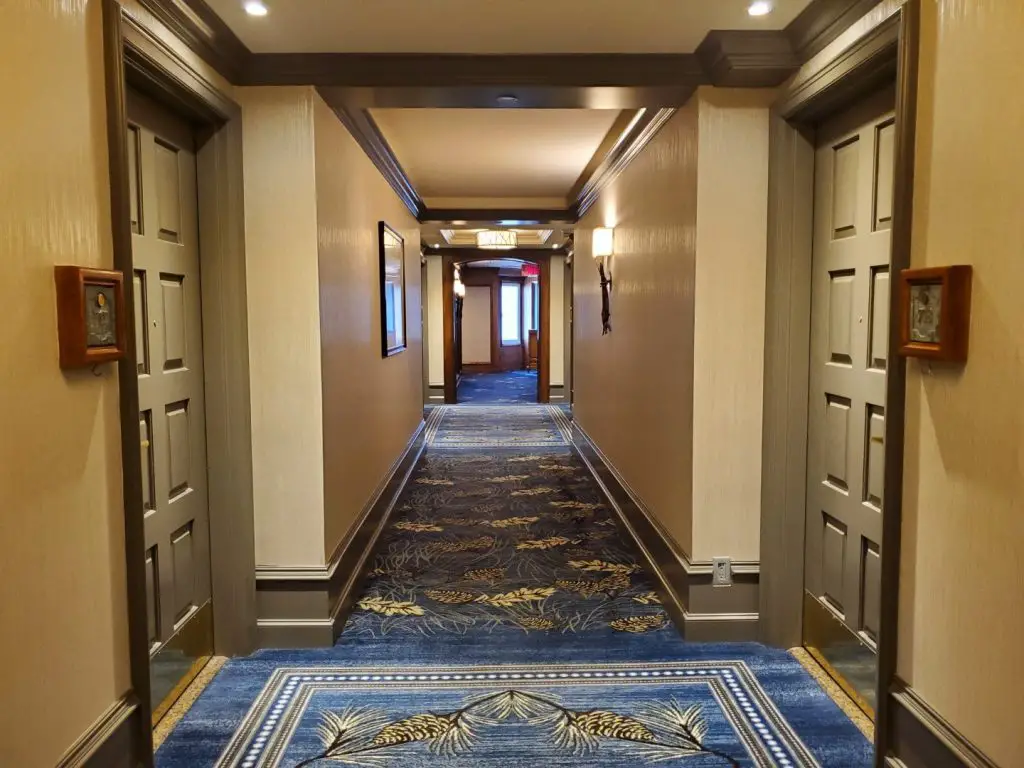 The basic room is quite spacious at 400 sq. ft. However, the furnishings were dated and the cloth sofa looked stained (hard to tell if it was in fact stained due to its dark colour). When I opened the curtain, there was a visible stain that was quite unappetizing for a 4-star hotel.
The noise was a concern even though we were assigned a room very far away from the elevator (which I requested). We can hear very clearly when people walk by our room which was surprising as the door was heavy. Luckily, the Upper Village was not too busy at night compared to the Lower Village where many restaurants and bars were so we were able to leave the windows open.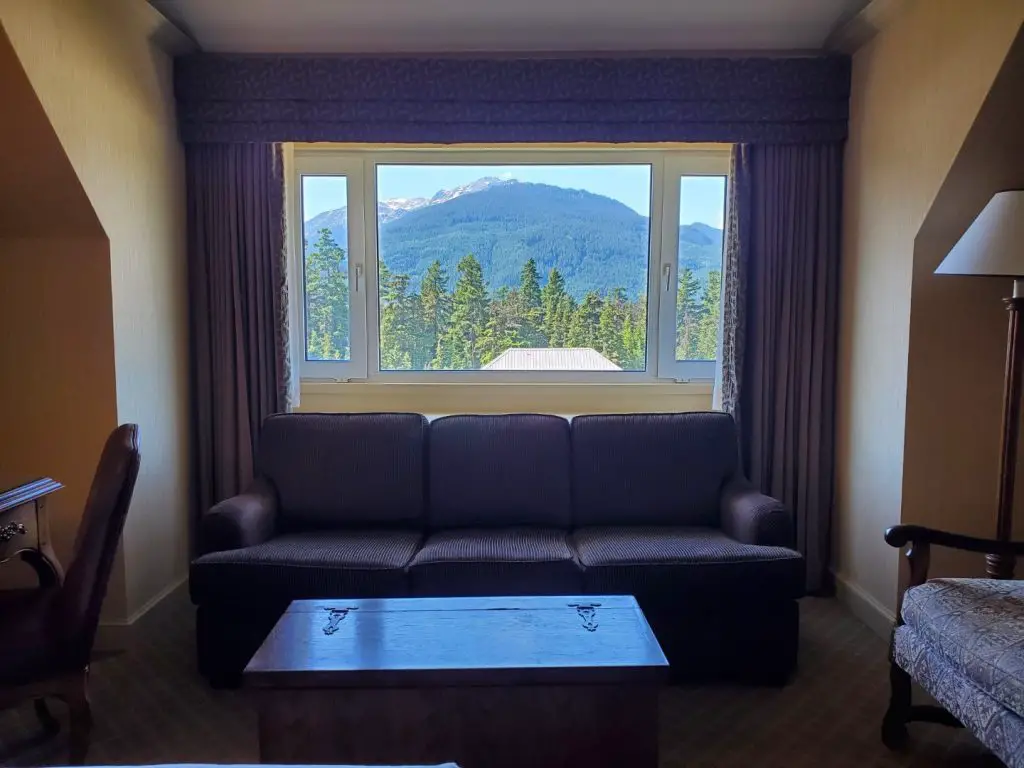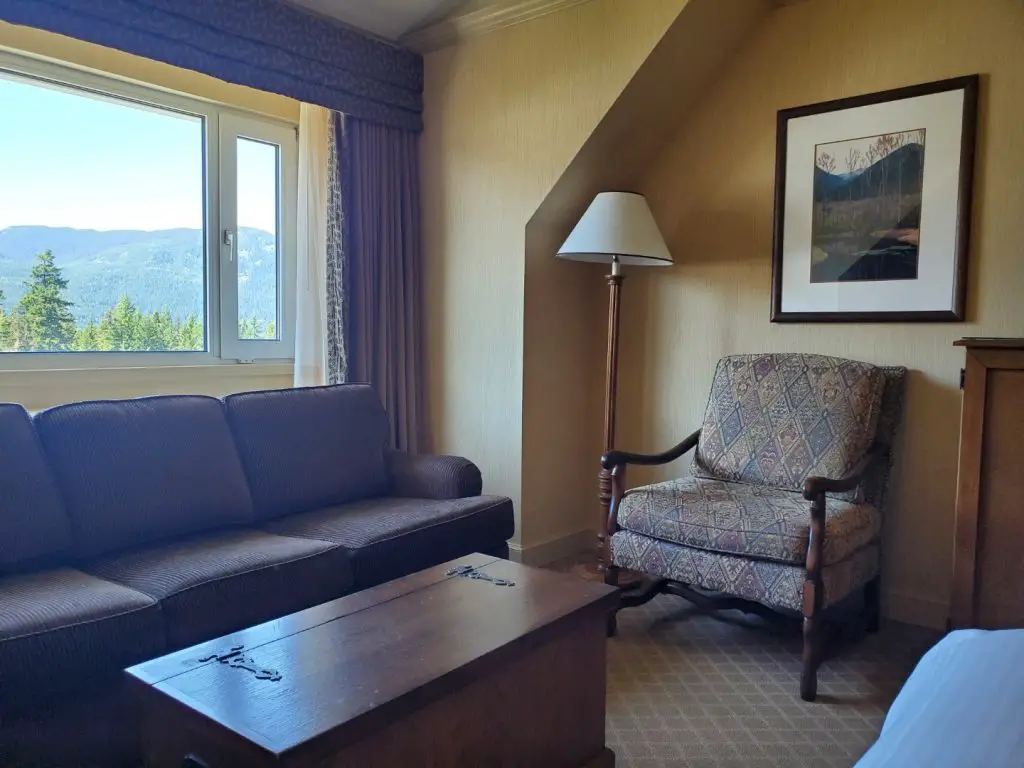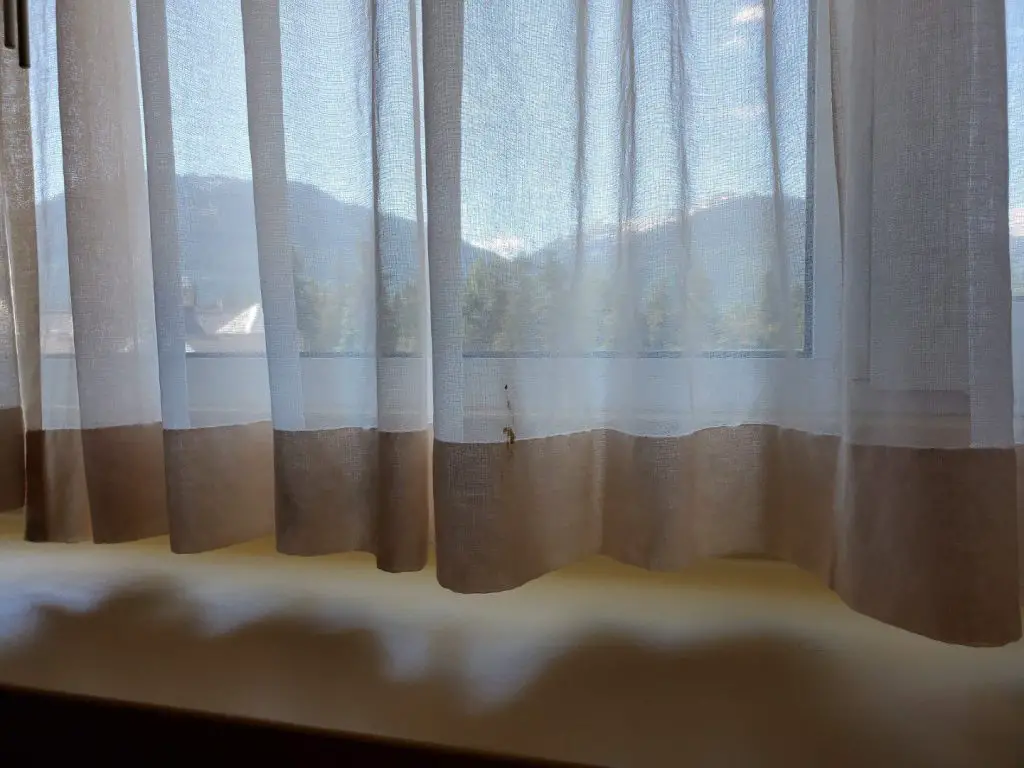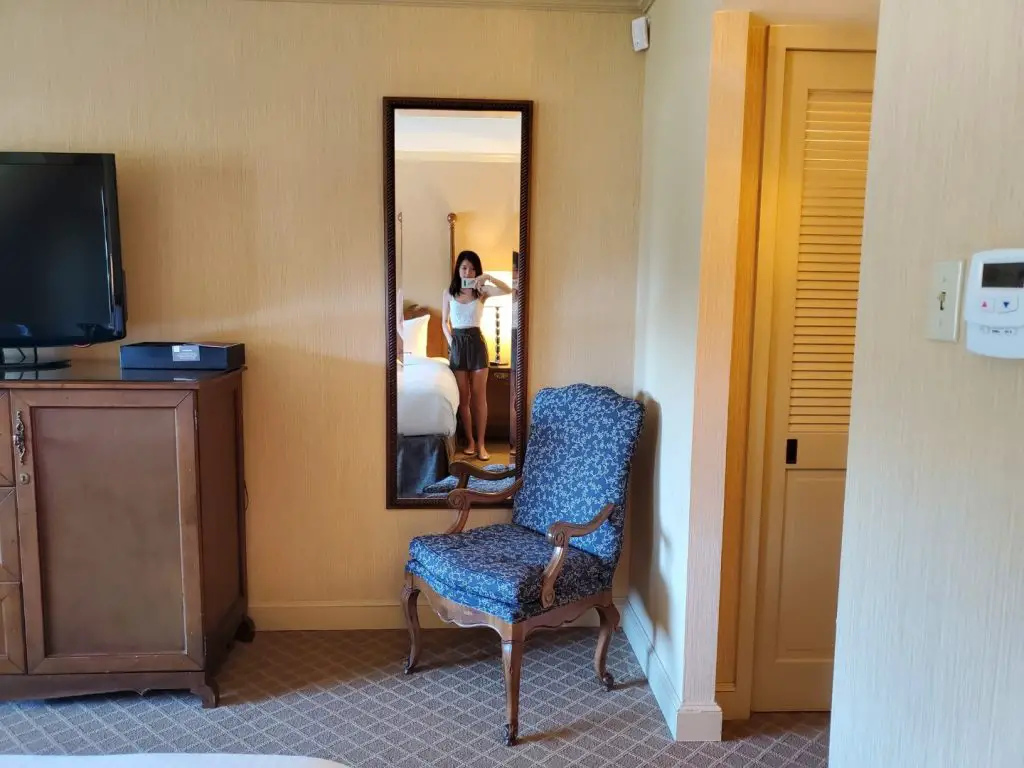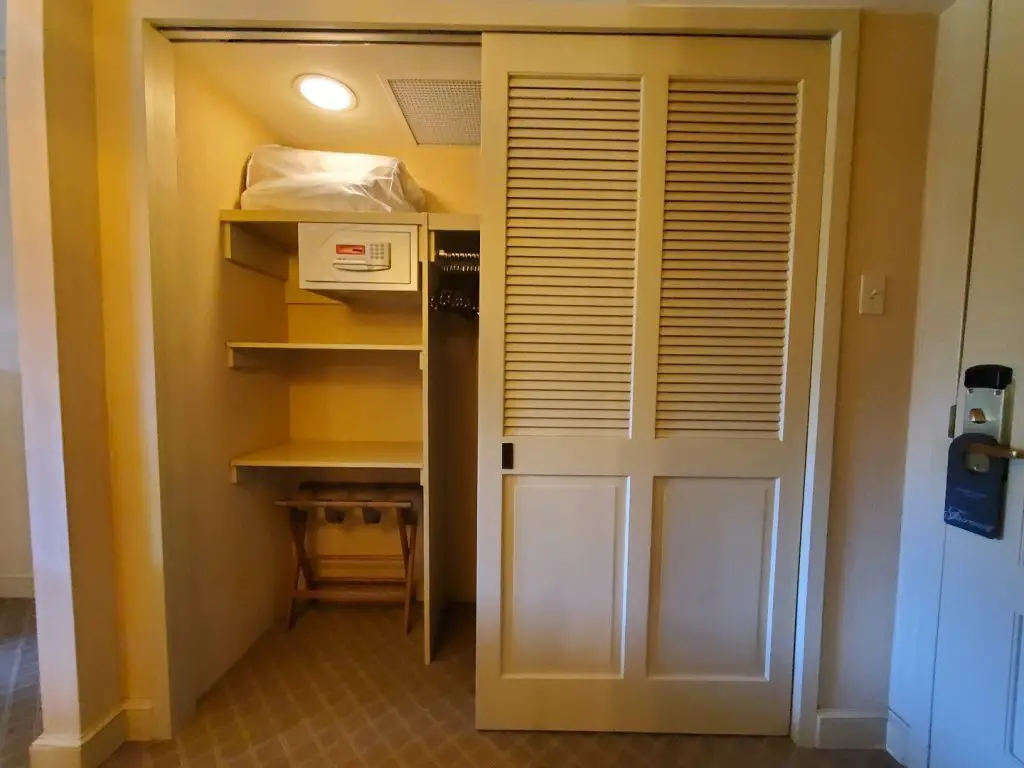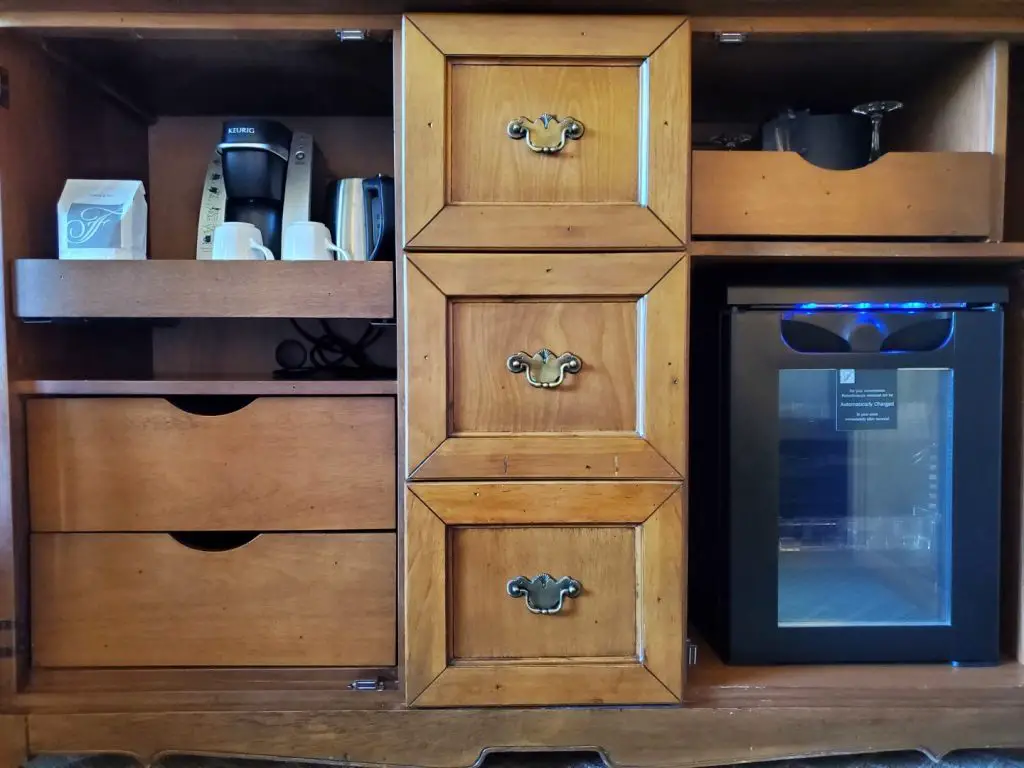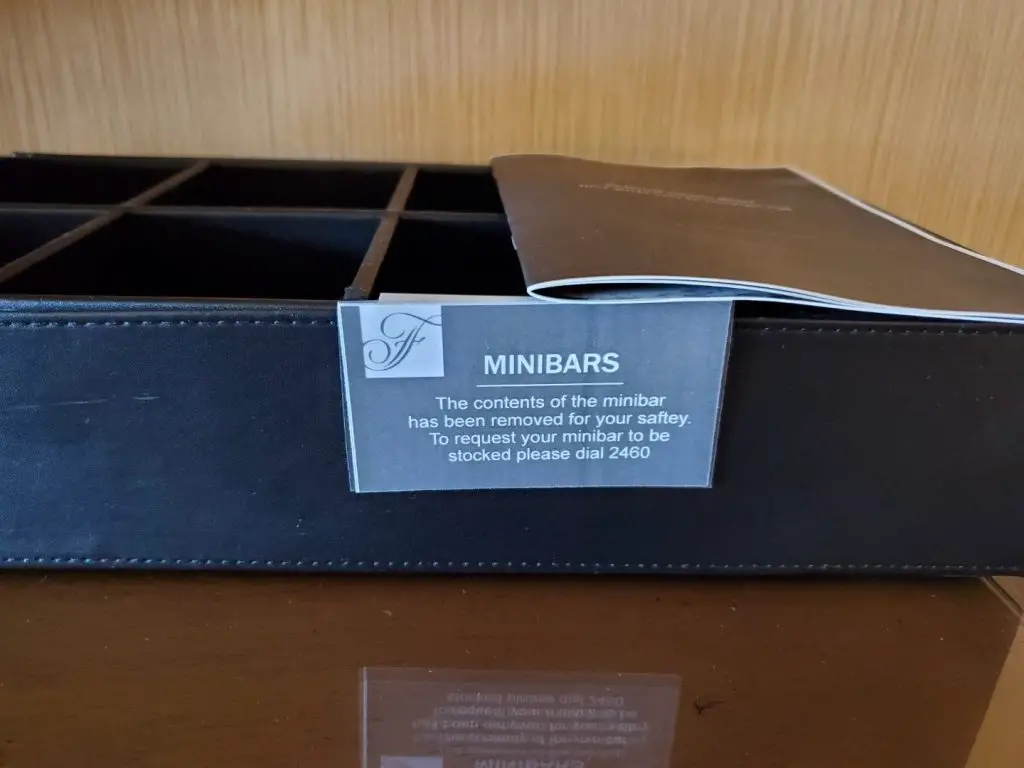 As part of the health and safety measures, all rooms came with a Wellness Kit that consisted of 2 pairs of gloves, 1 bottle of sanitizer and 2 masks. We brought our own masks but I thought this was a nice touch. They also provided disposable masks at the temperature check station in the lobby making it accessible to guests.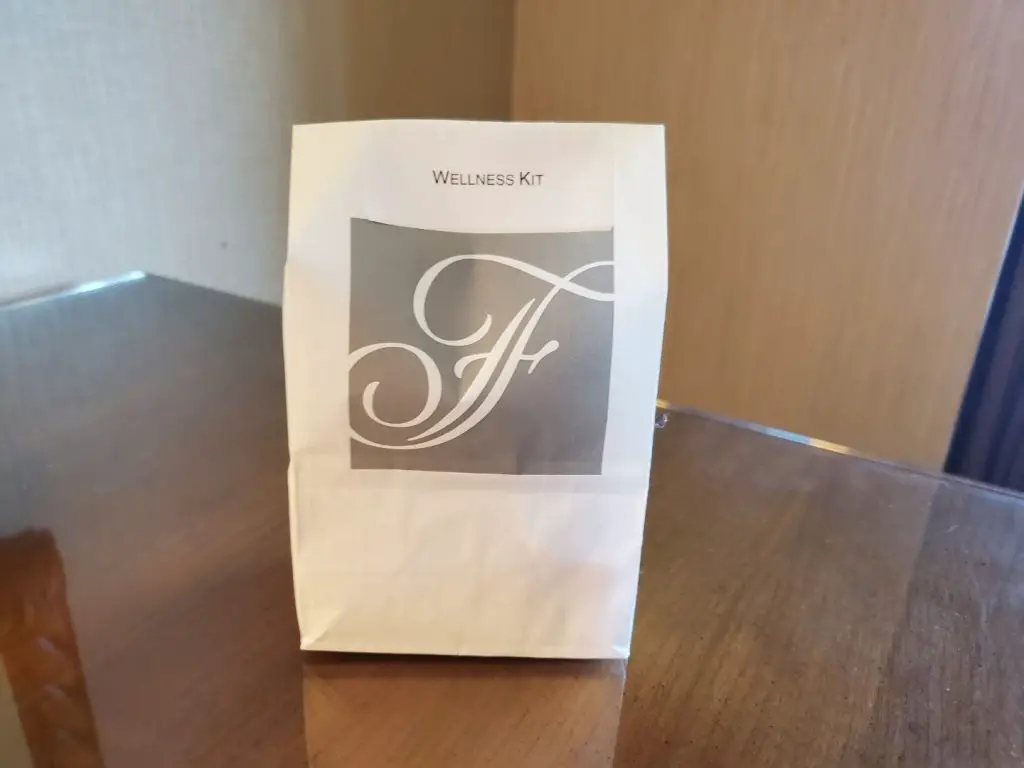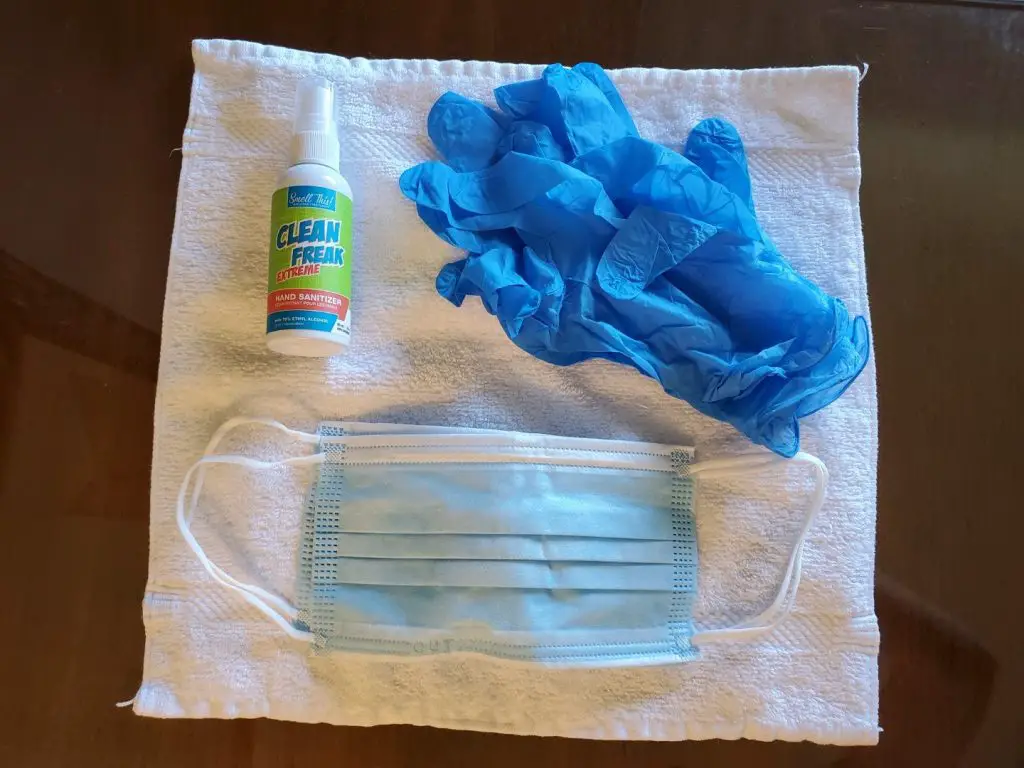 Unlike the rest of the room, the bathroom was modern and equipped with a shower/rainshower combo. If I had a choice, I would much rather have a clean bathroom than a clean rest-of-the-room as there is nothing worse than a plugged drain and dirty grout (thinking about Sutton Place Hotel Vancouver).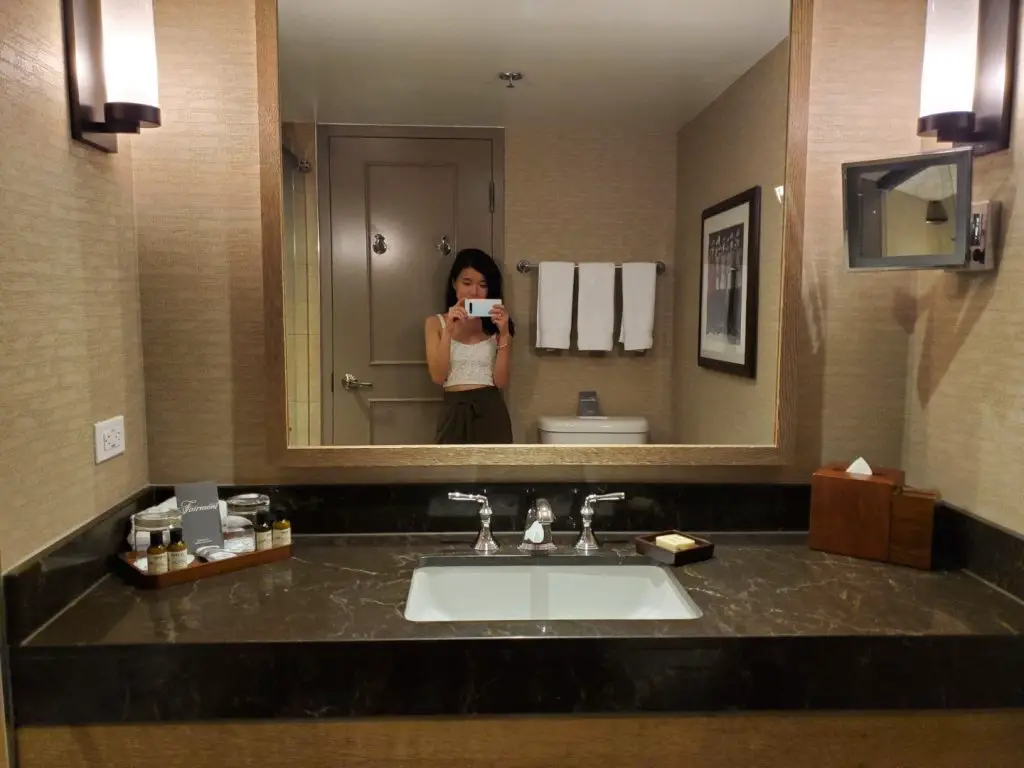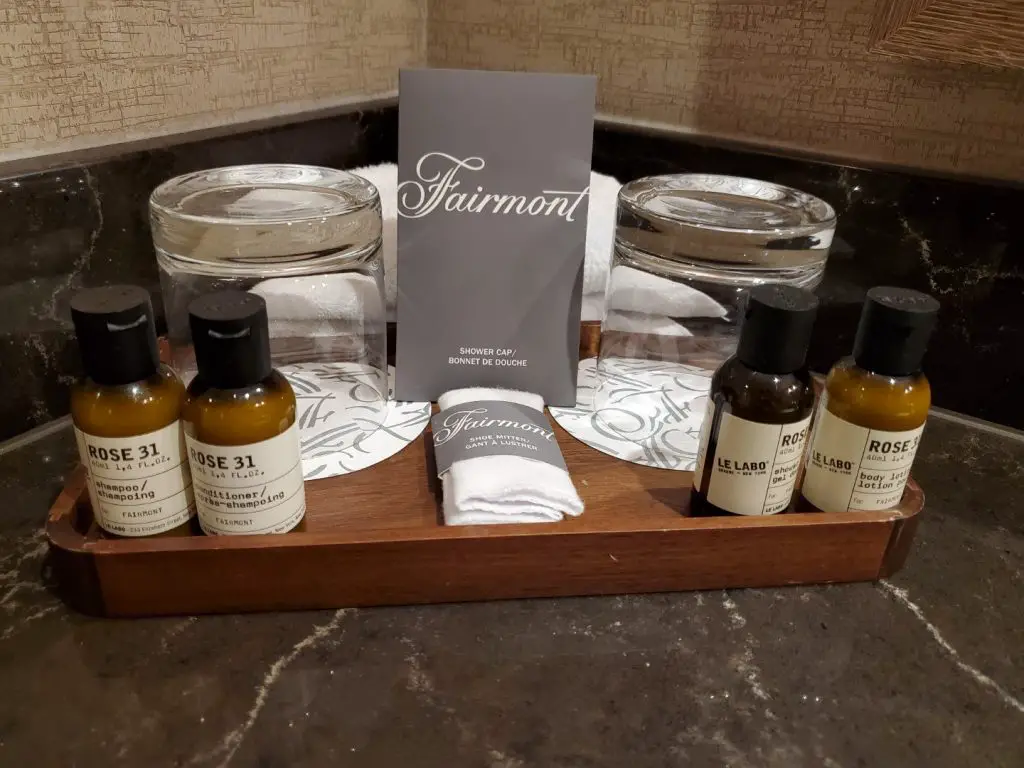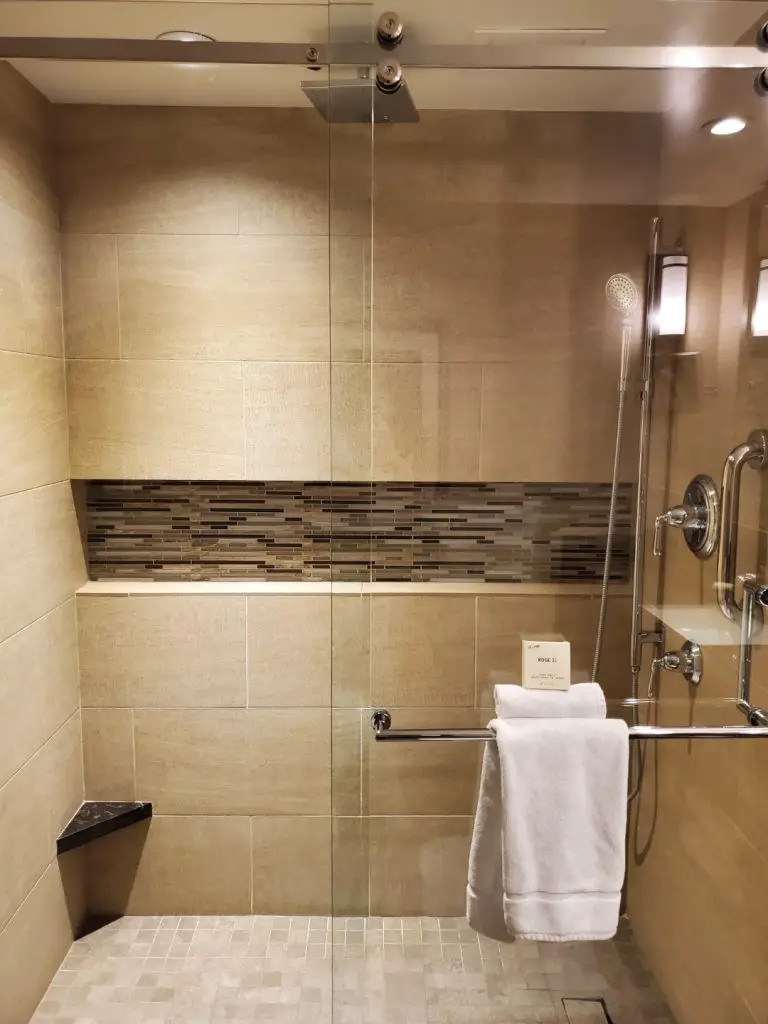 Read all of my hotel reviews here
Location
Fairmont Chateau Whistler is located in the Upper Village at the base of Blackcomb Mountain. The Whistler Olympic Plaza and the Lower Village are only a short 15-minute walk away. Alternatively, the hotel offers a complimentary shuttle service that runs every 15- to 20-minute that will bring you to multiple locations in the Lower Village.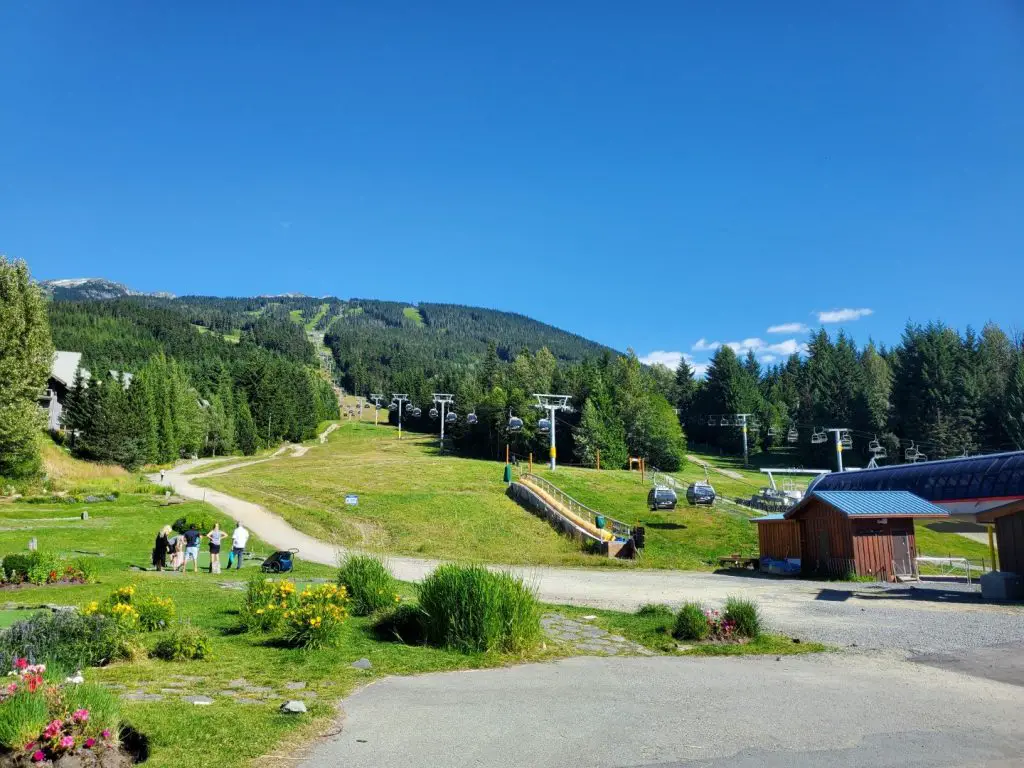 ~ More Hotel Reviews ~
Hotel Review – Sun Peaks Grand Hotel
Hotel Review – JW Marriott Parq Vancouver
Hotel Review – Civic Hotel, Autograph Collection
Dining Options
For a list of my favourite restaurants in Whistler, check this out.
There are five restaurants on-site with varying cuisines and price points. The only one we tried was Portobello which was a counter-service deli/cafe. My research told me that their breakfast scramblers are a must so we each ordered one. Eric had it again the next day while I tried something else on their menu.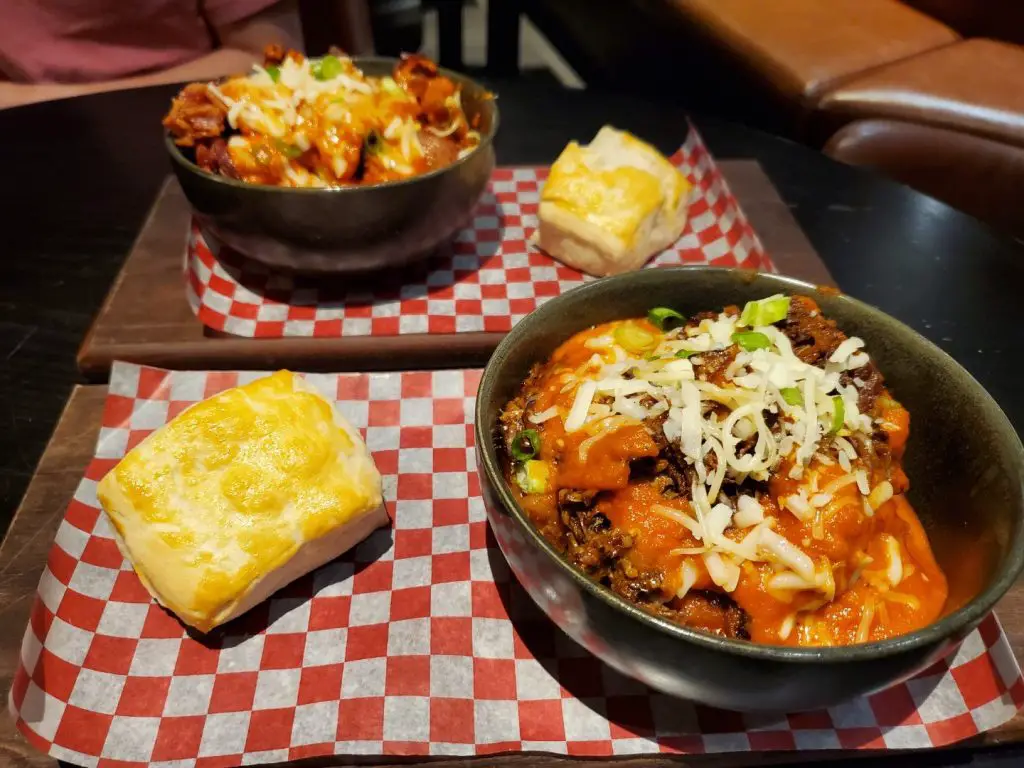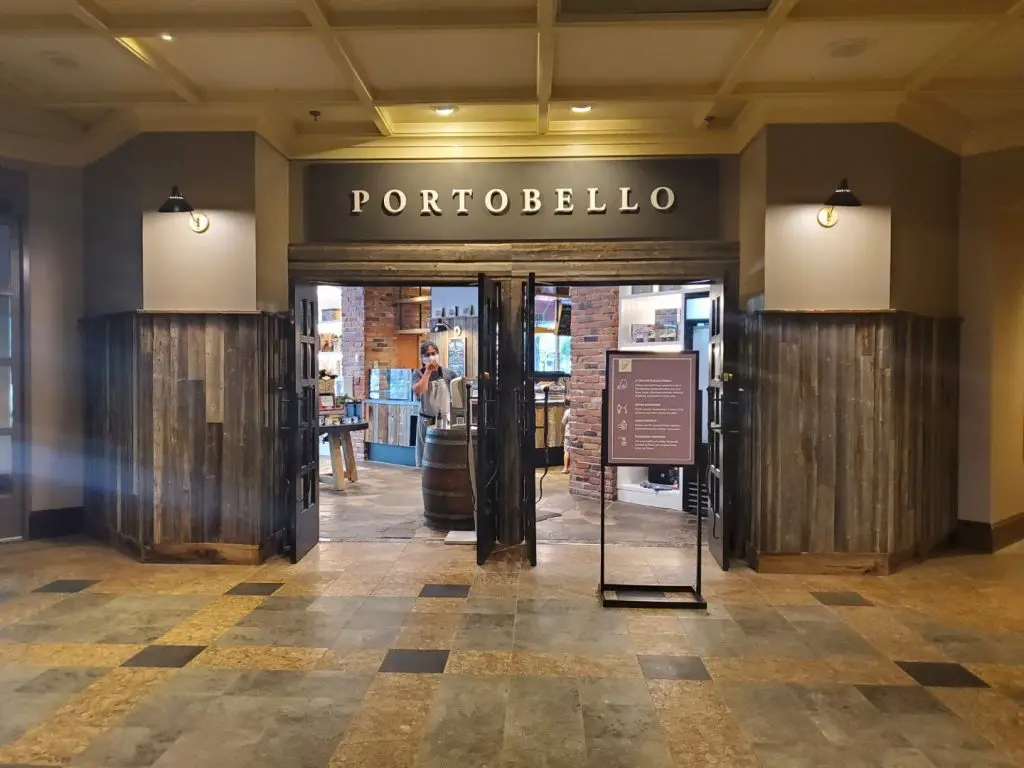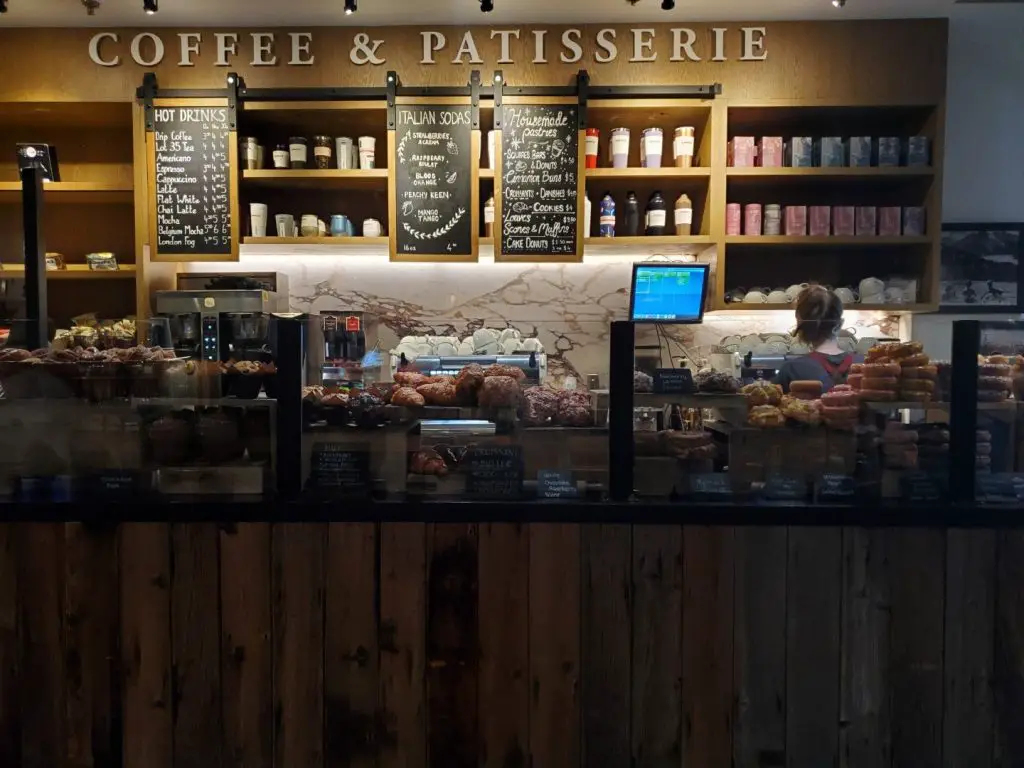 During our visit, there was also a family-style BBQ pop-up restaurant called Woodlands Rooftop on the rooftop (duh). Normally, we would have considered this option as we love BBQ but we try to avoid dine-in when we could nowadays.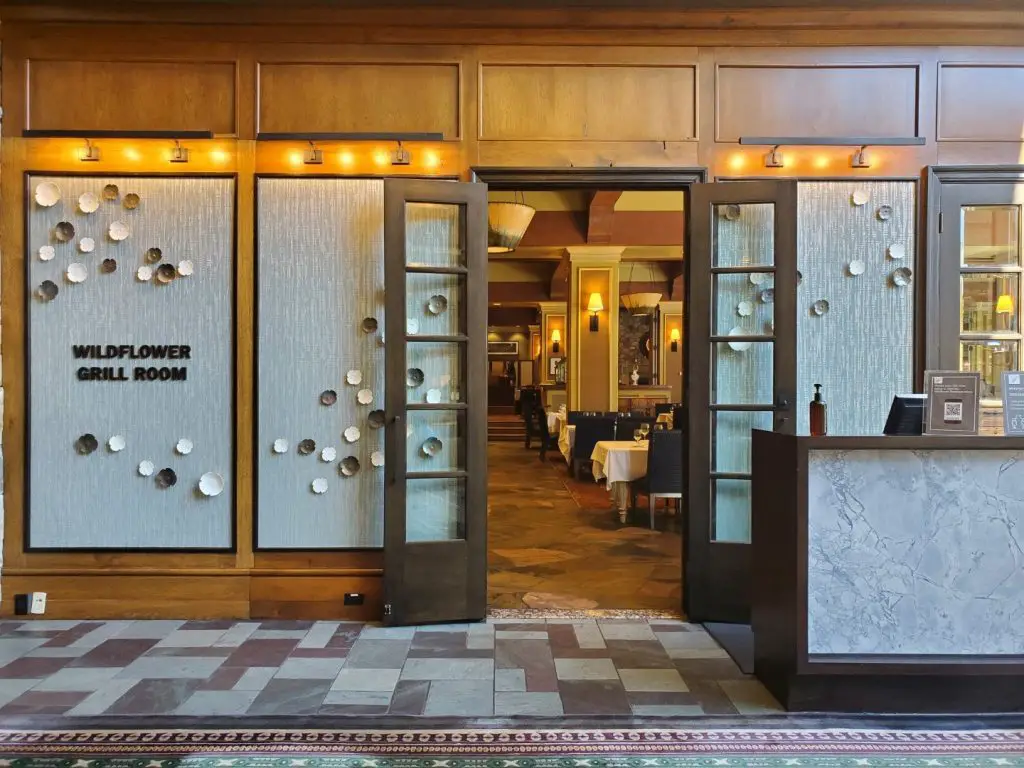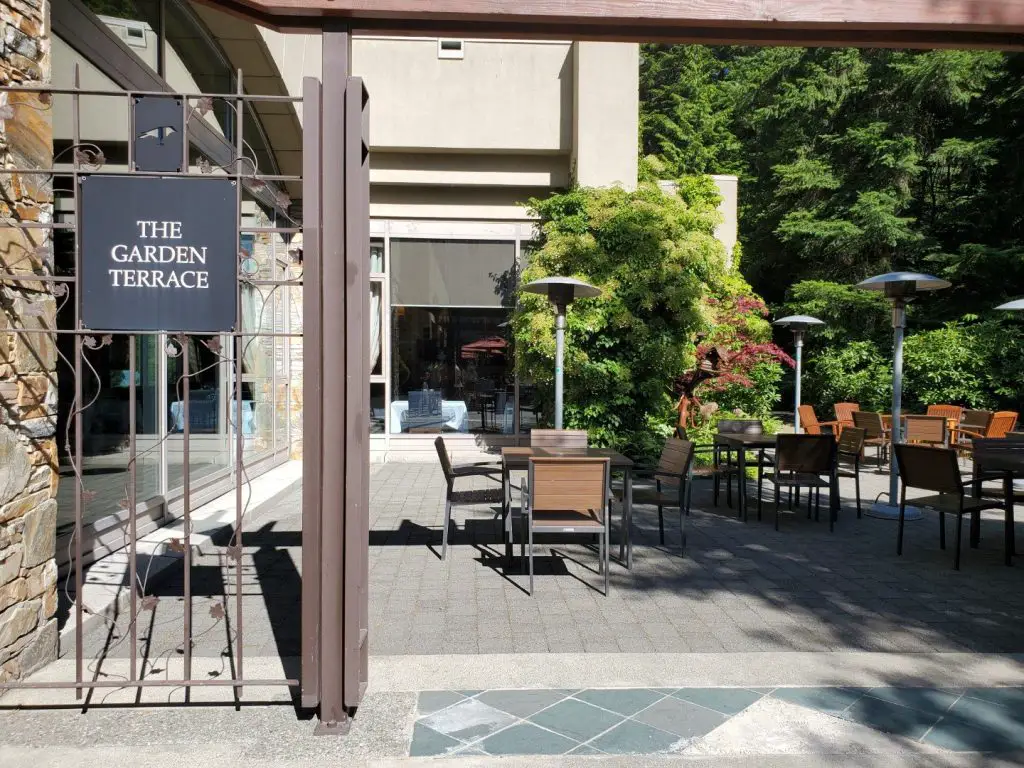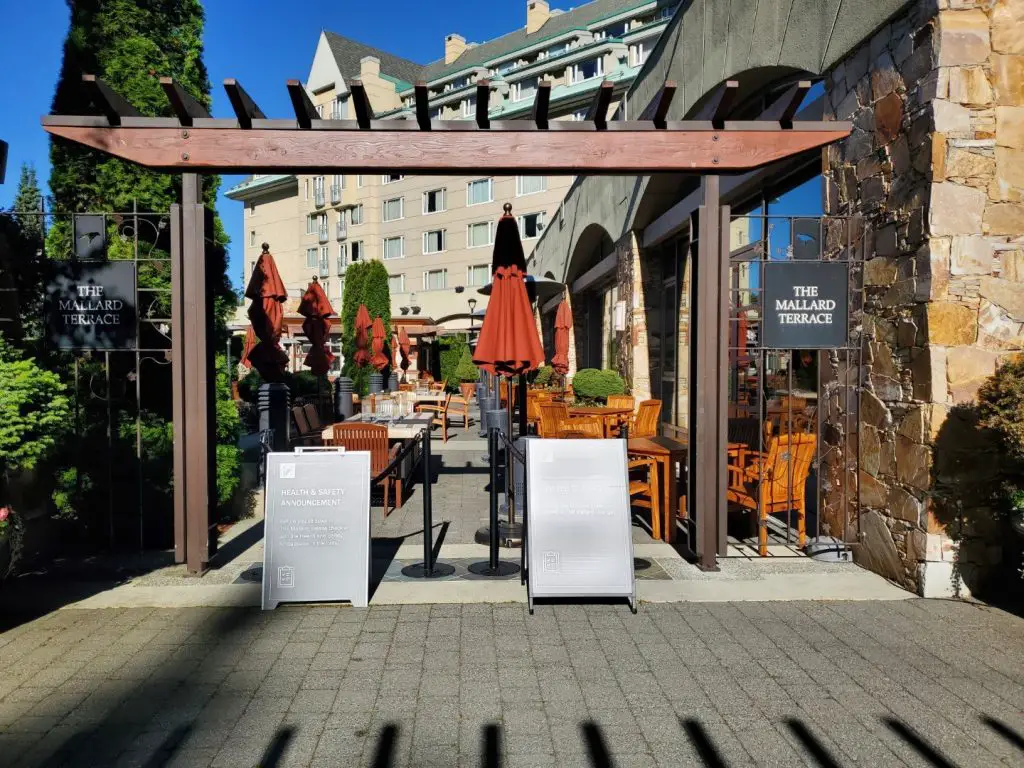 There are also a number of restaurants outside of the hotel in the Upper Village. The room does not have a kitchen but there is the Upper Village Market grocery store within walking distance for some snacks.
Amenities
As part of the capacity control, guests were required to book 1.5-hour time slots for the pool complex in advance. We were only able to book late-evening and early morning as the popular slots were all full by the time we checked in (you can't make a reservation until you checked in).
My early morning slot (6:30 AM) turned out to be a perfect time as there was only one other guest there. There are 4 hot tubs, 1 lap pool and another pool that connects indoor with outdoor.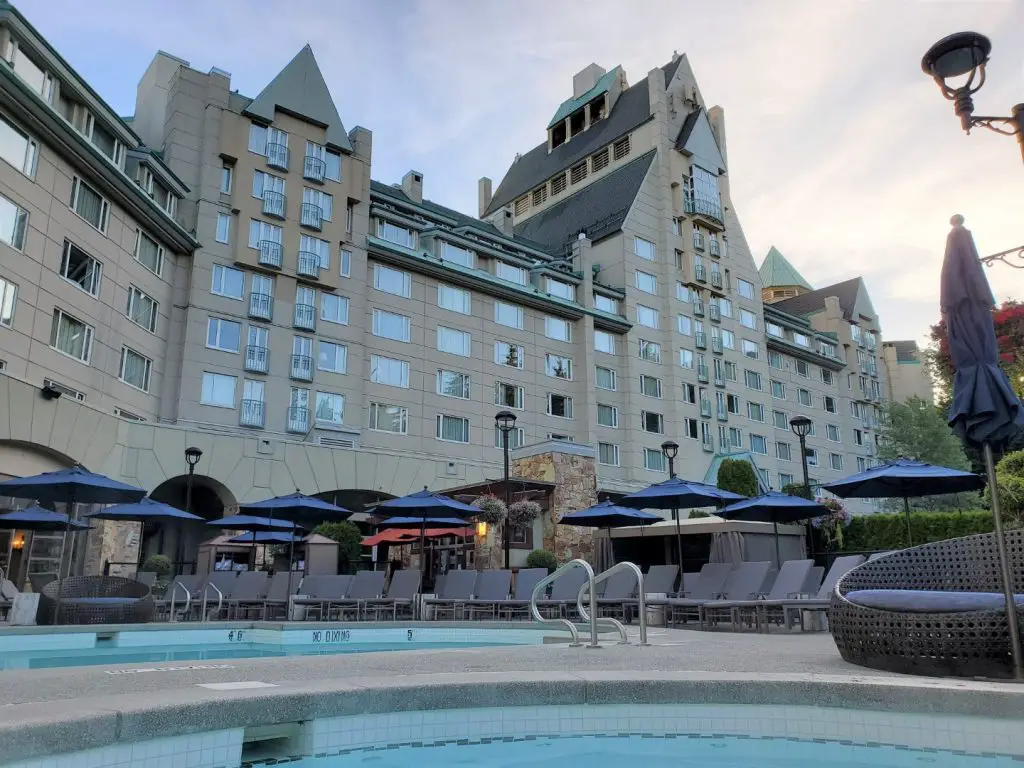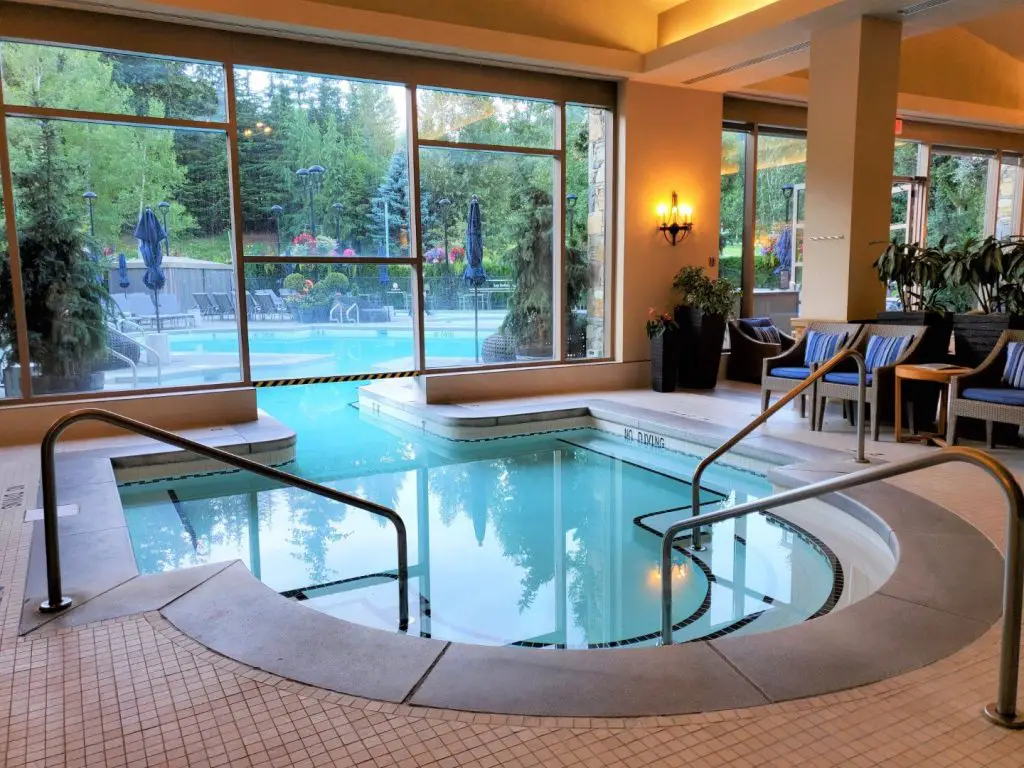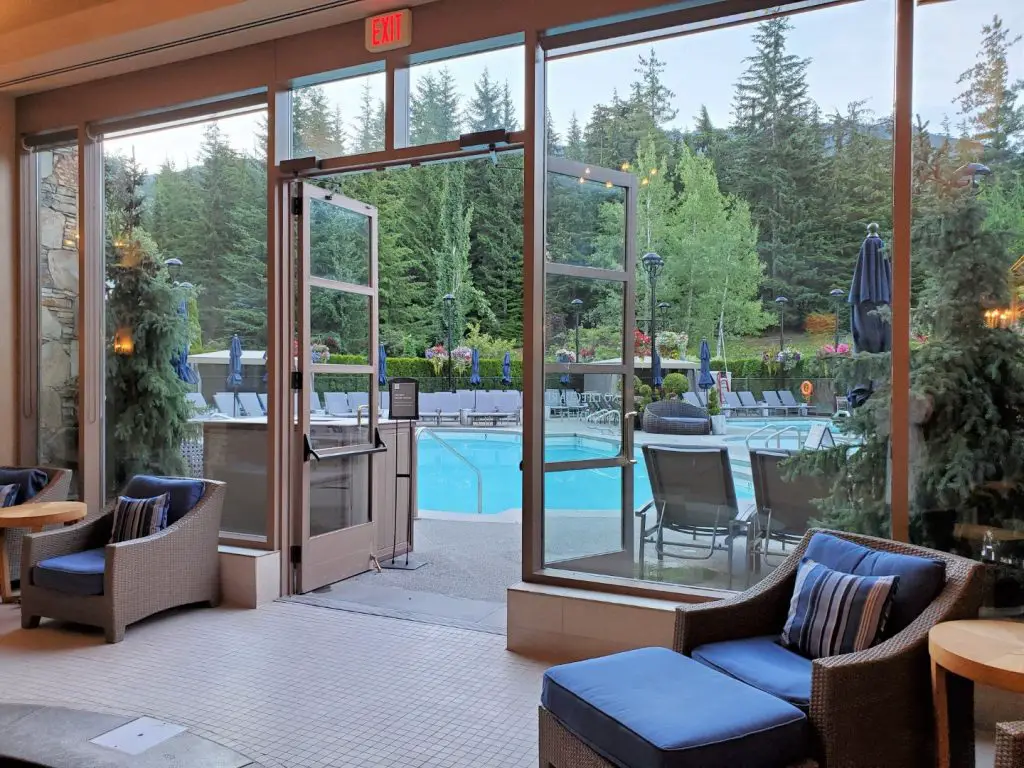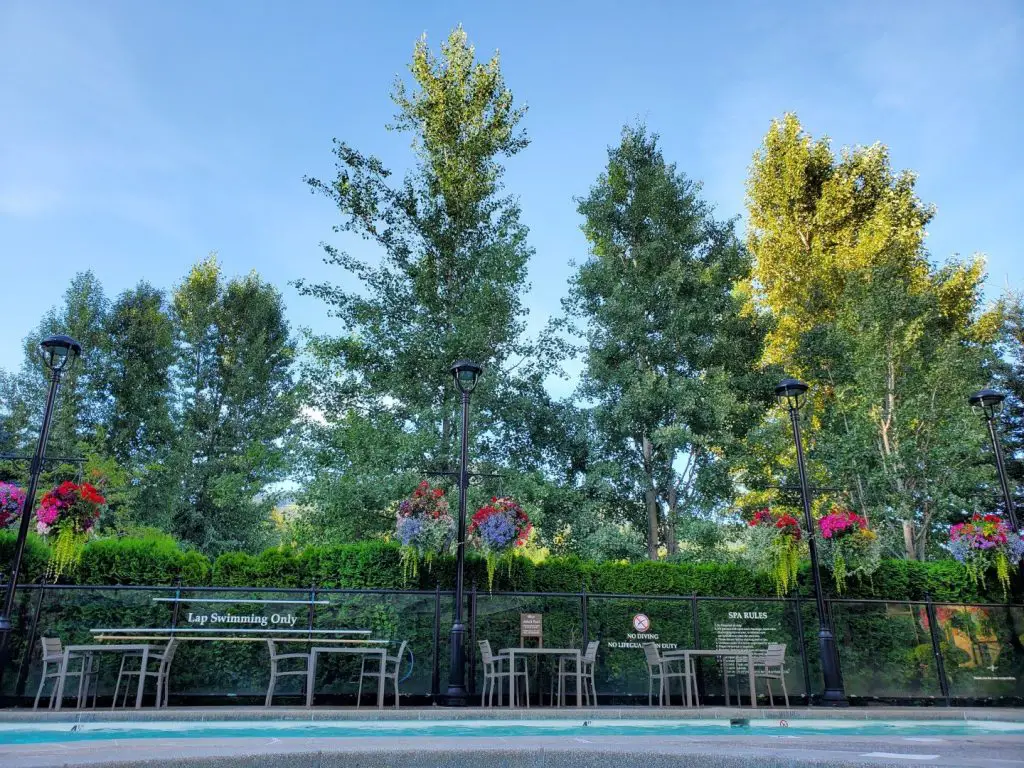 Within the pool complex, there is also a fitness room area.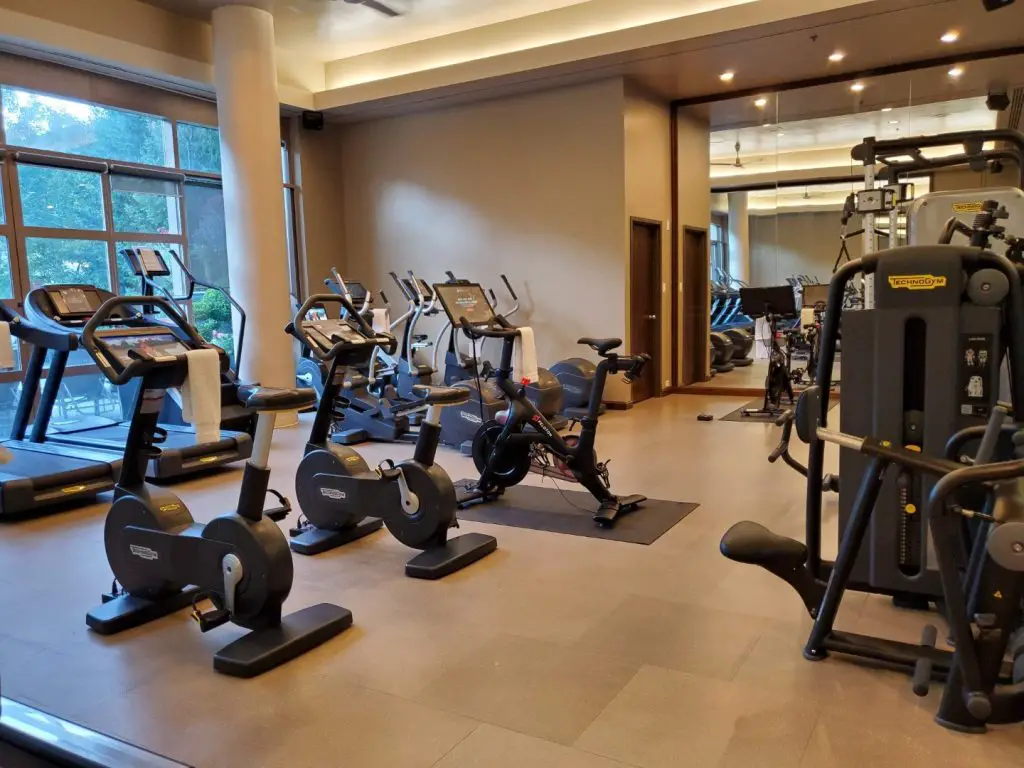 As I have already mentioned, Fairmont Chateau Whistler offers complimentary shuttle that runs regularly to the Lower Village. I used it extensively on this trip and was probably one of the highlights as it was very convenient.
The hotel also offers a complimentary shuttle to the three lakes: Lost Lake, Alta Lake and Alpha Lake. This one runs less frequently (every hour) but beach towels are provided on the shuttle.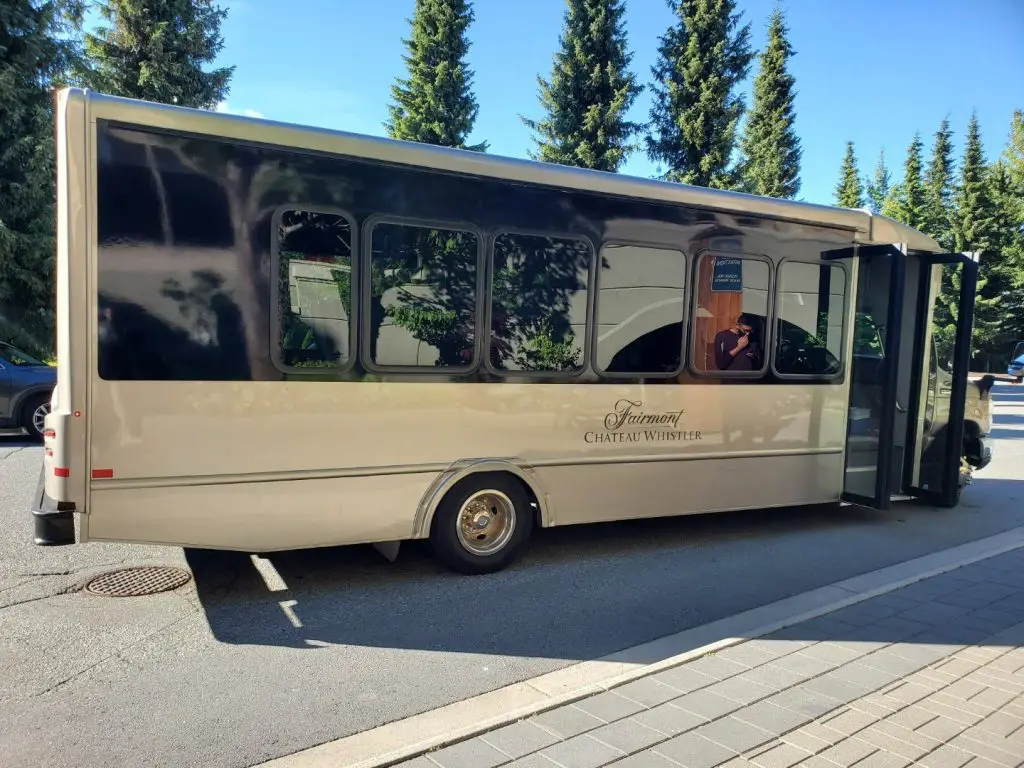 Conclusion
The room definitely did not meet my expectation for a 4-star hotel. The furnishings were dated and the stain on the curtain was just unacceptable. It makes sense that the hotel is going through a 5-year renovation project as the hotel itself is stunning in such a prime location. I would only return if I decide to either splurge on a renovated room (as of Jul 2020, only certain suites are renovated) or if all the rooms have been renovated.
Due to the capacity restrictions, the daily activities that were included in the resort experience fee were also booked up. It wasn't ideal for guests to be charged the same $20/day they would have if there were no restrictions on pool and activities and if they did not use the shuttle. For us, the fee was justified with the shuttle use but it was empty a lot of the times meaning many guests didn't use it.
An Alternative to Fairmont Chateau Whistler
The 5-star Four Seasons Resort Whistler is right next to Fairmont Chateau Whistler. All of their rooms have been renovated in 2019. I looked at the prices for both and they are often very comparable despite the one-star difference.
If the room is as important to you as it is for me, I would strongly suggest comparing the prices for a renovated suite at Fairmont Chateau Whistler with a basic room at Four Seasons Resort Whistler.